Starbucks Is Offering BOGO Drinks Every Thursday This September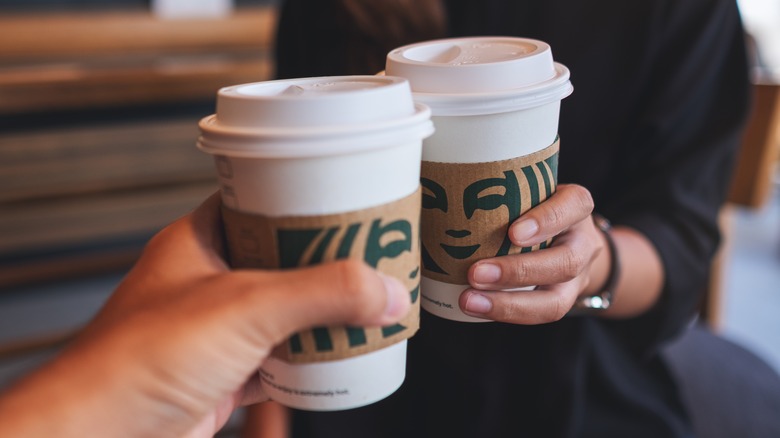 Farknot Architect/Shutterstock
If you're a fan of fall-flavored beverages — and are also a Starbucks Rewards member — the popular coffee chain known for its iconic flavored lattes is offering a special treat to enhance your autumnal beverage experience. Starting September 7, Rewards members can enjoy the chain's "Thurs-Yays" promotion, which features a buy-one-get-one-free deal on several of Starbucks' fall beverages if you visit after noon on Thursdays throughout September.
For coffee enthusiasts, you can double up with choices like the classic Pumpkin Spice Latte (of course), a Pumpkin Cream Cold Brew, an Apple Crisp Oatmilk Shaken Espresso, or an Apple Crisp Oatmilk Macchiato. Tea lovers can also take advantage of the promotion by ordering the Iced Pumpkin Cream Chai Tea Latte or the regular Chai Tea Latte. If you prefer a caffeine-free option, you can opt for a pair of Caramel Apple Spices, Starbucks' cozy blend of warmed apple juice and cinnamon syrup, topped with whipped cream and caramel.
While the offer allows you to choose your beverages in any format (blended, iced, or hot) and size, don't try to get crafty with additions. Additional flavors and Pumpkin Cream Cold Foam are excluded from the BOGO deal.
Fall-flavored snacks to order with your BOGO beverages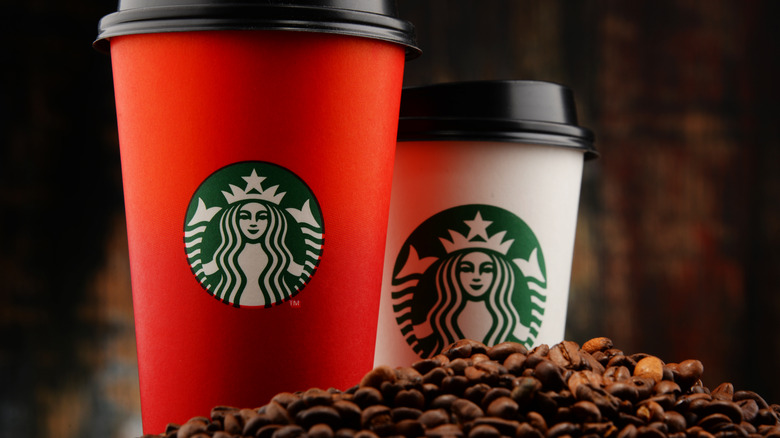 Monticelllo/Getty Images
If two servings of autumn in a cup aren't enough to satisfy your seasonal cravings, Starbucks also offers treats that capture the essence of fall. The chain is featuring a Pumpkin Cream Cheese Muffin that features warm spices and a tangy cream cheese center, topped with crunchy praline pepitas (pumpkin seeds). You can order it as-is or warmed up. The muffin has sparked robust debates on Reddit regarding its potential superiority over Starbucks' discontinued Pumpkin Scone. If you're eager to indulge in pumpkin flavors but wish to avoid dairy, however, the Pumpkin & Pepita Loaf is a solid alternative. It captures the same essence and texture as the muffin, sans cream cheese.
Should you prefer other flavors when the leaves begin to fall, Starbucks' Baked Apple Croissant offers a festive alternative. This muffin-shaped pastry contains a sweet apple filling nestled inside baked croissant dough.
Whether you're on team pumpkin or team apple when it comes to fall treats, don't forget that the BOGO deal won't last forever. To seize this opportunity, round up your fall-beverage-loving bestie or simply double up on your own favorites by September 28. The offer is available only on Thursdays.