The Royal Sandwich Etiquette That's Questionable At Best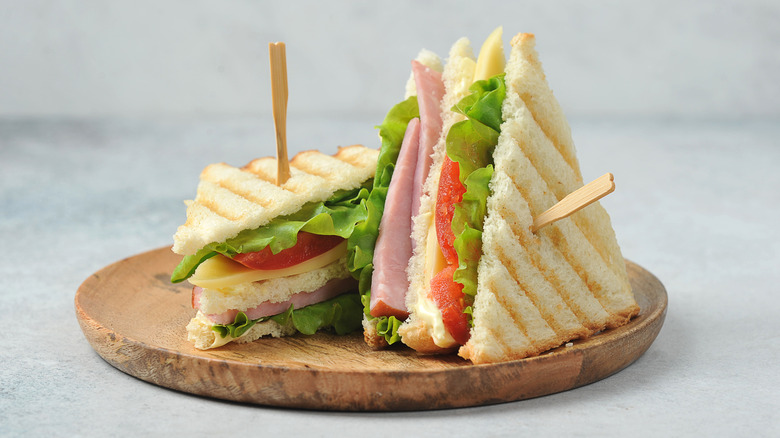 Lenasirena/Shutterstock
Part of the satisfaction of eating a really good sandwich is taking that first big bite. You grip it with two hands and happily chomp your way through. So long as you chew with your mouth closed and wipe the mayo at the corner of your lips off with a napkin, no one would argue that your manners aren't intact. Well, no one except The (former) Royal Butler.
Grant Harrold is also known by his Instagram title, @the_royal_butler, and he famously worked in the service of several senior members of the royal family including King Charles III and Queen Camilla. You can bet that part of his job was being an expert in the art of etiquette and pristine manners. His over 500,000 Instagram followers delight in his short videos — in which he offers advice on everything from how to eat morning pastries to when to add milk to your tea, often with quintessentially British sarcasm that pokes fun at himself and "stuffy" rules in general.
In one such video, Harrold displays the correct way to eat a sandwich which involves cutting a sandwich (it's already been cut in half, by the way) into smaller pieces before eating. Now, in America, we eat, on average, about 200 sandwiches per person per year, according to data accumulated from KaTom Restaurant Supply in 2021, and part of the reason we do is because they're easy, tasty, portable, and don't involve flatware. Have we been doing it all wrong?
Are we eating like animals?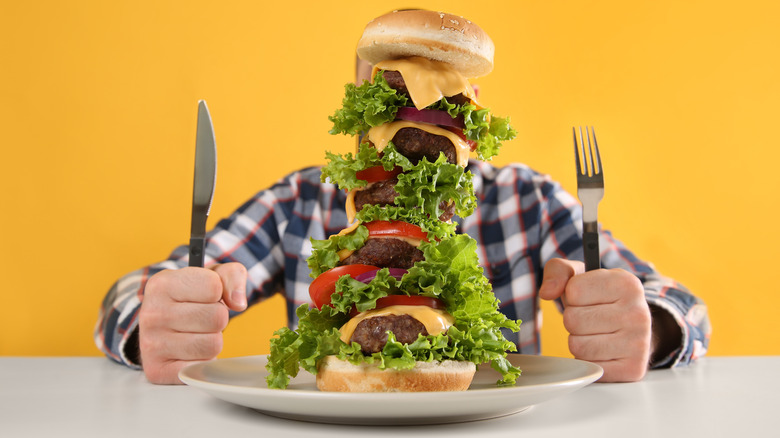 Liudmila Chernetska/Getty Images
Harrold begins by pointing out to his viewers that some sandwiches can be quite substantial — although the one sitting on his plate looks pretty harmless and, actually, smaller than the average American hoagie. In his soft Scottish brogue, he gently tells his audience that, should they pick up and shove the sandwich into their mouths, they could only be compared to anacondas, and instead, it's utterly delightful and attractive to cut a small wedge off the sandwich half and eat it with your fingertips.
Hold your laughs for just another moment because it turns out that Harrold isn't alone in his opinion. Orlando, Florida-based Maralee McKee of The Etiquette School of America also suggests using a knife (and fork!) on your club and sub sandwiches if they are big and untidy. McKee takes things a step further and suggests discarding the topmost piece of bread altogether. Etiquette Scholar, also an American outlet, points out that only sandwiches that are less than one inch tall (like tea sandwiches) are to be eaten with fingers.
Maybe it's just us, but it's tough to imagine building a perfect BLT, full of late summer tomatoes and several pieces of smoky bacon, and not taking big, crunchy bites whilst letting the mayo fall off the sandwich in great globs. Taking a knife to it sounds, well, un-American.
It's still okay to take big bites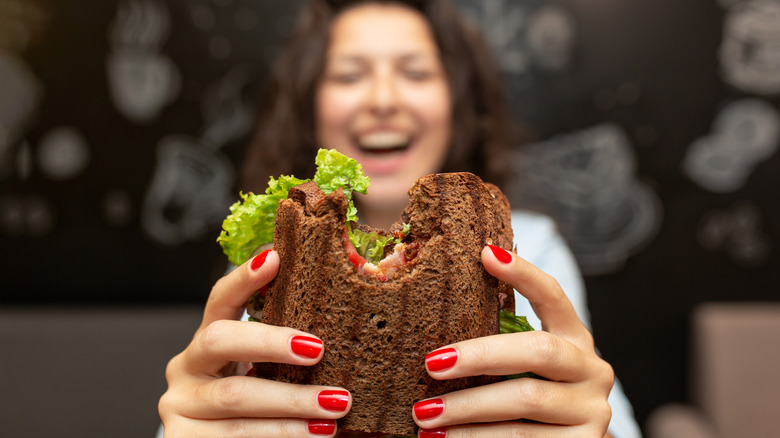 Kateryna Kukota/Getty Images
Right or wrong, Harrold's videos are probably not going to change the way we dive into our sandwiches, and it appears many of his Instagram followers feel the same way. Some of the hilarious comments range from asking The Royal Butler if he's also going to cut up his potato chips (pardon us, we mean crisps) before he eats them, to comparing his eating habits to that of a toddler. It's important to remember, however, that Grant is now a popular and engaging media personality. Some of his etiquette videos show his acquaintances struggling to follow whatever etiquette tip he's currently giving. The point is often humor and parody to the tunes of songs like "Barbie Girl" and the Pink Panther theme playing in the background. Cheeky.
Of course, if — at some point — you find yourself having smash burgers or muffalettas with the royal family, you may want to follow his sandwich-eating protocol should you want to be invited back to Windsor one day. But for the rest of the time, no one is really going to mind you shunning your knife and going for the two-handed method. If someone does stare rudely at you, just give 'em a big ole anaconda hiss.