Do Lunch The Louisiana Way: Make This Muffaletta Grilled Cheese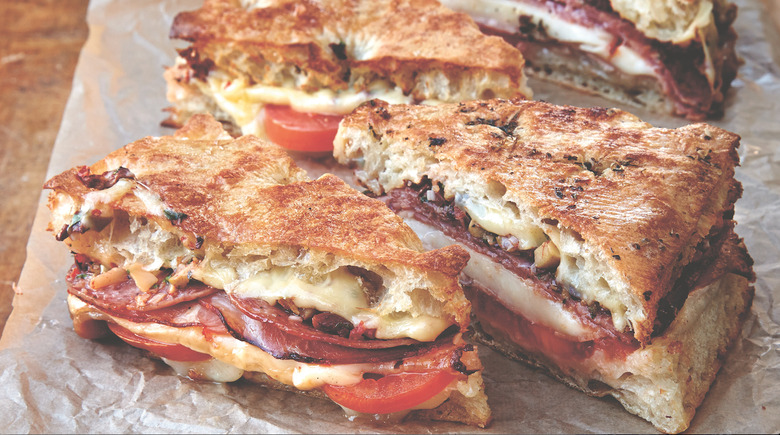 We may receive a commission on purchases made from links.
With a name like Grilled Cheese Kitchen, how could you not pick up a copy of husband-wife duo Heidi Gibson and Nate Pollak's brand-new book? Packed with gooey, melty recipes from their insanely popular San Francisco sandwichery, this is one culinary volume for everyone, from picky kids to adventurous adults, and every grilled cheese lover in between. Fire up the griddle: This is going to be a good one!
The muffaletta (also spelled muffuletta and probably 20 other ways, but generally pronounced "moo-fuh-LET-uh") originated in the French Quarter of New Orleans. Traditionally made on a light flat roll that is also called a muffaletta, it's a staple at lunch counters throughout Louisiana. While muffalettas are usually assembled and allowed to sit, wrapped, for several hours in a refrigerator before eating to allow the flavors to meld, we cook ours right away so that the bread can crisp up as a grilled cheese should.
Do Lunch The Louisiana Way: Make This Muffaletta Grilled Cheese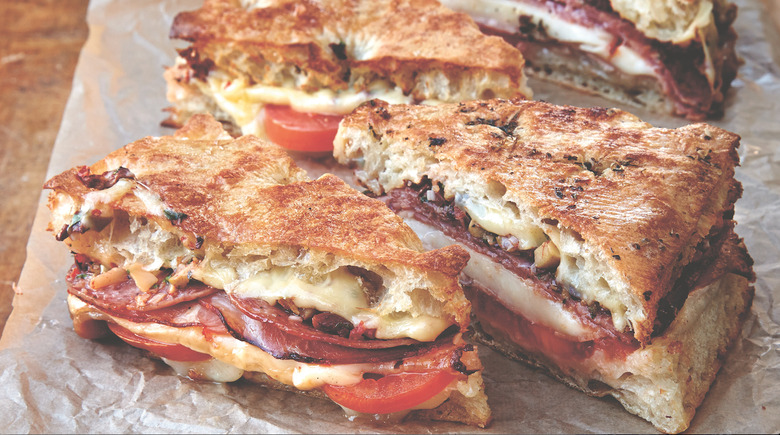 Ingredients
1 1/2 teaspoons salted butter
1 4-inch square of focaccia bread
1 slice provolone cheese (young, plain provolone, not aged or smoked)
2 or 3 slices small ripe plum tomato (about 1/4-inch thick)
2 thin slices mortadella
1 slice smoked mozzarella cheese (also called Scamorza)
2 thin slices capicola
4 thin slices dry salami
2 tablespoons Muffaletta Olive Salad
1 slice Jarlsberg cheese
1/2 cup pimiento-stuffed green olives
1/2 cup pitted Greek black olives
1/4 cup finely chopped roasted red peppers
2 canned roasted artichoke hearts
1/2 shallot
2 tablespoons minced fresh flat-leaf parsley
1 tablespoon fresh lemon juice
1 garlic clove
1/2 teaspoon capers
1/2 teaspoon dried oregano
Directions
:::olive salad:::
In a medium bowl, combine the green olives, black olives, red peppers, artichoke hearts, shallot, parsley, lemon juice, garlic, capers, and oregano. Toss to mix well and transfer to an airtight container.
Refrigerate for 8 hours before serving. Consume within 4 weeks.
:::grilled cheese:::
Heat a cast-iron or nonstick skillet over medium-low heat.
Spread the butter on the outside of each piece of focaccia, dividing it evenly. Place the bottom half, buttered-side down, on a clean cutting board. Layer the provolone, tomato slices, mortadella, mozza­rella, capicola, salami, olive salad, and Jarlsberg on top. Finish with the top half of the bread, buttered-side up.
Using a wide spatula, place the sandwich in the pan, cover, and cook until the bottom is nicely browned, 3 to 4 minutes. Turn and cook until the second side is browned and the cheese is melted, about 3 minutes longer.
Cut the sandwich in half, if desired, and serve immediately.