Pasta Cacio E Pepe Recipe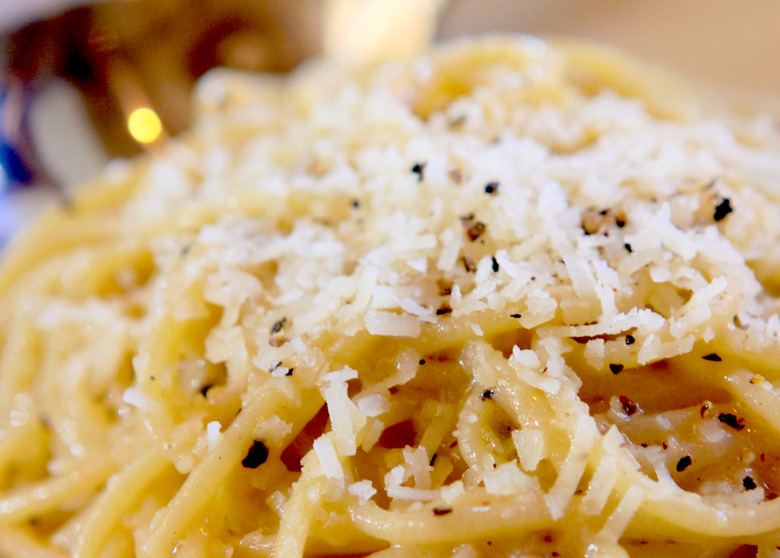 Photo: kurmanstaff on Flickr
On our recent trip to Chef Fest — Made In America, a chef-studded food and cooking event at Hawaii's Four Seasons Resort Hualalei, we learned to make pasta cacio e pepe, a classic Italian comfort food mastered by Osteria Mozza Executive Chef (and 2012 James Beard Award Best New Chef) Matt Molina.
Use any kind of pasta you like. Restaurants typically use spaghetti or other long noodles, but Molina made it at the demo with rigatoni to great success. It's more about technique than pasta shape.
That said, follow Molina's technique or you may end up with an unappetizing plate of stringy goo congealed around lovely (albeit oily) al dente pasta. Whatever you do, don't drain that pasta water before reserving enough to make the sauce — that's right, the sauce is made from pasta water, grated pecorino, olive oil and strategy. Your attention will be very handsomely rewarded: a sharp, creamy, peppery, very addictive pasta with only five ingredients. Six, if you count your attention to detail.
Pasta Cacio E Pepe Recipe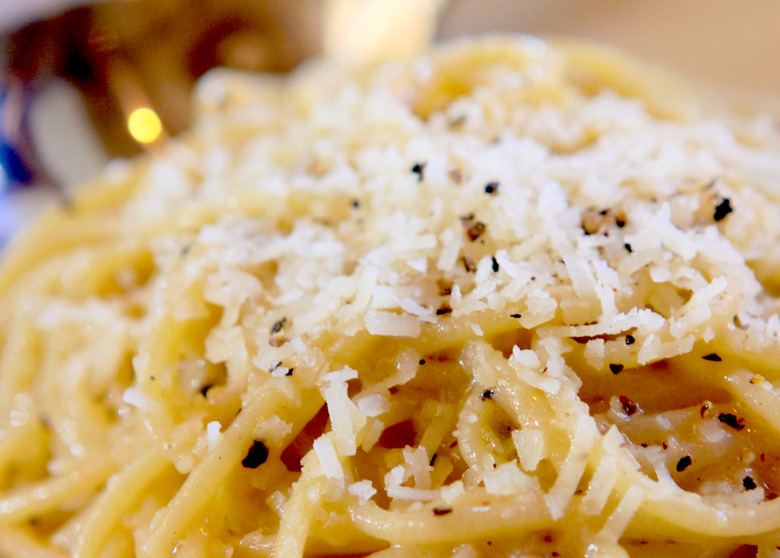 Ingredients
1 pound dried pasta
1/2 cup extra-virgin olive oil
1 tablespoon plus 1 teaspoon fresh coarsely ground black pepper
1/4 cup Parmigiano-Reggiano
1/4 cup Pecorino Romano
Directions
Fill a pasta pot or a large stockpot with 6 quarts of water, add 6 tablespoons of salt, and bring the water to a boil over high heat. If you are not using a pasta pot, put a colander in the sink or have a wire strainer handy to lift the pasta out of the pot. Drop the pasta into the boiling water, stir to prevent it from sticking together, partially cover the pot so the water returns to a boil quickly and continues boiling and cook the pasta until it's al dente.
While the pasta is cooking, combine the olive oil, pepper, and ½ cup of the pasta cooking water in a large sauté pan. About 1 minute before the pasta is done, place the sauce over high heat. Lift the pasta out of the cooking water, or reserve 1 cup of the water and drain the pasta, and immediately add the pasta to the pan with the sauce. 
Cook the pasta with the sauce for 2 minutes, stirring with a rubber spatula or tongs, to "stain" the pasta with the sauce, adding some of the reserved pasta water if the pasta is dry and sticky instead of slippery and glistening.
Turn off the heat and let the pasta rest in the pan for 1 minute (Letting the pasta rest before you add the cheese prevents it from melting and becoming stringy.) 
Add the grated Parmigiano-Reggiano and pecorino romano, stirring vigorously and shaking the pan until the oil and cheese form a homogenous, emulsified sauce. Drizzle the finishing-quality olive oil over the pasta and stir quickly to combine.
Use tongs to lift the pasta out of the pan and onto the center of each of four plates, dividing the pasta evenly, and twirling it as it falls onto the plate to form a tight mound. Spoon any sauce left in the pan over the pasta. Coarsely grind black pepper over the pasta, if desired, and serve.
Pasta Time! A Deconstructed Carbonara Recipe
Pasta Puttanesca
Bucatini al'Amatriciana