Giada De Laurentiis' 2 Favorite Food Cultures (Other Than Italian)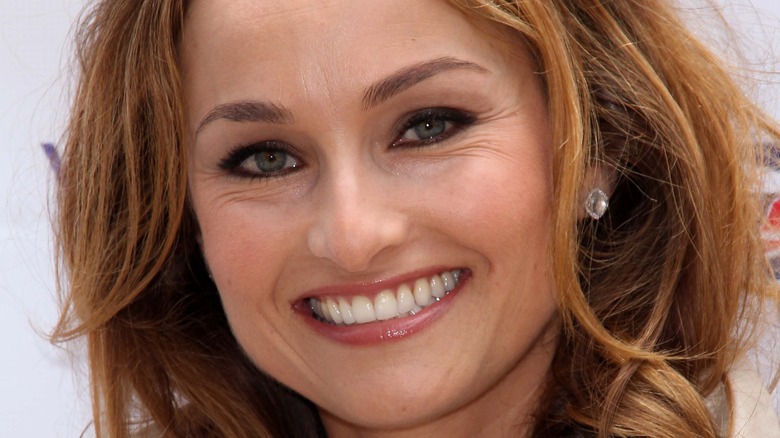 s_bukley/Shutterstock
Giada De Laurentiis has made a legacy by putting Italian food on center stage. Through her television shows, cookbooks, and social media platforms, she has shown home cooks what authentic Italian food is. Born in Rome into a famous Italian family, she often references her childhood and family experiences with food, specifically (and not surprisingly) Italian food. Like so many others, she naturally gravitates towards the cuisine of her upbringing.
Despite the fact that she's built a career around all things Italian, De Laurentiis is like most Americans in that she enjoys all kinds of other foods as well. When she's not in the mood for pasta al limone or sheet pan lasagna, she loves Japanese and French food. As a classically trained chef, she certainly understands the concept of not only creating something that tastes delicious but is beautiful to behold as well — and Japanese and French cuisine definitely know how to make a plate look good.
Japanese cuisine is beautiful and understated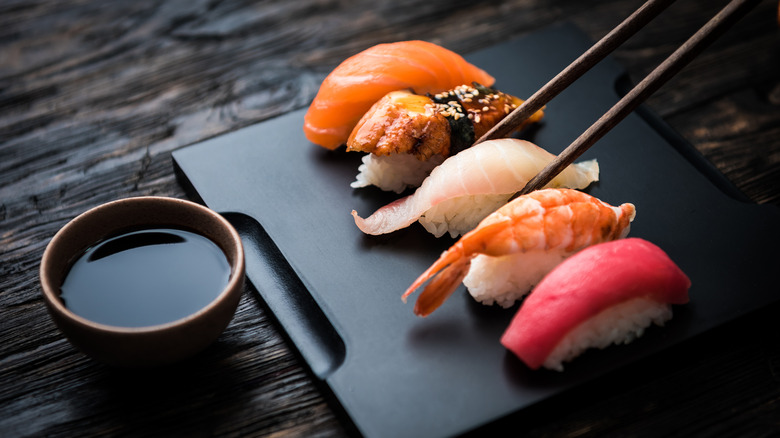 Zheka-boss/Getty Images
De Laurentiis told Parade, "I think it's something a lot of people don't know about me, but I'm marveled by the beauty and delicacy of Japanese food. It's so artistic." In 2021, she virtually joined chef Shinji Ishida of Nogizaka Shin, a Michelin-starred restaurant in Tokyo, for a Japanese fermentation lesson, something she was thrilled to do. The Italian chef has appreciated Japanese food since she went to culinary school in her 20s where she admired her Japanese classmates' plating skills.
She believes Italian and Japanese cuisine share the values of simplicity and lots of flavor — but admits Italian presentation veers on the rustic side while Japanese food exudes effortless beauty. This is seen in perfectly formed, pristine pieces of nigiri, expertly built bento boxes, bowls of colorful ramen that are almost too pretty to disturb, and perfect triangles of onigiri, among many Japanese dishes.
French food engages all of your senses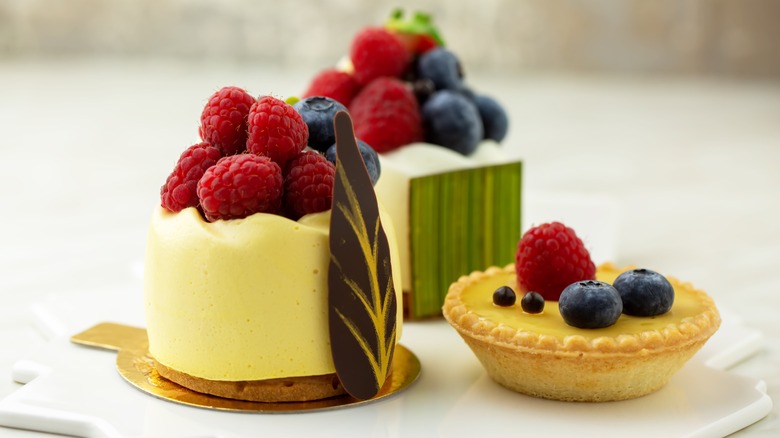 BarthFotografie/Shutterstock
French food has been a favorite of De Laurentiis for a long time as well, which is probably one of the reasons she chose to attend the Le Cordon Bleu culinary school in Paris, France. She had her sights set on becoming a pastry chef and found inspiration in the city's many bakeries. It wasn't only the precision she saw that was put into classic French pastries, cakes, and desserts, but it was also the aromas coming from the bakeries, and the rainbow of colors, flavors, and textures of each croissant, éclair, and profiterole she came across.
Upon returning to the United States, De Laurentiis did not pursue becoming a pastry chef, but she did begin a culinary career that included a stint at Spago in Beverly Hills and launching her own catering company before becoming a star on the Food Network. However, she never forgot what she learned in Paris, about how food should draw you in even before you see or taste it. It's the whole experience — from the waft of smells coming from the kitchen to the care you put into plating your food — that makes De Laurentiis particularly enjoy the elegance of French cuisine.