Low And Slow: Make Gefilteria's Wine-Braised Brisket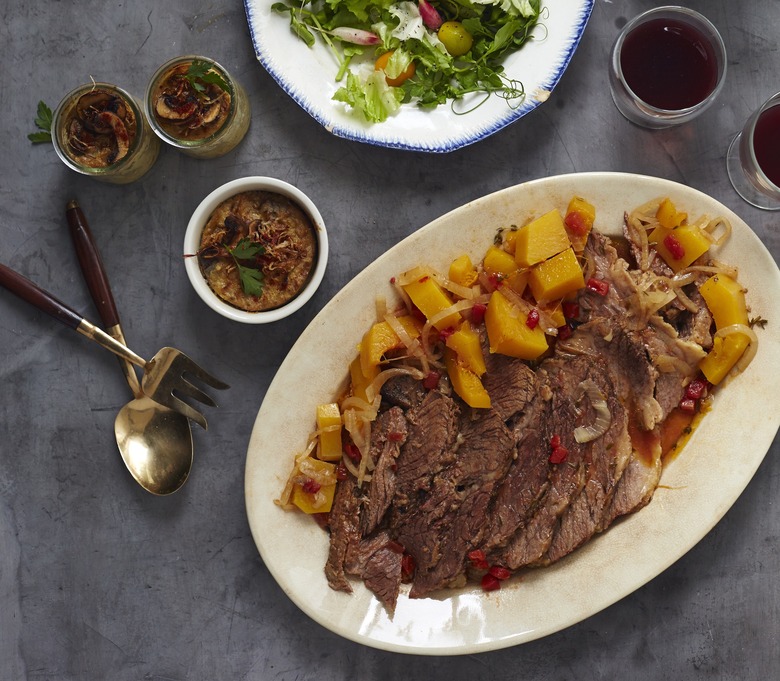 We may receive a commission on purchases made from links.
The traditional Jewish cuisine that warms your soul and fuels your holidays gets a makeover in The Gefilte Manifesto, a collection of recipes by Liz Alpern and Jeffrey Yoskowitz. As owners of artisanal fish loaf haven Gefilteria, their spin on Ashkenazi Jewish food is as appetizing as it is contemporary, spruced up for the next generation of home cooks. Wine-braised brisket is a staple on holiday tables around the world — try your hand at this version, and don't forget the butternut squash.
Liz: Brisket really gets Jews talking. The mere mention of the word brings up stories of holidays past, aunts who can't cook, aunts who can cook, grandmas force-feeding grandkids, etc. While beef was often very expensive in the old country, brisket became a symbol of plenty in North America, where it was more affordable but no less special. This brisket is braised for hours, just as many Jewish briskets are, but we incorporate white wine instead of the more typical red, and butternut squash instead of potatoes. This makes for a lighter, brighter brisket, if such a thing exists, so it's a better fit for holiday meals served during the warmer months.
Note that the second cut brisket we recommend for this recipe will not slice as thinly as the first cut. It's softer and fattier. This doesn't bother us. The meat will be so tender you could cut it with a spoon — who needs a thin slice? Also note that if you'd like to make this a more wintry brisket, you can swap the squash for potatoes and/or turnips and put the veggies in an hour earlier than the recipe calls for. Jeffrey prefers it that way, and once again, we agree to disagree.
Low And Slow: Make Gefilteria's Wine-Braised Brisket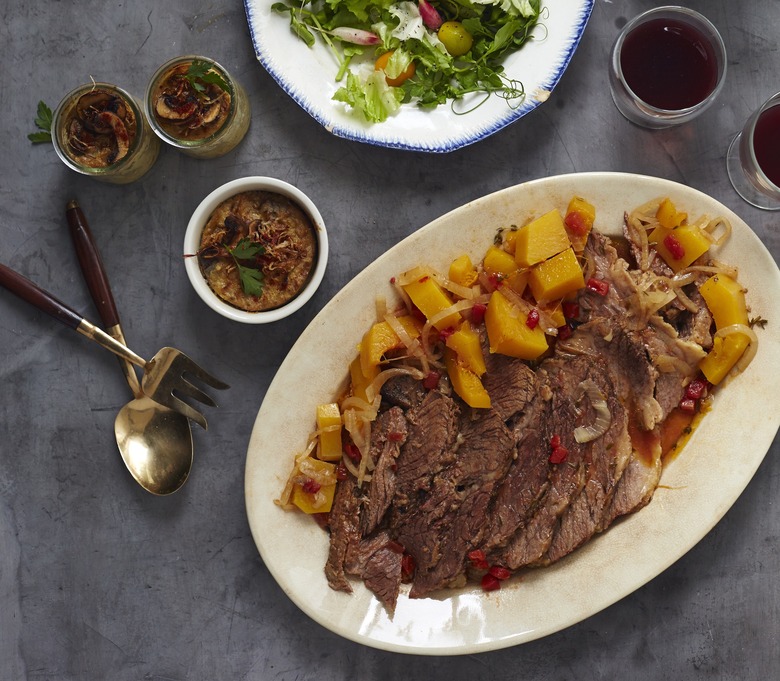 Ingredients
1 1/2 cups canned diced tomatoes
4 cups beef, chicken or vegetable broth, store-bought or homemade
1 750-mL bottle white wine (pinot grigio, sauvignon blanc, etc.)
1 tablespoon kosher salt
1 teaspoon freshly ground black pepper
1 tablespoon vegetable oil
2 1/2 pounds second cut brisket (also called deckle)
1 large onion
Handful fresh thyme sprigs
1 large butternut squash
Chopped fresh herbs, for serving
Directions
Preheat the oven to 300ºF.
In a large bowl, mix together the tomatoes, broth, wine, salt and pepper.
In a large enameled Dutch oven (with a tight-fitting lid), heat the oil over medium heat. Place the meat in the pan to sear, 2 to 3 minutes on each side, or until it is evenly browned.
Remove the meat and set aside. Line the bottom of the Dutch oven with onion slices. Place the brisket on top of the onion and pour the tomato mixture over the meat, making sure that the liquid covers the meat entirely. If you are using a larger pot and the liquid does not cover the meat and vegetables, add water until it does. Add the thyme sprigs.
Cover and place in the oven for 3½ hours, checking every hour or so to make sure the liquid is still covering the meat. If at any point it isn't, pour hot water into the Dutch oven to make sure the meat remains covered. After 3½ hours, add the butternut squash, making sure to submerge it under the liquid. Cook for 1 hour more, then remove the pot from the oven. Let sit at least 45 minutes before slicing.
Brisket tastes even better the next day, reheated in the oven. To serve, scoop out about 3 cups of liquid from the Dutch oven and place in a small saucepot. Cook over medium-low heat until it has reduced into a sauce. Serve the brisket and squash on a platter, with the sauce ladled over the top, and garnish with fresh herbs.