The Canned Tomato Brand Giada De Laurentiis Swears By For Sauces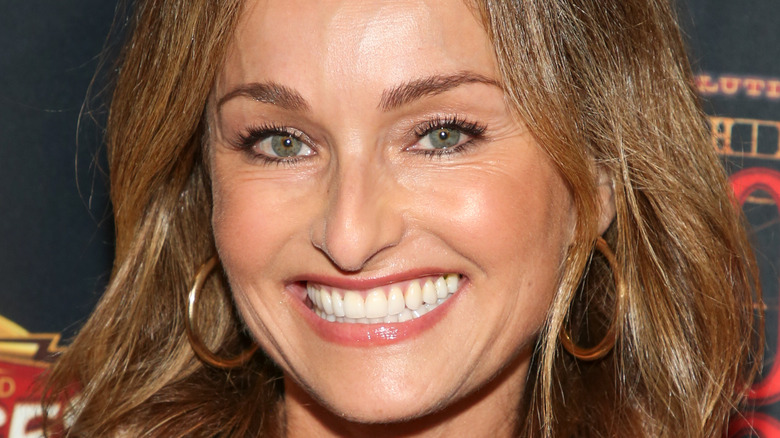 Paul Archuleta/Getty Images
Giada De Laurentiis has no shortage of food brands that she recommends for the ingredients in her recipes — whether she's slipping in a tip on Instagram or selling the product on her lifestyle website, Giadzy. From her favorite capers to her favorite mustard, it's no surprise to anyone that these brands are almost always authentically Italian.
Flours, dried pasta, olive oils, condiments, sweet treats ... you name it, and De Laurentiis has a go-to favorite that she's more than happy to share. Included in that list is an obvious, important, versatile ingredient that's a staple to any Italian chef: canned tomatoes. For the superstar Italian chef, those are Corbara Pomodorini whole tomatoes.
De Laurentiis is always whipping up delicious sauces, and these are the tomatoes she turns to when she needs that beautiful tomato-ness to be the star. The brand the celeb chef loves comes in a pretty blue can packed with whole Corbari tomatoes straight from the Amalfi Coast. So what makes I Sapori Di Corbara a brand to swear by?
I Sapori Di Corbara: tiny tomatoes, big flavor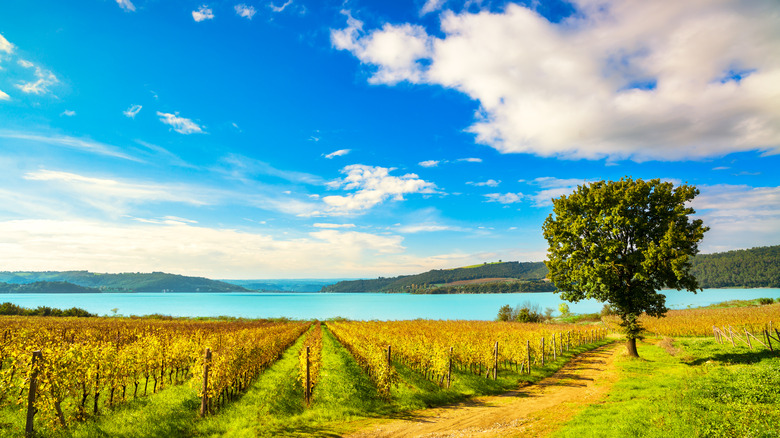 StevanZZ/Shutterstock
The brand's name, I Sapori Di Corbara, translates to "the flavors of Corbara", and that's really what it comes down to: It's the strong and unique flavor that these pomodorini (or "tiny tomatoes") bring with them. Exclusively grown in the volcanic soil that surrounds the Lattari Mountains and Mount Vesuvius, the small, light-bulb-shaped tomatoes make any sauce shine.
According to Giada De Laurentiis, this rich, volcanic land on the Amalfi coast is "what makes the perfect tomato." Corbari cherry tomatoes are intensely sweet, thanks to their highly concentrated sugars from the southern Italian sun, but they're met with a unique sourness or tartness — which is why the ancient heirlooms are known as "figlio del sole e del fuoco" or the "son of the sun and fire" in English.
I Sapori Di Corbara's Corbari Pomodorini Whole Tomatoes come whole, unpeeled, and canned in their own juices. Thought of as even higher quality and more precious than everyone's favorite San Marzano tomatoes, they cost a pretty penny at $7.50 per can. The brand also sells other tomato varieties from the Campagnia territory, along with products like tomato jam and candied tomato with chili pepper.
What's the best way to use Corbara tomatoes?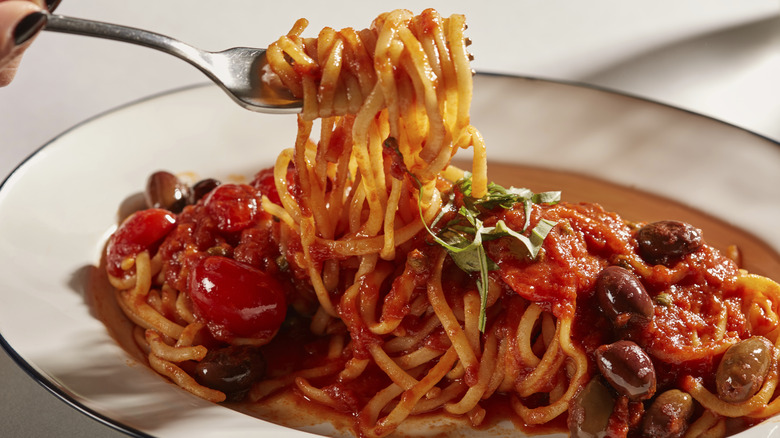 Elio Ruscetta/Getty Images
The best way to cook with and enjoy these special cherry tomatoes is to do so in a way that's most authentically Italian: Put them to use as simply as possible. Like any other flavorful, high-quality ingredient, you want these tomatoes to truly be the star of the dish.
Because they're picked (and packed) so fresh and have that powerfully sweet flavor, there's no need to cook Corbari tomatoes for very long — just a few minutes will do the trick. But they also work excellently in sauces, using a simple, short list of ingredients like olive oil, garlic, fresh olives, basil, and carrots. Pro tip: Rinds of parmesan cheese are a great pair to balance out their sweetness.
There are plenty of uses for the sweet cherry tomatoes for lots of pasta sauces, from simple recipes like bolognese and spicy pomodoro to more complicated ones like pasta puttanesca and lobster fra diavolo, but you can also use this pomodoro for things like meatballs and pizzas. Try them in soups, like creamy tomato soup and slow cooker minestrone, where their flavor can be slurped and savored.