Giada De Laurentiis' Love For Italian Capers Is Boundless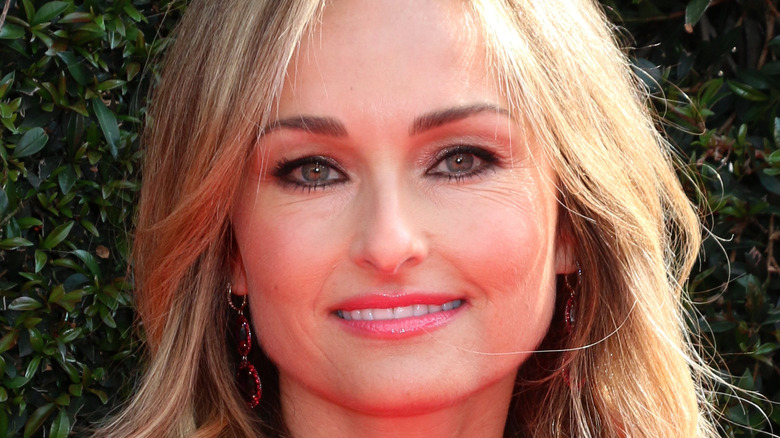 Kathy Hutchins/Shutterstock
Chef and culinary personality Giada De Laurentiis has a pretty refined palate, so it makes sense she would love capers, the salty, briny, tiny umami bombs that are actually young, underripe flower buds of the capparis spinosa bush. Of course, De Laurentiis especially loves Italian-style capers and uses them in Italian dishes as seen in her recipe for chicken piccata meatballs that she shared on TikTok. 
In the video, she takes a moment to issue a "special announcement" to consider capers, highlighting just how amazing the little morsels are and how U.S. varieties stack up to Mediterranean options, which are prepared in different ways.
In general, fresh capers are lemony and floral, but they are also very bitter and pungent, so they are almost always preserved after being dried in the sun. It's then that capers take on the flavors of what they are packed in, such as vinegar, salt, or wine, so they are often tangy, piquant, and quite salty. They range in size from about seven millimeters across to more than 14 millimeters, and, taste-wise, the larger they are, the more acidic the flavor profile. The smallest capers, called nonpareils, are the most mild in flavor.
Which kind of capers does Giada De Laurentiis prefer?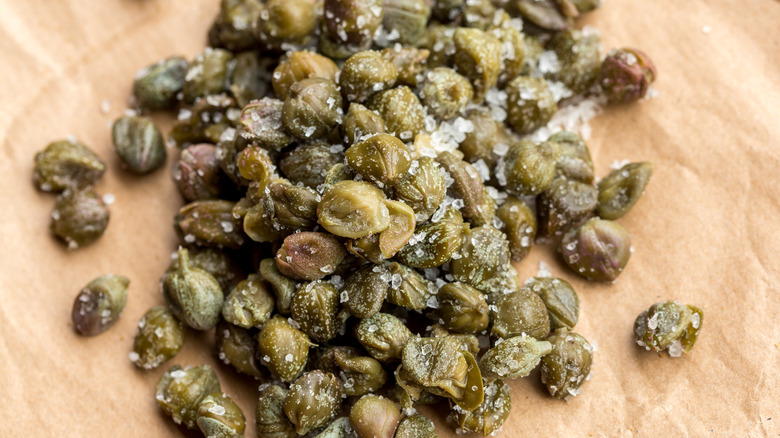 Quanthem/Getty Images
According to her TikTok video, Giada De Laurentiis loves capers hailing from the islands of Sicily that are dry-packed in salt. In her opinion, a liquid brine (often used to prepare them Stateside) dilutes their natural flavor. While the chef prefers the more concentrated taste, she does recommend a quick rinse before cooking with capers to remove some of the saltiness if you have a super savory dish.
@giadadelaurentiis

I love taking familiar Italian flavors that we love, and transforming them into something different, which is exactly what I did with these Chicken Piccata Meatballs! These meatballs are as tender as they get and packed with all of the bright flavors of chicken piccata. Serve them as an appetizer, alongside rice or orzo or over an arugula salad for a light lunch.
In particular, De Laurentiis is a fan of Kazzen Italian capers, a product that's available on her food and lifestyle website Giadzy. This style of capers comes from a family-run business on the island of Pantelleria off the coast of Sicily that's known for producing high-quality and particularly large varieties. In this region, caper plants are native and thrive in the hot and dry environment. De Laurentiis loves them so much, she features a number of Kazzen's products on Giadzy, including crunchy caper leaves, caper-seasoned salt, and a caper and almond pesto, among other options.
The best ways to use capers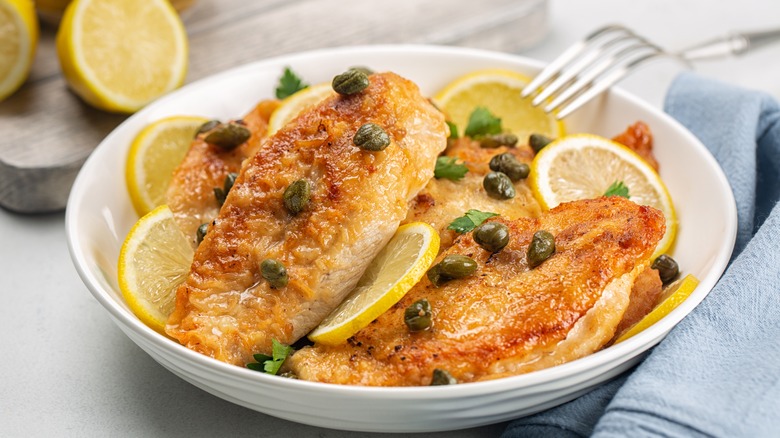 OlgaBombologna/Shutterstock
In her caper-loving TikTok video, Giada De Laurentiis riffs on a classic chicken piccata recipe by turning all the usual suspects into tender and browned meatballs. Rinsed and chopped capers, lemon zest, and parsley are added to a milk, bread, and Parmesan cheese mixture before being gently mixed with ground chicken. After being broiled, the tender meatballs are then finished in a sauce that's pretty typical of a classic chicken piccata recipe.
De Laurentiis has said she also likes using capers in pasta dishes, alongside complementary flavors from ingredients like tomatoes, almonds, parsley, and good-quality tuna that's been packed in olive oil. She also likes to makes lemon caper sauces for fish dishes that involve salmon and sole. 
If you want to be like De Laurentiis and riff on some classic Italian recipes with the ingredient, try a tapenade full of capers, olives, and anchovies, or use in a humble pasta puttanesca that features a similar cast of foods. In general, capers can be used anywhere you want a tangy, salty, umami, pop.