The 15 Best Fresh Baked Goods At Popular Grocery Chains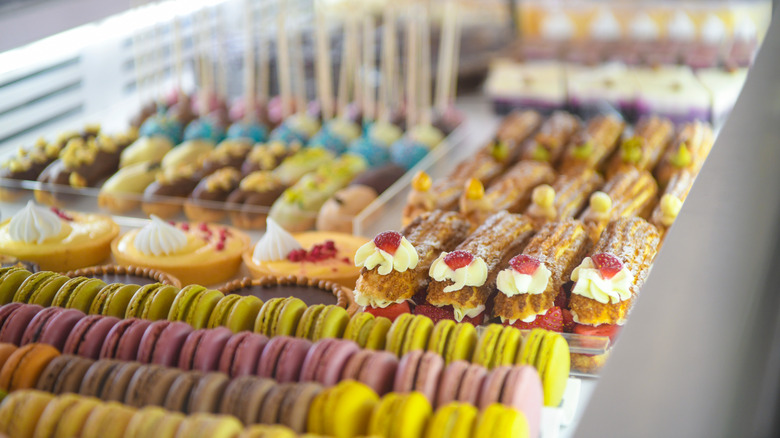 Dragan Mujan/Shutterstock
Mm-hmm, we see you! Boppin' to the saxophone version of "I Wanna Dance With Somebody" over the intercom, casually strolling behind your cart with the one wiggly wheel, like you're casing the bakery section. There, under the lights: Warm chewy rolls, dripping with sweet cream cheese frosting, bursting with all the cinnamon goo you can possibly see through the shiny glaze. You practically levitate on the aroma of fresh-baked bread, speckled with tangy lemon zest and crunchy poppy seeds. You will those ridiculously soft brown butter chocolate chip cookies to tumble into your "bakers gonna bake" shopping tote, like, oops — guess you have to buy them now.
It's totally cool. We're right behind you over here, giving the thumbs up while low-key mainlining mini chocolate cupcakes with rainbow birthday sprinkles like it's our job. We get baked like we mean it. 
We lean into our discerning tastes when it comes to our confectionary haul. And, yeah, no, we're not having any of that dry, stale, tasteless stuff. (File that under "crackers," people). We want our cakes perfectly tender, our muffin tops impossibly poofy, and our loaves, well, loafy. From cinnamon rolls, to Dutch apple pies, Brooklyn babkas, and Chewies, hold on to your conchas, we're serving up the best fresh-baked goods grocery store money can buy!
Wegmans: Ultimate Chocolate Cake
Put that box mix back on the shelf. At Wegmans, we come for one thing, and one thing only: Ultimate Chocolate Cake with Chocolate Icing. And yes, the large one. (We'll see if a couple vegetables can fit in the cart after we demolish the bakery section.) This sweet confection elicits delighted screams and squeals from party guests, pleading requests from homesick fans across the nation, and a loyalty beyond any food ever recorded in modern history. Also it's, like, really good, you guys.
You want chocolatey chocolate cake? You got it. With a beautifully moist, dark chocolate, double-decker crumb, positively slathered in smooth, velvety chocolate frosting, this handmade cake might just have you skipping your go-to homemade recipe in favor of zero effort, and total glory. Just 24 bucks gets you a day to yourself, and the cake of everyone's dreams — including yours; a victory best served with a tall glass of cold milk. Or all of the wine. (A smaller $7 version of the cake exists, but we believe in you.)
If it tastes like home-style magic, that's because it is. Back in 2005, a Wegmans employee swept the field in a contest to discover the chain's ultimate chocolate cake. And nearly two decades later, Wegmaniacs show zero signs of slowing down. With locations along the Atlantic, from North Carolina to Massachusetts, you're gonna have to sweet talk your favorite East Coaster into sending the Ultimate gift.
Costco: Cinnamon Pull-A-Part Rolls
In the classic French pastry tradition of the great Napoleon Pull-A-Parte (go with it!) comes a Costco peak-goo sensation: Kirkland Signature Cinnamon Pull-A-Part Rolls. Count on six of these babies stuffed into each package. (You be the judge on whether or not you know five other people worth pulling them apart with.)
Get hypnotized by buttery, cinnamon brioche swirls, covered in a zingy cream cheesy glaze that hits right with every bite. These hefty rolls easily check all the boxes on flavor, texture, and sticky finger-licking in public.
They arrive on their own baking tray, but also warm up just fine in an air fryer or microwave. Any way you do them, that sweet, warm, doughy goodness is all yours in 20 minutes, or 20 seconds. Ding! Dinner is served. At this point, you can either cut your roll into pieces, stuff it all into your mouth, unravel it from the outside and eat it like Hubba Bubba Bubble Tape, or pull a TikTok and grab the very center of the spiral with chopsticks, and then suck it into your face like noodle soup.
Lowes Foods: Blueberry Muffin
If you're lucky enough to get your Lowes on in Virginia, or the Carolinas, you're already down with our VIP pick: the fresh-baked blueberry muffin. And as far as muffins go, it's a beast. Two beasts come in a pack, locally referred to as Monster Muffins. (Does Lowes bake any other size?) They look like normal muffins, if normal muffins went to the gym all summer and got jacked by the first day of school. And they pack just as much blueberry punch in the flavor department.
Picture yourself grabbing a box, gingerly carrying it home in a BabyBjörn, and then microwaving your favorite muffin child for 20 seconds. Freshly nuked, you tear apart two warm halves, which you generously butter. We also accept cream cheese for a little tang. Sandwiched back together, or open faced, the perfectly sweet cake, dotted with juicy bursts of fresh blueberries, and little sugary, crumbly bits on top, works for breakfast, dessert, a coffee snack, or any other mealtime of the day. Just don't forget about your other little friend, still waiting in the box.
Loads of wannabes clutter the blueberry muffin market. But only one Monster Muffin will survive. Well, that is, until we eat it. So, absolutely zero muffins will survive. You know what, let's not get caught up in a numbers game!
Walmart: Marketside Iced Lemon Sliced Loaf Cake
Wait a minute, this looks suspiciously like another favorite lemon loaf. But sorry not sorry, Starbucks, we only have eyes for one loaf at Walmart: the Marketside Iced Lemon Sliced Loaf Cake. You didn't hear it from us, but Starbucks Shmarbucks, this tastes exactly like — if not better than — the other one. We should probably taste it for the umpteenth time just to be sure. Our eyeballs turn to lemons just thinking about it.
The 'Mart also carries an unfrosted sliced lemon loaf cake (what is this, health food?), but we like the one with the generous layer of icing on top. One bite of this rich and dense, bright yellow lemon cake, covered in that mouthwatering lemon frosting, and you won't even remember that whatever-it-was coffee shop you used to go to for your lemon loaf fix.
The Walmart loaf cake comes in single-serve packs, or as eight hefty slices to a container for $5. On the flip side, one serving of Starbucks' Iced Lemon Loaf will cost you $3 and change. Eight times the fun for roughly a dollar more? We don't claim to be mathologists, but that sounds like a win-win any way you slice it.
Aldi: Bake Shop Dutch Apple Pie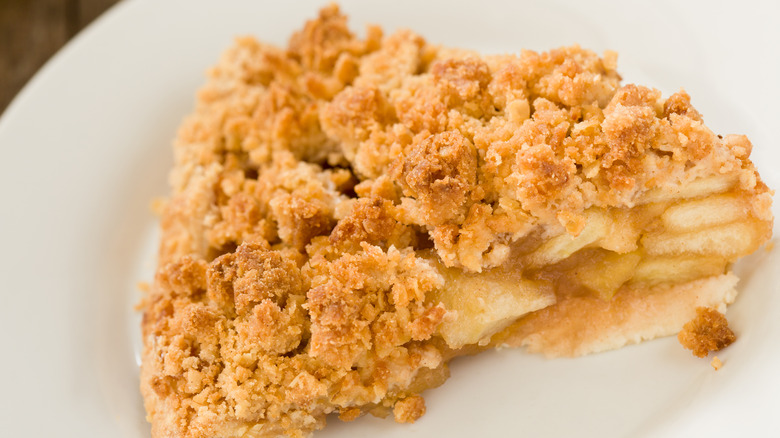 Debbismirnoff/Getty Images
The idyllic, plump and steamy apple pie cooling on the windowsill scenario lives deep in our vintage animation memories. But you know what's even better than getting up at dawn, picking the ripest fruit straight from the tree, and baking your very own piping hot apple pie from scratch? Not doing that. Thank you Aldi, for gifting us a flawless homestyle impersonator: the Bake Shop Dutch apple pie.
What makes it Dutch? The seriously streusel-y topping we would legit eat all by itself. (Ooo! Over ice cream!) Sing the praises of lattice crust all day, but when it comes down to a taste test, streusel takes the cake. Well, okay, takes the pie. It's a crumbly, buttery, toasty, sweet, cinnamon topping that's sprinkled over a luxurious amount of flavorful, fresh-sliced apple filling. And those apples are perfectly cooked — not too soft, not too crisp — so every tender bite reminds you of your grandma. Or someone else's grandma who made pies.
Even the craft paper-esque box it comes in screams, "Of course we always have the ingredients for this in our pantry," even though the expired mustard doing solitary confinement in the fridge knows the real truth. Pop them apples in the oven to bring out the aromas, and top a slice with a scoop of vanilla. Or a bit of cheddar, if that's your thing.
Trader Joe's: Chocolate Brooklyn Babka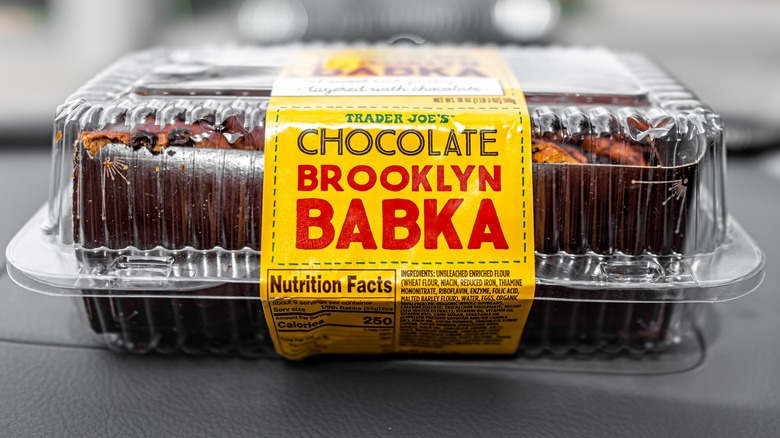 Kristi Blokhin/Shutterstock
In the Traderverse, snacks reign supreme. But the baked goods section handily hits a homer when we're talking about Trader Joe's Chocolate Brooklyn Babka. It's chocolate, it's Brooklyn, it's babka. Fuhgeddaboutit.
Whirly twirly brioche layers intermingle with rich chocolate, baked into the shape of a loaf, and sprinkled with chocolate chips on top of a glazed and flaky crust. But this isn't just an in-store drive-by type deal. This little goodie's worth taking home and devouring immediately. Dive in at room temp, or pop it in the oven for a fresh-baked feel. If you actually manage to only eat one slice your first time out, well, bless your heart.
Of course, any food masquerading as an icon of New York City cuisine better bring it. And this babka's got balls. Sourced from a small Brooklyn bakery, each soft and chewy, chocolatey bite whisks us back to a time long before the chocolate babka episode on "Seinfeld," when Yiddish-speaking bubbes baked all our troubles away.
Kroger: Pineapple Upside Down Cake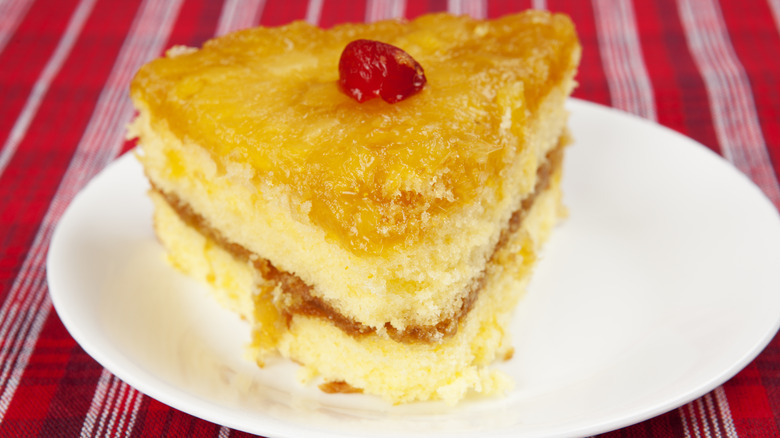 Julnichols/Getty Images
Right side up cakes are so last year. But instead of enjoying a slice of regular cake, while performing a tripod headstand from 3rd grade gym class, allow us to direct you to Kroger's Bakery Fresh Goodness Pineapple Upside Down Cake. They did the upside down part for you. And any way you look at it, it's pineapple paradise.
Giving us luxury '50s flair, this spongy 2-layer yellow cake is loaded with tangy pineapple filling. With full pineapple rings having baked to perfection on the bottom of the cake, they make their shining debut on top of the glossy glaze, dotted with a happy maraschino cherry. At first slice, you'll be wondering when the Jell-O salad and cocktail smokies are coming out. Pass us a Tom Collins, will you, doll?
While a slice of this baby cuts like sheer tropical joy, we humbly suggest that the Krogz might have gone a little light on the cherries, with just uno. Add a little more pop to the plate by adorning the inside of each pineapple ring with its very own cherry, or by rough chopping a handful of cherries and bedazzling the whole thing like it's Valentine's Day.
Giant: Peanut Butter Cookies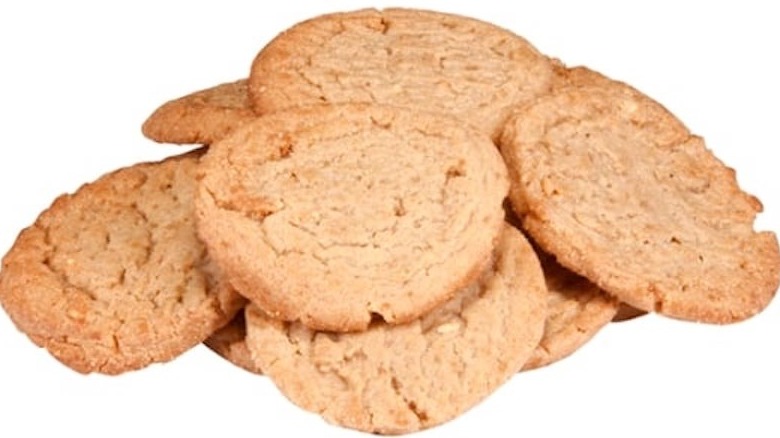 Giant Food
Finally, some cookies up in this bish! For our knockout, drop dead, nutty butter favorites, we head straight to Giant's well-stocked bakery department for their unbeatable Our Brand Bakery Peanut Butter Cookies. Scoop up a bunch of 'em. Let's do this.
Crispy cookie lovers, look away. These soft, fresh from the oven treats even reveal little bits of actual peanuts in the mix. Just like you would make them at home — minus the obligatory fork hashtag. The fork tine press for home baked cookies was commonly thought to allow all that dense peanut butter dough (ugh, so good!) to cook evenly, where it might not if it were just left in a ball. But the bakers at Giant nail a perfect bake without any forks involved. Genius.
We love peanut butter and these cookies are packing serious PB flavor. Guys: They even come in a 20-count peanut butter cookie bucket. We're so excited, we can barely plot our next move. Do we make strawberry ice cream sandwiches, like a PB&J? Should we go with another classic duo and slather Nutella in between? Or do we just grab a tall glass of milk and dive in? Sigh. It appears that the world is our peanut butter oyster.
Publix: Caramel Apple Pecan Cake
Prepare to Publix. There are apple cakes, and then there are apple cakes. And this Publix fan favorite is the second one: the Caramel Apple Pecan Cake Could there be any more awesome ingredients in one cake? No.
First of all, this little number's taking home the Grand Supreme trophy at the local beauty pageant. She's frosted with caramel buttercream, encrusted with toasted pecans, crowned with a tiara of hand-piped caramel swirls, and topped off with a hefty helping of apple pie filling. But she's also winning the personality contest, with her spongy layers of signature vanilla cake, caramel icing, crushed toasted pecans, and apple filling. (Gasp!) And she just wants world peace. She's perfect.
Supposedly this luscious dessert serves six to eight people, unless you dig straight into that apple filling in the middle ... then it's all yours. You can also snag a sheet cake version for a party of 20, if you already kinda sorta sampled the first one.
Albertsons: Key Lime Meringue Pie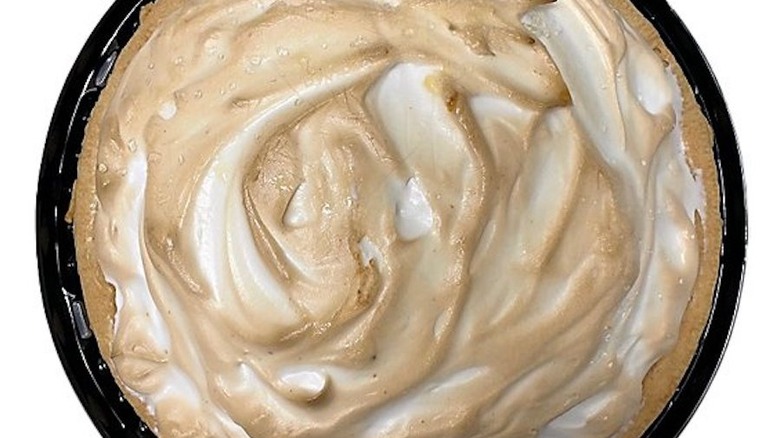 Albertsons
The quintessential key lime pie reveals a surprisingly wide variety of standards; the whipped cream-ers, the meringue fanatics, the graham cracker crust stans, and those with lime slices doing all sorts of rhythmic gymnastics as decoration. But one pie embodies the crème de la crème: Albertson's Key Lime Meringue Pie.
Albert (if that is his real name) is clearly Team Meringue. This pie is piled with the sweet stuff, and lightly torched for flame-roasted flavor. The combo truly hits the perfect balance between the smooth, creamy tang of the key lime custard, and the fluffy sugar cloud hovering directly above it. We swear, it tastes like we could almost be flip-flopping around Key West with our pie, enjoying the ocean breeze, shopping for puka shell necklaces, and listening to Jimmy Buffett together.
Fair warning: Albertsons carries several different key lime pie varieties to tempt your spidey senses. But when it comes to legit key lime flavor, their signature bakery version just can't be beat.
Safeway: Chocolate Chewies w/Pecans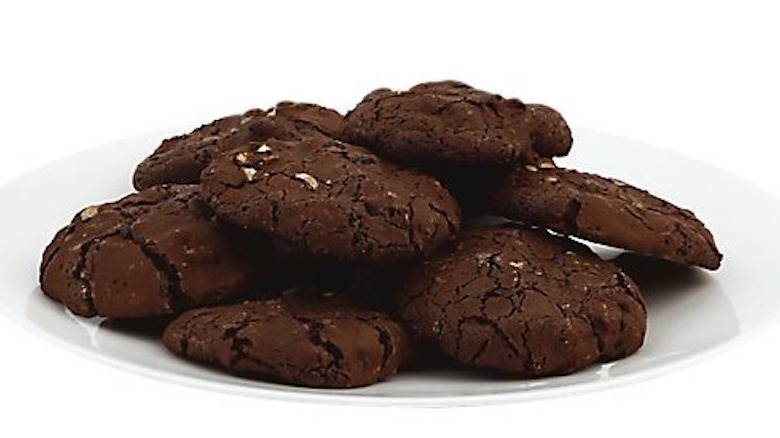 Safeway
So ... TBH, we can't help but think of Chewbacca's voice right now. But, this isn't about Wookiees. We're actually talking about chewy cookies. And Safeway's Signature Select Chocolate Chewies with Pecans have been a Southern California crowd pleaser ever since they first hit the shelves in 200 BBY. Just kidding, that's when Chewbacca was born. "Rrruurrr." (OK, got it all out.)
These gorgeous chocolate chewies put all the other chewies in the corner. And they don't get a name like that by drying out your mouth. The rich chocolate flavor stands on its own, with a little texture brought to you by bits of buttery, woodsy pecans gently folded into the bake.
The question then remains: Do you eat them in the car on the way home? Or do you save them to dunk in a glass of cold milk (or coffee)? Or do you buy a little carton of milk at the store, and do the deed in the car? Only the parking lot security cameras could ever reveal our secret chew-dezvous.
H-E-B: Conchas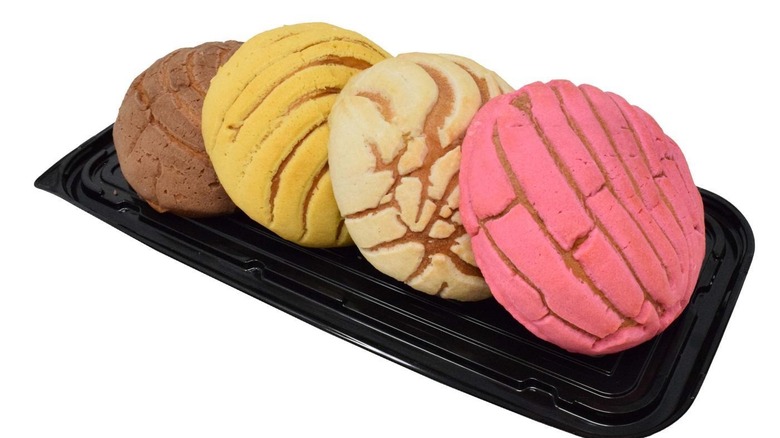 H-E-B
With outposts in Texas, you better believe H-E-B is all about the conchas! And as far as we're concerned, the brighter the better. From the expansive family tree that comprises pan dulce, we have selected the symphonic Concha in Pink; like a gorgeous Mexican flower in a señorita's hair. Wanna concha?
This sweet bread features a rolled brioche-like base, topped with a crunchy cookie dough topping that splits when baked. Scoring the topping like a seashell is all part of the heritage of this iconic Mexican favorite. That's actually where it gets its name; Concha means "shell" after all. It can also mean other things in Spanish, but ... those aren't things your abuelita ever baked.
Serving just the lightest touch of sweetness, conchas star in all kinds of breakfasts; the ol' coffee or hot chocolate poured into it method, or a spread of beans, or even Nutella. Having gotten a bit of a glow-up in more recent years, conchas have also appeared dipped, sandwiched, rainbow-striped, and croissant-ed. But some things aren't meant to be messed with. H-E-B keeps it O.G. with a beautifully fresh, fluffy, and crunchy roll that lets you fully snack your buns off.
Sam's Club: Tuxedo Bar Cake with Chocolate Mousse
Oh, hello there. Just adjusting our bowtie. We're going highbrow at Sam's Club with a slice of the Member's Mark Tuxedo Bar Cake with Chocolate Mousse, decked out with a frosting "mustache" even more elegant than ours. And it tastes like clouds that gently flitted down from chocolate heaven.
This stunning showpiece features layers of bouncy chocolate cake, doing a do-si-do with tangy cream cheese, and a deeply serious chocolate mousse. The rich chocolate ganache topping serves as the sassy backup singer to a chocolate whipped "mustache" (ok, swirl), curly chocolate shavings, and a sophisticated golden scroll. Break out the good china, it's time for dessert!
A word of advice; y'all ain't gonna be foolin' nobody with this cake. It is so clearly not made by regular human people, we could stuff it into a vintage casserole, cover it with whipped cream, and sprinkles, and people would still guess it was Sam's. But exactly no one cares. We're just here for a slice of this beauty. And, of course, seconds.
Whole Foods: Brown Butter Chocolate Chunk Cookies
We love to bet on a dark-horse contender. And while other shoppers distract themselves with the colorful macarons, shiny fruit tarts, and custom cakes under the bright lights at Whole Foods, we know the real champion lurks in the shadows (well, outside of the bakery case): the Brown Butter Chocolate Chunk Cookie. Good. Grief. A chef's kiss in every bite.
That warm, toasty flavor of brown butter sends these babies into the stratosphere. They were born for the soft-baked cookie crowd, with satisfying rich chocolate chunks (beat it, chips!) populating the entire confection.
If you're like, "Cookies, what?" right now, so were we at first. Now we can't unsee them. Or unthink about them. While they're typically packaged in a clamshell as part of a display, if you can't locate these guys, search along the bakery perimeter — until you realize we snagged every last cookie we could get our hands on.
Target: Favorite Day Bakery Fudge Iced Brownies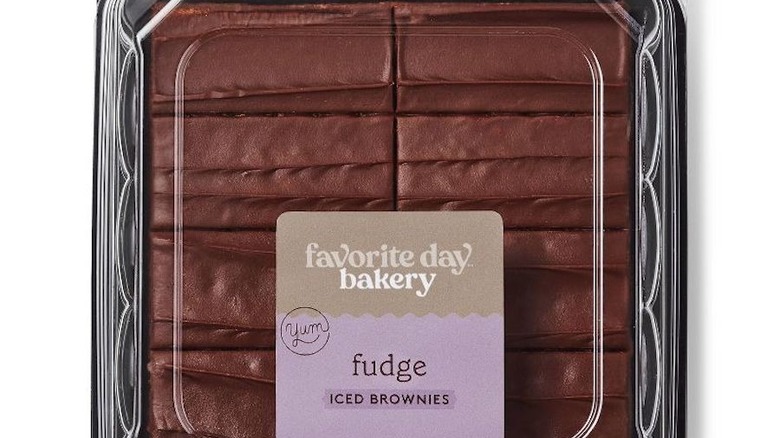 Target
Let's not make this harder than it is. Target: Favorite Day Bakery Fudge Iced Brownies. We've graduated from the obligatory tub of bottomless brownie bites, into a world of exquisite chocolate flavor. We're old enough to handle a treat with a sticky part on top, and not drop it face-first on the floor, so. Grab as many as you can carry — we'll see you at the checkout.
Where brownie bites lack a deep chocolate flavor, the iced version solidly reps the soft, moist brownie texture, plus a thick, shiny, rich and fudgy frosting. They are sheer joy to cut into with a fork, or bite into with your chompers. Mmm!
While they are, indeed, perfect just as they are, they're also hella primed for an upgrade. Warm one up and drop a scoop of vanilla on top, drizzle liberally with a decadent caramel sauce, or break it into chunks and add it to a milkshake. Could brownie croutons be a thing? We'll circle back on that once we lick the fudge off our plate.