What Makes Starbucks Reserve Unique (Besides The Bougie Atmosphere)?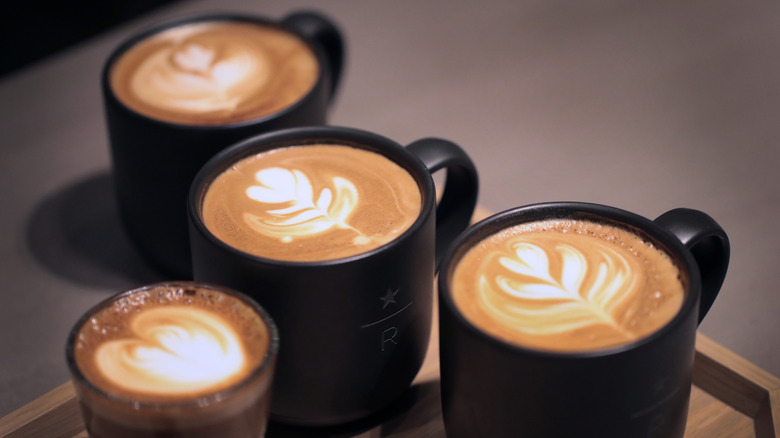 Scott Olson/Getty Images
Starbucks Reserve locations are about more than just the vibe. However, the warm rays of fancy light fixtures, illuminated art walls, floor-to-ceiling windows, and glowing coffee displays certainly do something for the senses. The first location of this novel Starbucks concept debuted in Seattle in 2014 and has since expanded across the globe, with roasteries in Shanghai, Milan, New York, Tokyo, and Chicago. These spots are destinations in themselves, offering not just food and drink but tastings, brewing, and mixology classes.
The atmosphere is supposed to be fancy. The New York City location is three stories tall and somehow manages to be a science laboratory, art installation, mixology bar, and artisan coffee roaster all in one. The over-the-top environment that Starbucks Reserve is creating is meant to be a window into all the intricacies of coffee and its accompaniments. You can get a classic cup of joe brewed to order, several elevated coffee beverages, and coffee-inspired boozy cocktails. Yes, you read that right — alcoholic Starbucks drinks. They also offer a variety of sweet and savory Italian-inspired specialties on the Princi menus.
Many who have visited Starbucks Reserve locations note the high prices and, at times, significant lines and crowds. However, most say that the atmosphere, quality of the beverages, and creative takes on coffee make it well worth it.
What can you drink at Starbucks Reserve?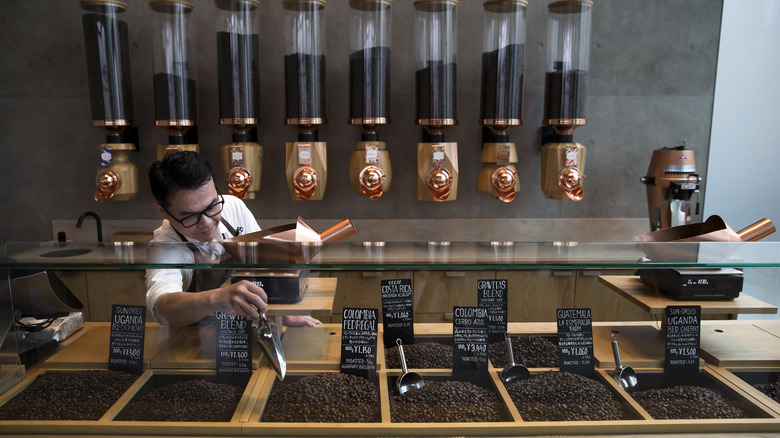 Tomohiro Ohsumi/Getty Images
The coffee itself is sourced with integrity and highlights small producers and unique flavor profiles. After site visits to select beans for taste and quality, the green coffee beans are roasted in-house at each Starbucks Reserve roastery, which all include full roasting operations. Starbucks Reserve offers blends and single-origin bags from places like Kenya, Brazil, and Vietnam. The coffee itself can be enjoyed at many standard Starbucks operations and Starbucks Reserve storefronts, which have a more elevated look, but don't have all the bells and whistles that the roasteries do.
What do they do with all this expertly roasted coffee? Turn it into espresso martinis, of course. You can try an espresso martini flight where each of the three is flavored with orange and cacao, mole spices, or cherry and lemon. You can also order Starbucks' take on a coffee-spiked Manhattan, boulevardier, or old-fashioned.
For those that prefer their coffee alcohol-free, the Tokyo Starbucks Reserve serves up creative cold brew creations like a cocktail that mixes savory malt, fennel, red peppercorns, and honey, with a beef jerky garnish or a refreshing take that combines cold brew with ginger ale, burnt cinnamon syrup, and lemon juice. Stateside, sip on an oat milk, vanilla bean, and olive oil cold brew or a hazelnut praline latte. You can still get your fall Starbucks pumpkin latte fix with a whiskey-barrel-aged coffee base or in the form of a pumpkin spice espresso martini.
What can you eat at Starbucks Reserve?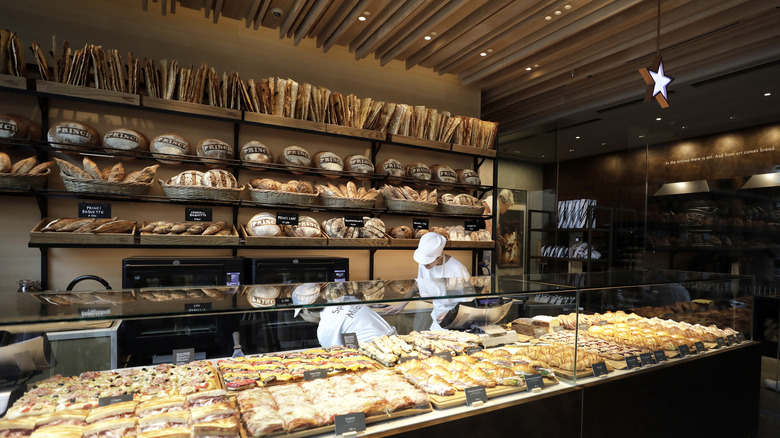 Bloomberg/Getty Images
The food selection at Starbucks Reserve was created by Milanese chef and expert baker Rocco Princi. All the creations are inspired by Rocco Princi's small-town Italian roots and the alluring bustle of Milan.
Starbucks Reserve locations in the United States all offer varying selections of similar items on the Princi menu. The amount of savory options at Starbucks Reserve roasteries sets them apart, and the sweet offerings do not disappoint either. For breakfast, sample a porchetta and egg breakfast sandwich, eggs in purgatory, or a sweet and flaky pastry filled with raisins and pistachio cream. Try a mushroom pizza, salami, and mozzarella sandwich on focaccia, or lasagna layered with Bolognese sauce for lunch. Finish with olive oil cake, tiramisu, a cannoli, a pear and almond tart, or an affogato where espresso is poured over a scoop of vanilla gelato.
The Milan location really leans into the Italian details and has Princi menu items like arancini, Panzanella salad, and bruschetta. In addition, there is an evening aperitivo menu with small plates and complimentary Grana Padano cheese, olives, and potato chips.
Is Starbucks Reserve worth a trip?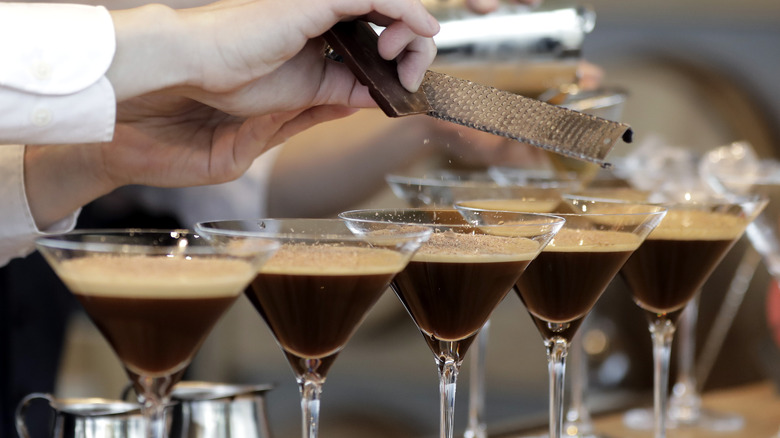 Bloomberg/Getty Images
The offerings at the Starbucks Reserve roasteries are overwhelming. All the roasteries have multiple floors, bars, and cafes, so there is a different name and menu for each part. In general, there is a Main Bar with a selection of coffee drinks, sweet and savory foods, and alcoholic beverages. The Princi Bar has a full selection of food options. The Arriviamo Bar offers all the alcoholic beverages and mixology-inspired zero-proof cocktails. The Experience Bar includes a rotating selection of coffee beans, brewed in different ways — siphon, Chemex, cold brew, or pour-over — and served solo or in flights to compare the taste of each.
You are definitely paying an upcharge for the experience and select coffee beans. A flight of three cold brews, which totals 10 ounces, will cost you $13 in Chicago, though there is a good reason for cold brew's higher price tag. A pumpkin spice latte prices at around $8 compared to $5.50 or so at standard Starbucks shops. The Roastery Old Fashioned that features cold brew, Iwai Tradition whiskey, amaro, maple syrup, balsamic vinegar, and an orange twist clocks in at $18 a piece in Seattle and $23 in New York, though the NYC location does note that gratuity is included. All the roasteries have different events, workshops, and art displays, so if you are a Starbucks aficionado and will be in the area, the Starbucks Reserve roasteries are worth a trip.