How To Order Pumpkin Spice Hot Chocolate At Starbucks
We know that this might be difficult to believe, but did you know that not everyone likes coffee? While millions of people in America (not to mention the world) love to wake up to the intoxicating aroma and flavor of coffee and enjoy its familiar flavor during an afternoon break, some just don't have the java gene. But that certainly doesn't mean they can't partake in the ever-expanding season between summer and fall that is unofficially known as pumpkin spice season. You can get the flavor and experience of the autumn-favorite sans coffee.
At Starbucks, the undisputed champion of the pumpkin spice craze, you won't find pumpkin spice hot chocolate on the menu, but the baristas can certainly make one for you. It would be considered a custom-made drink and, thus, part of the Starbucks "secret" menu. Start by ordering a standard hot chocolate, add in a couple of pumps of pumpkin spice sauce, and don't forget the whipped cream on top. If you're worried about inconveniencing the folks behind the coffee bar, fear not. Chances are they have more pumpkin sauce than they know what to do with, and custom requests are part of the game at the coffee giant.
Here's how to order one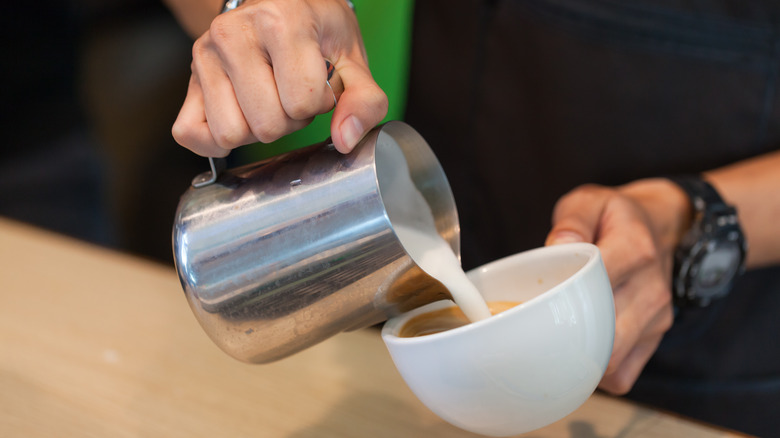 somjade dachklung/Shutterstock
According to Starbucks, its signature hot chocolate is made by combining freshly steamed milk with mocha-flavored syrup. It is then topped with whipped cream and a chocolate drizzle. You can order a pumpkin spice hot chocolate in several different ways. First, ask for a Grande-sized hot chocolate (the equivalent of "medium" in Starbucks language). Ask to include two pumps of pumpkin spice sauce and top with whipped cream sprinkled with pumpkin spice topping. Alternatively, order a grande hot chocolate with only three pumps of mocha syrup (this size normally comes with four), and then add an additional two pumps of pumpkin spice sauce. Top with whipped cream and pumpkin spice topping.
The result should be a warm, comforting, creamy beverage kissed with pumpkin-flavored goodness that won't have you tasting any coffee at all or climbing the walls with a caffeine boost. The recipe/method is easy enough to remember, but consider writing it down on a small piece of paper or card and handing it over to your barista. They may appreciate the visual if it's something they're not familiar with making.
Other non-caffeinated pumpkin spice goodies
There are actually several other non-coffee pumpkin drinks on the Starbucks menu and they include one that is essentially a pumpkin spice latte without the coffee. Just ask for a Pumpkin Crème Steamer and you'll get steamed milk with pumpkin spice syrup, whipped cream, and spice topping. You can get this in an iced version as well. If you're a sucker for an icy Frappuccino, try the Pumpkin Spice Crème Frappuccino, which includes milk, ice, Crème Frappuccino syrup and pumpkin spice syrup. Naturally, it is topped with whipped cream and a sprinkle of pumpkin spice topping.
Other options include chai lattes, matcha lattes, and teas to which you can add pumpkin spice flavor. While the whole country may not be able to bond over their overwhelming obsession with coffee, they can certainly come together over pumpkin spice drinks.