The Secret Weapon Ingredient For Nutritious(ish) Queso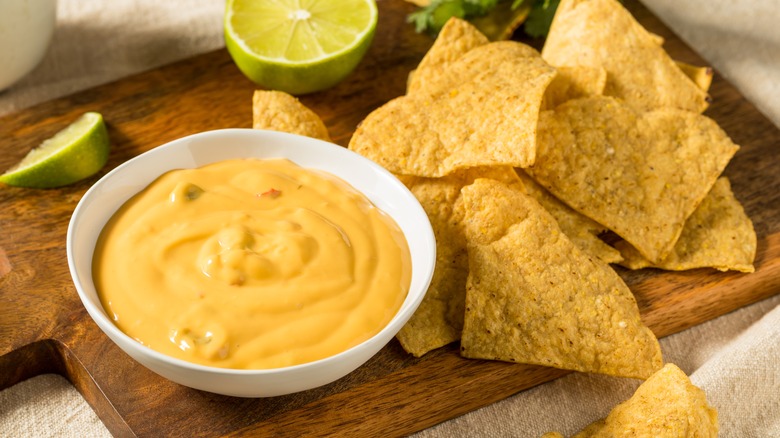 Brent Hofacker/Shutterstock
It comes as a surprise to no one that queso is not exactly the most nutritious treat, but boy, is it good. What is better than a literal bowl of cheese? Maybe a literal bowl of cheese with a hidden vegetable boost? There is a time and a place for a vat of liquid processed cheese gold and a pile of tortilla chips, but you can also make a veggie-packed, very delicious version at home. The secret ingredient? A simple sweet potato, pureed into creamy orange goodness.
It is not as random as you might think. Sweet potato is a common ingredient for a dairy-free queso copycat alongside vegan cheese, plant-based milk, garlic, onion, chilies, and nutritional yeast — and sweet potato goes hand in hand with cheese and cream in ravioli, gnocchi, and even lasagna. In a Tex-Mex queso, the color, texture, and taste of the sweet potato blend seamlessly inside the cheesy dip without compromising on flavor.
How to add sweet potato to queso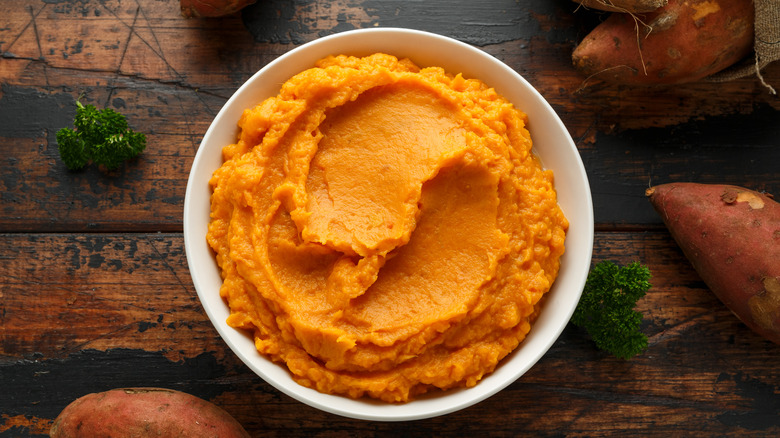 Drong/Getty Images
A whole roasted sweet potato will have a sweeter taste and slightly denser texture, but a steamed or boiled sweet potato would work here too. These can be the leftovers from your meal prep for the week — or a potato you just popped in the microwave for a few minutes. Scoop out the flesh, and blend in a food processor. You could mash it by hand, but to get the sweet potato to incorporate as easily as possible into the queso without any chunks, it is best to give it a blitz.
Combine a little bit of cornstarch with evaporated milk (or an unsweetened plant-based alternative), and add the mix to sauteed onions, garlic, and seasonings like cumin and paprika. Add in a classic can of diced tomatoes and green chilis and a good amount of freshly grated cheese that is good for melting like Colby jack, Monterey jack, pepper jack, American, muenster, or mild cheddar. Don't forget to mix in the sweet potato puree! You could stop there and be good to go, but why not top with more cheese and broil for a melty and bubbly crust? Not only does the sweet potato add extra vegetables that even the pickiest eater won't notice, but it also creates a velvety texture and adds a subtle depth of flavor.
Riff on it!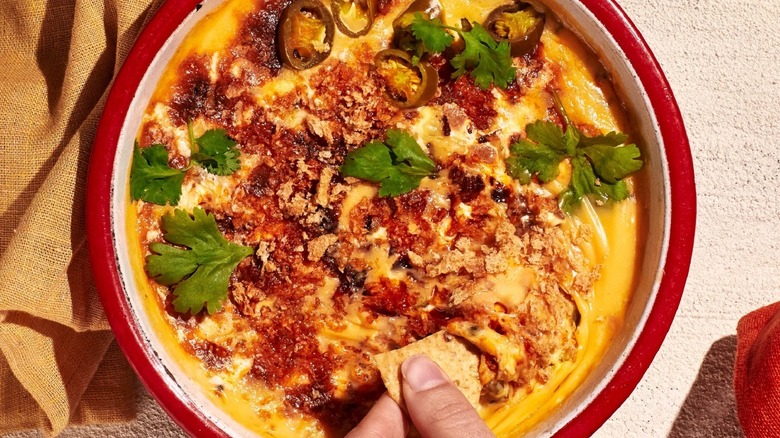 johnlck/Shutterstock
Once you open your mind to the possibilities of vegetable-heavy queso, there are so many fun routes you can take. Sweet potato isn't the only creamy, starchy, slightly sweet vegetable that can do this job. Now, winter squash from your Community-Supported Agriculture (CSA), a bag of carrots languishing in the back of your crisper drawer, or that lonely can of unsweetened pumpkin puree can all have new life in the form of queso. It is almost too good to be true.
Top your ultra-creamy queso with the usual suspects — cilantro, diced onion, pico de gallo, pickled jalapeños, fresh thinly sliced serranos, or avocado — or lean into the veggie vibes with charred corn or grilled fajita-style bell peppers. Add a little protein with ground beef, shredded chicken, or even shrimp. Serve with tortilla chips and an assortment of crunchy dippable veggies like radishes, cucumbers, jicama, or sweet peppers. This stuff is a little bit more nutritious than the usual jar of store-bought queso, but most importantly, it is yet another tasty variation on this iconic dip.