12 Delicious Ways To Shake Up A Jar Of Store-Bought Queso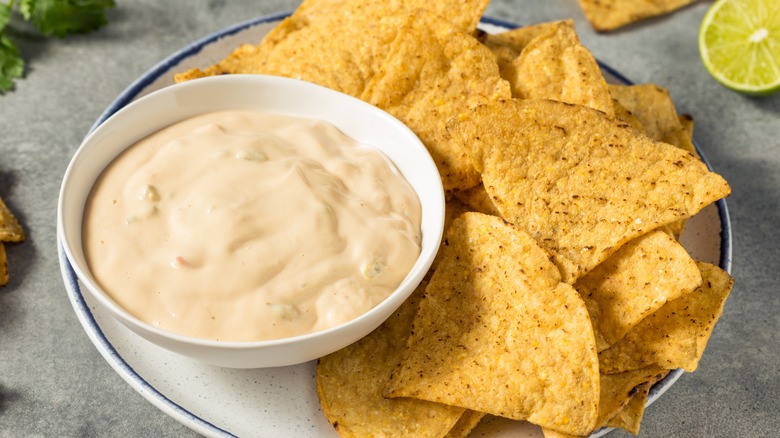 Brent Hofacker/Shutterstock
Queso may be one of the most satisfying and delicious foods ever created. An ooey, gooey golden masterpiece of melted cheddar and Monterey Jack — either Queso Blanco or Queso Fresco — plus diced tomatoes, onions, chiles, and spices. It's a highlight of Mexican cuisine, and a staple snack and appetizer that most of us just can't get enough of. Queso is great on chips, veggies, soft pretzels, French fries, wings, poppers, breadsticks, and so much more! And while the best queso generally comes from quality restaurants, the queso you get at fast food joints (and yes, gas stations) also has its charms and can sometimes be quite delicious. 
Heck, you can even eat queso right from the jar — we won't judge! But it's always better to heat it up — that smooth, creamy cheese texture is more crave-worthy when warm.
Best of all, while jarred queso is great on its own, it's also super versatile and easy to elevate to a higher level of tastiness. Jarred queso is the perfect vehicle for so many easy modifications. Make it spicier, heartier, meatier, fresher, even cheesier — whatever your tastebuds are in the mood for, queso is the perfect base to let your culinary inspiration soar. And because it's so mouthwatering in almost all forms, anything you add to it is only going to make it taste better! Here are some quick and delicious ways to help shake up your jar of store-bought queso!
Top your queso with bacon crumbles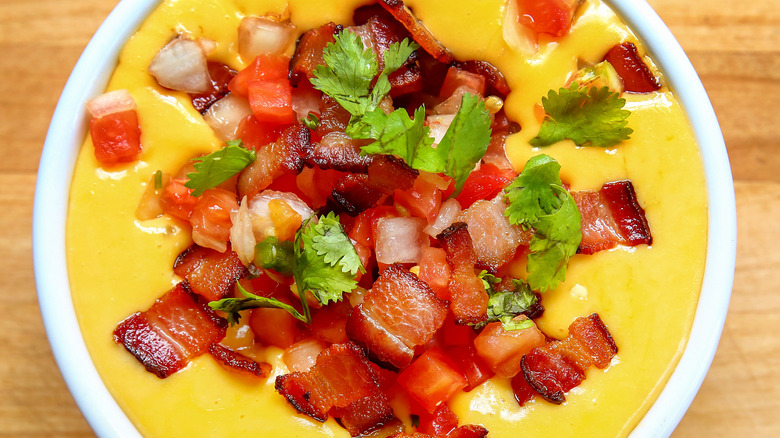 Suzanne Pratt/Shutterstock
Bacon truly does make everything better — including queso! This salt-cured breakfast staple (which comes from the meaty underbelly of a pig) contains the perfect pairing of saltiness, smokiness, and umami (savory) flavors. It's crispy yet tender, uber meaty, and incredibly rich. And when you pair those flavors and qualities with queso, both the bacon and cheese are elevated to greater heights, creating an even more flavorful dip and snack treat. 
To add bacon to any bottled queso, first cook a package of the thick-cut meat until crispy — you can use the microwave or cook it on the stovetop. Drain off excess grease, let the bacon cool, and crumble it into small pieces. The amount of bacon you should add to your queso depends on preference and how much you like the taste of bacon — so start small and add to taste. About a 1/2 half cup cooked and crumbled bacon added to a standard-sized jar of queso is generally a good starting point. You can stir the bacon directly into the queso immediately before serving. Or to avoid your bacon getting soggy, spread the meat on top of your cheese — perhaps with some diced tomatoes and fresh herbs — and then simply dig in!
Stir in some roasted garlic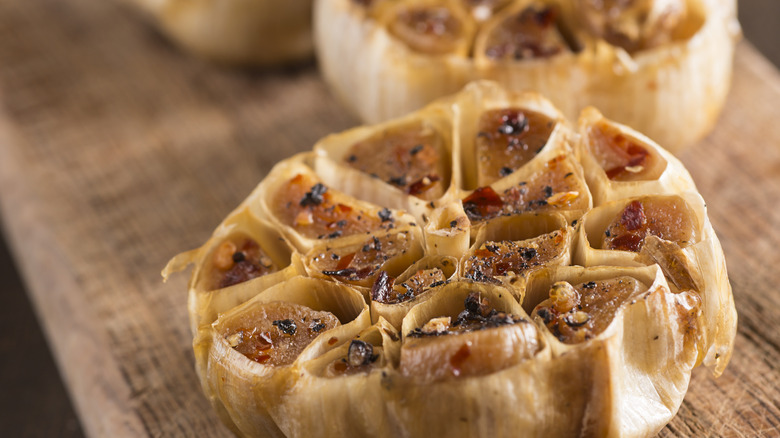 Rudisill/Getty Images
When you think about garlic, your mind may immediately turn to spectacular Italian pizzas and pasta dishes. But garlic is a staple of Mexican cooking as well, adding depth, flavor, and complexity to dishes like guacamole, salsa, enchiladas, ceviche, and much more. It's also a perfect ingredient to mix with queso!
Don't just stir any garlic into your queso, however. For a true taste explosion, you'll want to use roasted garlic — an entire head or bulb of garlic that has been cooked at low temperatures for an extended period. All that extra cooking does wonderful things to that garlic, making it softer, caramelized, and much more mellow — with a sweet and nutty in flavor.
To add garlic to your queso, you've got to first roast the garlic. Don't worry — it's a simple process! Drizzle a few cloves of garlic (or a whole head if you want) with a bit of olive oil and then roast in the oven at 350 degrees Fahrenheit until the cloves are soft and golden brown. Next, let the garlic cool. Select one or two cloves, mash or mince them into a paste, and mix the paste into your queso. Taste the cheese blend — add more garlic if you'd like. 
Keep in mind that roasted garlic has a more subtle taste than raw garlic so you may end up using more cloves if you really like garlic's potent flavor!
Fold in some corn kernels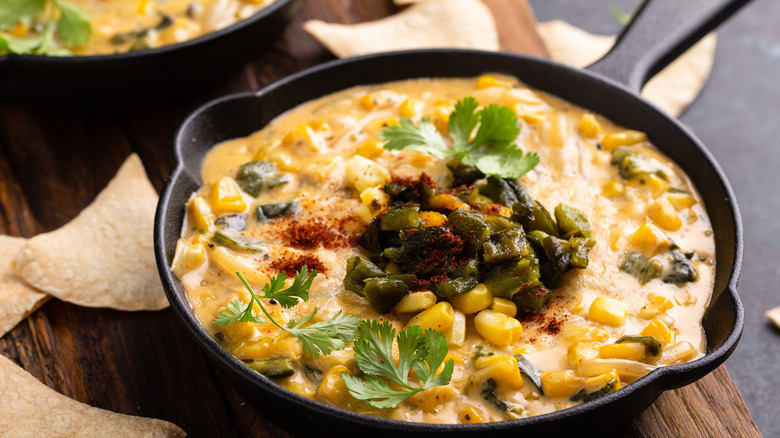 Elena Veselova/Shutterstock
In Mexico, one of the most delicious foods you can order — after queso, of course — is "elote" or "Mexican street corn." This popular street food consists of grilled or boiled corn on the cob which is then slathered with a mixture of mayonnaise, Mexican crema, or sour cream, crumbled cheese (such as cotija cheese), chili powder, and lime juice. It's an incredible flavor experience and a must-try for those who haven't tasted it. And since it combines the incredible flavors of cheese and corn, it's also great inspiration for yet another way in which you can amp up run-of-the-mill jarred queso.
To make an easy corn and queso dip, add a jar of queso to a medium-sized saucepan. Heat the queso over low heat until smooth and warm. Then add between half and a full can of diced tomatoes with green onions, 1 cup corn (either freshly cooked and removed from the cob, or frozen) and 1/2 teaspoon each chili powder, garlic powder, and cayenne pepper. Stir well to combine all your ingredients and then continue heating the mixture over low, stirring occasionally, until fully warmed and bubbling. You can eat the dip as is or top it with diced peppers or freshly chopped herbs. Let the mixture cool a bit, then grab some chips and dig in!
Mix in some caramelized onions
Mindstyle/Getty Images
Onions and queso are a common flavor pairing you may have tried. But if you want some exceptional queso, toss those standard boring sautéed onions and opt for caramelized onions. Caramelized onions have a lot going for them. They're sweet, rich, and have a complex smokey flavor combined with a deep oniony taste. When mixed with queso, caramelized onions bring a wonderful depth and sweetness to all that cheese and make it even more delectable. 
Making caramelized onions is a great basic kitchen skill every home chef should master. Just thinly slice the onion of your choice, heat those onion slices over medium-low heat with an added small amount of cooking oil or butter, and sauté for about 30 minutes or until soft, golden brown, and caramelized. Making your caramelized onion queso is just as simple: Mix together a jar of the cheese, 1 cup of caramelized onions, 1/4 teaspoon each garlic powder, onion powder, and paprika — heat until warm. Serve the bubbling onion-packed queso with tortilla chips or any sort of fresh pretzel, sourdough bread, focaccia, or pita — it will taste exceptional with each!
Make your queso a meal with browned ground beef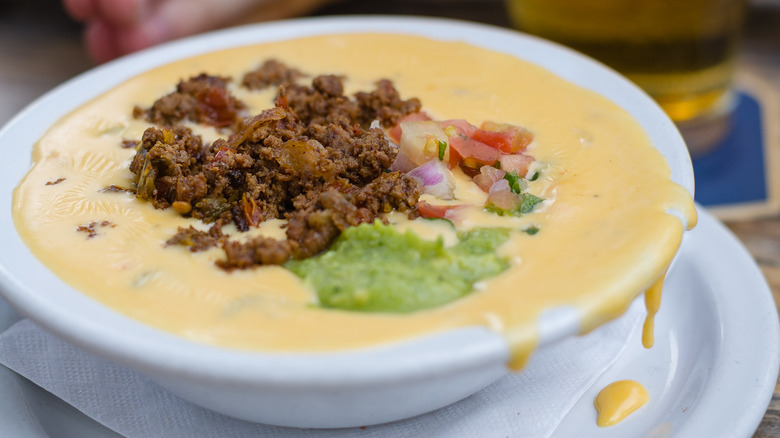 Tiny Bubble/Shutterstock
Sometimes you might want your queso to be a little heartier, like a meal. Or perhaps you want the beefy goodness of a plate of nachos, without the bother of setting up a whole nacho platter. In either case, adding some browned ground beef to a jar of queso is the perfect alternative. You're basically making the inside of a taco or enchilada, without the shell. And the pairing couldn't be more simple or tasty.
First, start by browning the beef. You want between a 1/4 pound to 1/2 pound of ground beef to mix with your queso. Brown that meat in a skillet as you would if making taco filling — drain when done. Add your spices — start with 1/2 teaspoon each of chili powder, garlic powder, cumin, and salt and pepper to taste. Also, consider optional diced tomatoes, green onions, or peppers. When you are happy with the meat mixture, pour on the queso and reheat everything until warm throughout. Or, if you prefer — for a look that's a bit more like a nacho platter — cook the meat and heat your cheese but keep them separate. Then spoon the ground beef mixture on top of the cheese just before serving. Whichever way you go, this beef and queso dish is a delicious winner!
Go hearty with added beans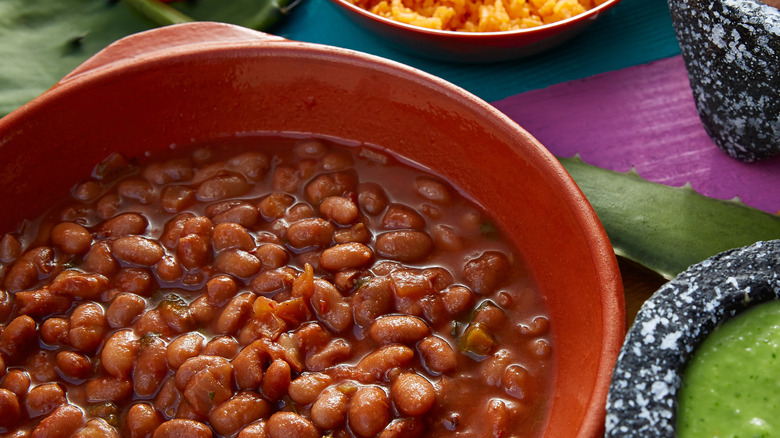 Lunamarina/Getty Images
Similar to adding ground beef to your queso, you can also take a related approach and add your favorite Mexican bean blend — pinto beans, black beans, kidney beans and even lentils — to that golden delicious cheese dip.
As with adding ground beef to queso, the steps here are pretty simple. Start by opening a can of your favorite beans. If the beans are plain, rinse them in the sink to remove excess starch. Or, if the beans come in a sauce — like chili beans or baked beans — you can add them exactly as is to your jarred queso. You can use the full jar of queso and the whole can of beans, or use a partial can of beans if you prefer a cheesier sauce. Add your cheese and beans to a medium-sized saucepan, along with spices like chili powder, cumin, and garlic powder — and cayenne for extra heat — plus salt and pepper to taste, and heat until warm.
Start with a 1/2 teaspoon of each spice and add more to taste. Eat the mixture as is or top with cilantro or other fresh herbs for added yum!
Add a dash or two of smoked paprika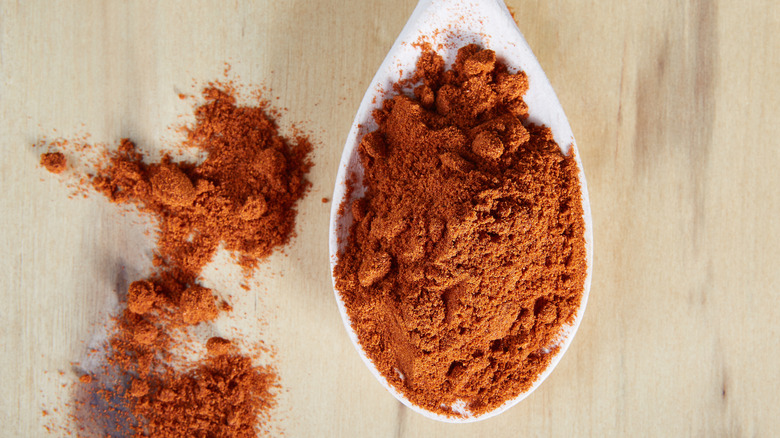 stockphotostudio/Shutterstock
Every kitchen pantry needs to be well stocked with spices. And one of the most essential spices you should always have on hand is smoked paprika. This wonder spice — made from dried and smoked red peppers — is ideal for adding deep, smoky flavor and a vibrant reddish color to a variety of dishes. It's insanely good on top of deviled eggs, macaroni, or potato salad, used as a rub on grilled chicken, sprinkled over roast potatoes or vegetables like carrots, zucchini, and cauliflower. And it's a great topping to add flavor and dimension to a jar of bottled queso as well.
To add smoked paprika to a jar of queso, start with about 1 teaspoon of the warm, red spice. Mix it in, see what you think, and then add more as needed. For other spiced queso variations, you can also follow the same approach and add 1 teaspoon of cumin, chili powder, garlic or onion powder, oregano, coriander, turmeric, mustard, thyme, basil, or even ginger or rosemary to your queso. Go slow on how much spice you add — taste along the way — knowing you can always make it spicier as you go! So many incredible options — let your creative culinary juices flow!
Dice an avocado and mix it into your queso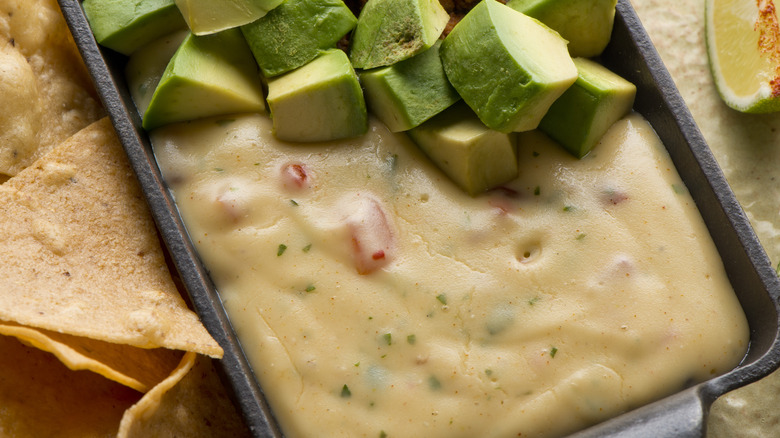 Rebeccafondren/Getty Images
Guacamole and queso are a winning pair when piled together on top of a steaming plate of nachos. The combo provides an ideal contrast in taste and texture with queso typically being creamy, rich, and smooth — while guacamole is slightly chunkier and packs a fresh and tangy taste with hints of lime, cilantro, and tomato. The diced onions, tomatoes, and cilantro in guacamole also provide added texture and crunch you don't get with the smoothness of queso alone.
You can create a similar flavor experience without making a full-blown plate of nachos by simply adding some diced or mashed avocado to your favorite jar of premade queso. To do it, first select a nice ripe and in season avocado from your local market. Halve the fruit, remove the pit, and then scoop the avocado from its peel. Dice the fresh avocado and pair it with your queso. Or, alternately, mash the avocado and stir it into your liquid cheese. Add salt and pepper to taste, plus a splash of fresh lime for a bit of acid. A few chunks of fresh diced tomato or some sprigs of fresh cilantro will build on the nacho-like flavor of your dip — but these are also completely optional. The flavors you want most are that amazing avocado and cheese!
Go for umami and add sautéed mushrooms and cumin to your queso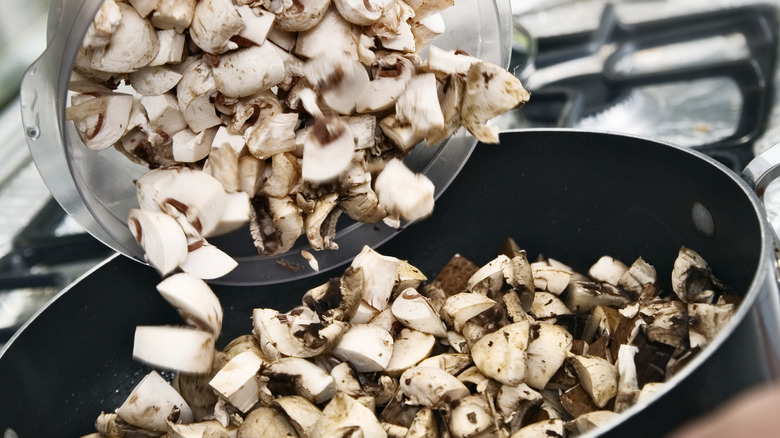 Orbon Alija/Getty Images
There are certain flavor combinations that were simply made to go together. Peanut butter and jelly. Vanilla ice cream and root beer. And now you can add sautéed mushrooms and queso cheese to that list! The combination of cheese and mushroom is an incredible taste sensation because of the savory flavors of the cheese — a huge complement to the umami meatiness of the mushrooms. When mixed together, queso helps the umami flavors of the mushrooms to intensify, creating an even more potent mushroom punch. The contrasting textures of mushrooms and queso also work well together. You get the creamy smooth texture of the cheese, plus the satisfying earthy chewiness of mushroom — combined in one perfect meaty bite.
To make your sautéed mushroom queso, start by sautéing 1 to 2 cups of your favorite mushroom (button or cremini mushrooms work exceptionally well with queso). Wash your fresh mushrooms under running water and then shake dry to remove as much extra moisture as possible. Slice your mushrooms and press them between paper towels to again remove extra liquid. Add them to a hot skillet with 1 tablespoon olive oil — sauté over high heat until golden brown and tender. Next, pour the jar of queso on top of the mushrooms in the same skillet. Stir well and continue heating until the cheese is warm and starts to bubble. How's that for shaking up a jar of queso!
Amp up that cheese with aged cheddar or Gruyère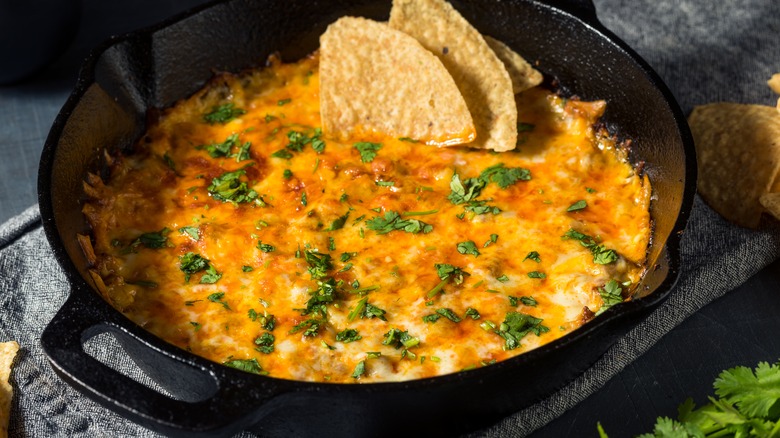 Brent Hofacker/Shutterstock
Another delicious way to elevate any jar of queso is to make that liquid gold even cheesier. That's right — instead of adding herbs or spices or protein to the cheese, add even more (you guessed it) cheese! While queso typically consists of some mix of cheddar and/or Monterey Jack cheese plus Queso Blanco or Queso Fresco, you can include any number of cheeses to your existing queso to jazz it up. Consider Pepper Jack, Colby, Mozzarella, Gruyère, Provolone, Gouda, Swiss, Fontina, Muenster, or even blue cheese or Parmesan. All work well mixed in with queso and each provides a unique boldness or tanginess to that classic queso flavor profile that you wouldn't get with any other cheese.
To make any of these cheese-on-cheese queso blends, combine a full jar of queso with 1 cup grated cheese of your choice, plus optional spices (garlic, onion powder, or cumin to taste). Mix them together and let them warm and melt in a medium-sized saucepan over low heat. Stir occasionally until all the cheese is smooth, warm, and heated through. Or, mix your cheese and queso in an oven-proof pan like a cast-iron skillet and bake at 350 degrees Fahrenheit for 20 to 25 minutes or until the cheese is fully melted and heated through. If you're feeling fancy, top your warm cheese mixture with diced jalapeños or fresh green onions or herbs and serve immediately.
Opt for crunch and stir toasted pecans into your queso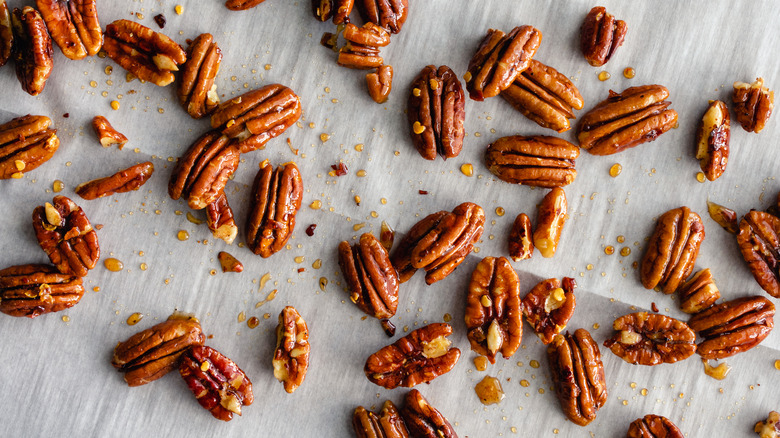 Candice Bell/Shutterstock
Queso is creamy and delicious but even when you doctor it up, the one thing it typically tends to lack is crunch. But that's not the case when you make queso with toasted pecans. Think of the pairing as being a bit like the best of a cheese tray. It allows you to enjoy the sweet, mild, milky flavor of the queso cheese plus the nutty, saltiness of toasted pecans, all in one decadent single bite.
While you could also use walnuts or even peanuts in your queso, pecans are truly the way to go. Their distinct sweetness, richness, and mild bitterness — and just a hint of buttery texture — all pair perfectly with queso, adding depth while balancing out the saltiness of the cheese. To make roasted pecan queso, you first need to toast your pecans. There are no special steps there: Roast them on a cookie sheet in a single layer in the oven at 350 degrees Fahrenheit for about eight to 10 minutes until lightly browned. Take them out of the oven, let cool, and roughly chop. This quick an easy queso only requires a jar of the cheese, 1 cup toasted pecans, and optionally two green onions, thinly sliced (for garnish or if you want a bit of green in your dip). Easy and delicious!
Get festive with diced ham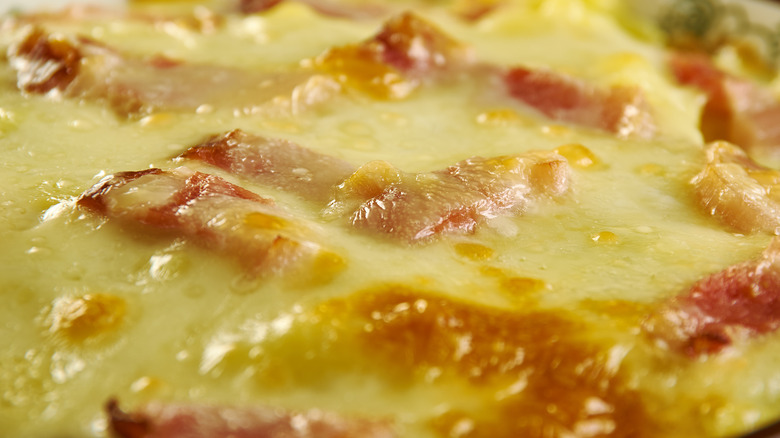 Fanfo/Shutterstock
Ham is more than just an ingredient for sandwiches or a centerpiece for holiday meals. Like bacon, it's also salty and smokey and pairs perfectly with the flavor profile of a good bowl of queso. There are a number of ways to work ham into a bottle of premade queso. One of the easiest is to mix a full jar of queso with between 1/3 and 1/2 cup cubed, diced ham. Once the mixture of meat and cheese is stirred together, heat it all up in the microwave until nice and warm. 
For a really melty, bubbly and cheesy experience, combine one jar queso, 1 cup diced, cooked ham, and 1/2 cup shredded cheese in an ovenproof container. Then bake the mixture in an ovenproof dish at 350 degrees Fahrenheit for around 15 minutes or until golden and just slightly brown on top. You can keep your queso mixture plain or add optional diced tomatoes, chopped green onions, jalapeños, or other optional mix-ins to the cheese and ham combo before baking. Let the dip cool a bit after you remove it from the oven, then grab a chip and start scooping! Delish!