Put Whipped Ricotta Underneath Your Pasta For The Perfect Bite Every Time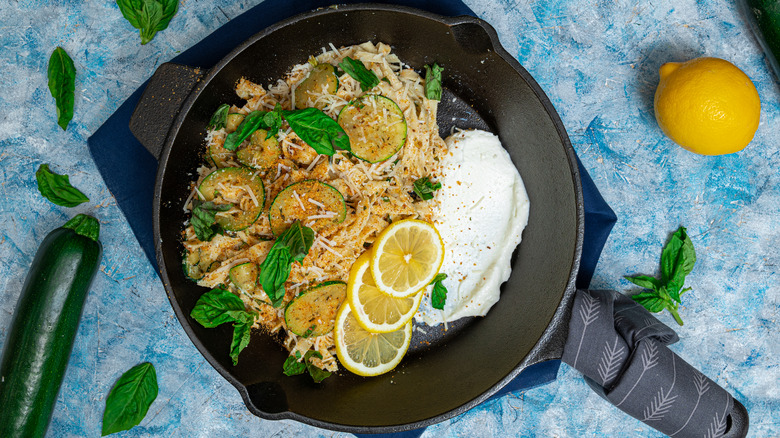 Brandon Koykka/Shutterstock
A bowl of pasta pomodoro – cooked perfectly al dente, slick with a slow-cooked tomato sauce that is spiked with fresh basil and showered with grated parmesan cheese — is probably one of the world's best comfort foods. Combining the sweet and tart flavors of tomatoes, the umami of parmesan cheese, the freshness of herbs, and the chewy texture of pasta — it is the perfect combination of flavors and textures that is so fulfilling that even the most committed carnivore would refrain from complaining about the absence of meat.
However, with a couple of extra ingredients, it is possible to bring this bowl of noodles to a new level of deliciousness. By whipping heavy cream together with ricotta cheese, you will create a creamy add-on that brings creaminess to a plate of pasta. Place this whipped ricotta on the bottom of the bowl before adding pasta, allowing you to combine the two elements in any way you choose, creating different, creamy flavors with every bite.
How to whip ricotta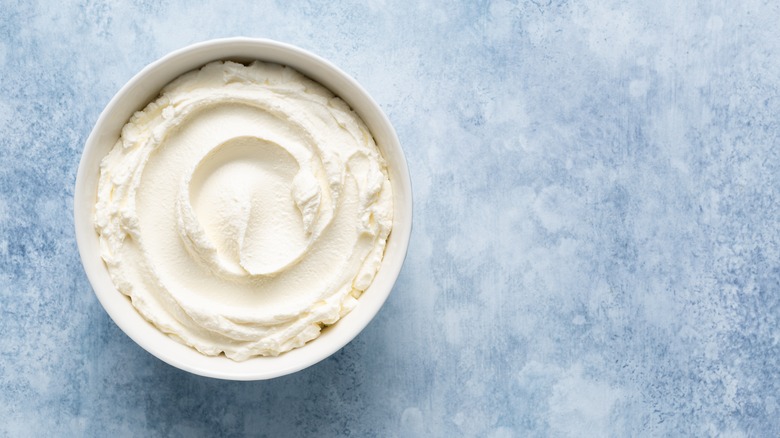 Alena_Kos/Shutterstock
To create some whipped ricotta, you need heavy whipping cream, ricotta cheese, olive or avocado oil, salt, pepper, and any other herbs or spices you wish to use. Suitable herbs and spices include red pepper flakes, cayenne pepper, and dried or finely shredded fresh basil. Whip the heavy whipping cream until it is slightly thickened, and set it aside. Add the ricotta, olive oil, and seasonings into a bowl and whip until everything is incorporated and smooth. Add the cream into the cheese mixture and whip until combined and the texture becomes light and airy.
When you place a circle of the whipped ricotta in a bowl before adding your pasta, the heat of the noodles and sauce will melt the whipped ricotta into a creamy and luscious second sauce for your noodles. This way, every single taste will be coated with your creamy concoction, rather than having it in dollops on top that will undoubtedly be scooped up in the first few bites.
Other uses for whipped ricotta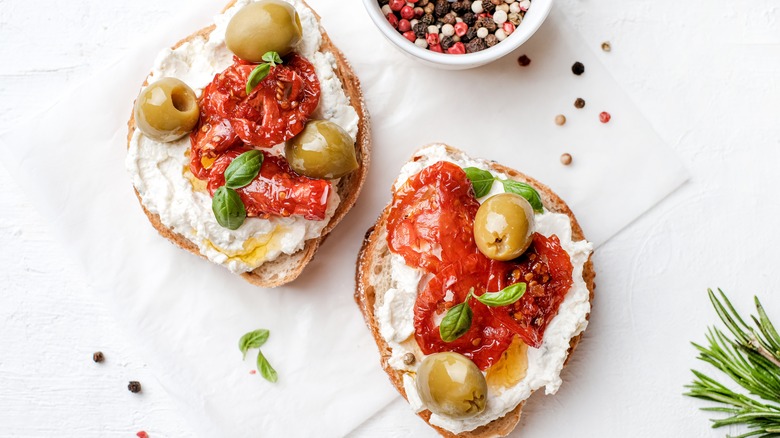 Lelechka/Shutterstock
Aside from using it as a flavorful bed for pasta, you can also use whipped ricotta cheese and make it the main attraction of your meal. For example, it is a fantastic dip for crusty bread — such as ciabatta or sourdough — and can be made even more savory with minced olives, sun-dried tomatoes, and a slick of olive oil. It can also be used as a cool and creamy element for your weekend charcuterie, balancing out the saltiness of the other components of the board. It is also fantastic as a topping for homemade focaccia. It can be scooped on top of a salad as a dressing for crisp greens alongside a swirl of extra virgin olive oil, or spread on bread as an alternative to mayonnaise when making a sandwich with Italian charcuterie such as prosciutto and mortadella.
You can even use whipped ricotta cheese for dessert. For a simple and light last course that can easily be made in large batches, whip the ricotta cheese the same way as above, but instead of salt, pepper, and herbs, you can add honey or sugar to the mixture instead. Let it chill to firm in the fridge, then serve scoops of it with fresh berries or other soft seasonal fruit such as peaches and nectarines.