We Have A Ton Of Awesome Comfort Food Recipes!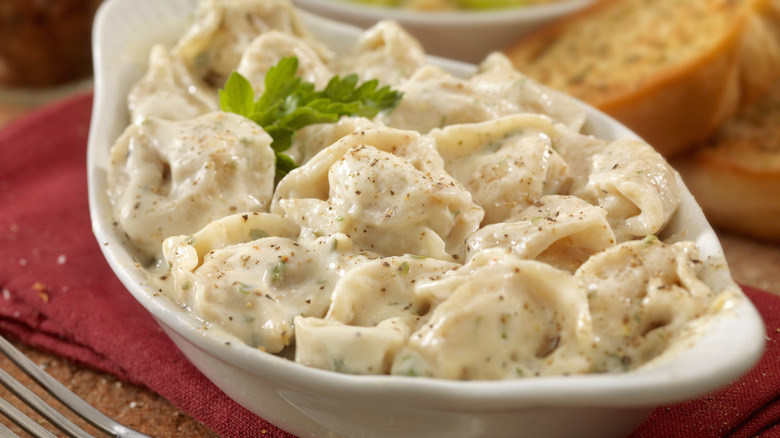 Lauripatterson/Getty Images
Did you know that we have dozens and dozens of comfort food recipes that need a new home in your kitchen? And we've got even more for lovers of hugs in a bowl: casseroles, grilled cheeses, noodles, pasta bakes and a lobster macaroni and cheese that will knock your socks off. Take a deep dive into our colorful comfort food section for dishes from award-winning chefs and cookbook writers, and freshen up your repertoire. Here are a few of our recent favorites:
Recipe: Chicken Alfredo Tortellini
Chicken Alfredo tortellini is rather decadent as an everyday dinner, but for special occasions, it's an indulgent and easy-to-make treat. This recipe combines chunks of juicy chicken and tender cheese tortellini in a creamy, Parmesan-loaded, parsley-flecked Alfredo sauce. But the best part is that it pretty much makes itself! I always keep frozen tortellini on hand for convenience, but refrigerated tortellini will work just as well in this recipe if that's what you have available.
Recipe: Maple Buttermilk Fried Chicken
Let's just stop here for a minute and really, wholeheartedly thank the genius who created the masterpiece that is fried chicken — the Sistine Chapel of all comfort food dishes. As far as I'm concerned, it doesn't get any more delicious than crunchy, fried, buttermilk-soaked goodness. I ate my fair share of fried chicken growing up. It came in a big bucket with a drawing of a vintage-looking dude on the side, and for all I knew, that was a proper, legit representation of the dish. Then I moved to the blessed South and experienced the rapturous bliss that is legit, home-style, fried-to- perfection chicken. As with everything, scratch-made at home is always best, and this recipe is proof positive (just be sure to account for the overnight marinade — it will be worth it!). Spiked with a maple-buttermilk marinade and served with a killer maple-Dijon slaw, this recipe is a guaranteed hit.
Recipe: Cottage Pie With Leek And Cauliflower Mash
This delicate, pale green mash has that wholesome silky texture that is exclusive to leek soups and purees. Smothered with cherry tomatoes and scallions before being baked, the pie is every bit as lavish as the original. Don't worry too much about the ratio of leeks to cauliflower—you want more or less 2 1/2 pounds in total but it doesn't matter too much how you get there.
Recipe: Marc Murphy's Sloppy Dogs
"I'm not a football man, I'm a party man, so if there's a party, I'm in. If there's something where people are gathering around the TV to watch, I'll be there," says Marc Murphy, owner and executive chef at the Benchmarc restaurants in New York City. We hit up Ditch Plains, his surf-themed fish shack on Manhattan's Upper West Side, to grab some ideal tailgating recipes and found something better than a chili dog. This sloppy joe dog wishes it was a chili dog.
Recipe: Marcus Samuelsson's Swedish Meatballs
My grandmother Helga was the one who taught me how to cook  — traditional Swedish meatballs before anything else. The meatballs I got for school lunch were always perfectly shaped and just the right size, but never tasted as good as her lumpy, misshapen ones. I serve them at Red Rooster, where they're the most popular dish on the menu. I've cooked all my life, but my meatballs never compared to the ones my grandmother used to make for us.