The Most Photogenic Creamy Lobster Mac And Cheese, Ever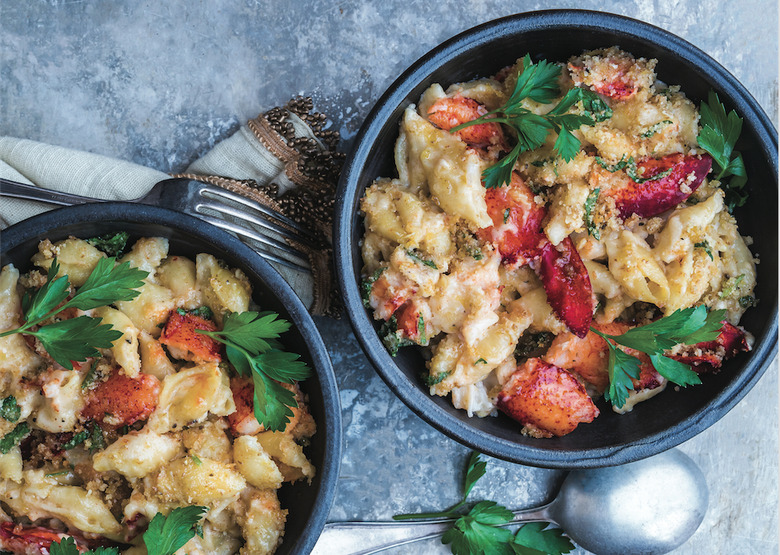 We may receive a commission on purchases made from links.
Food blogger and Instagrammer Dennis Prescott has a cookbook out that's made for breaking your own Instagram records. Dig into Prescott's recipes for comfort food from every corner of the earth, and start with this lobster mac and cheese. It's a labor of love that's worth every moment in the kitchen.
Mac and cheese is the undefeated reigning champ of pasta-grade comfort food. It's everything that a big bowl of happy, euphoric food should be: extra saucy, extra cheesy, and perfectly carb loaded. As a lad who was raised on the boxed stuff poorly attempting to impersonate a proper mac, I can unequivocally guarantee this: Scratch-made is infinitely, life-changingly better. One bite of real and fake is forever ruined.
Here is my go-to mac, Maritime-style. Loaded with fresh lobster and topped with a lemony bread crumb crunch, this is the ultimate feel-good dish.
The Most Photogenic Creamy Lobster Mac And Cheese, Ever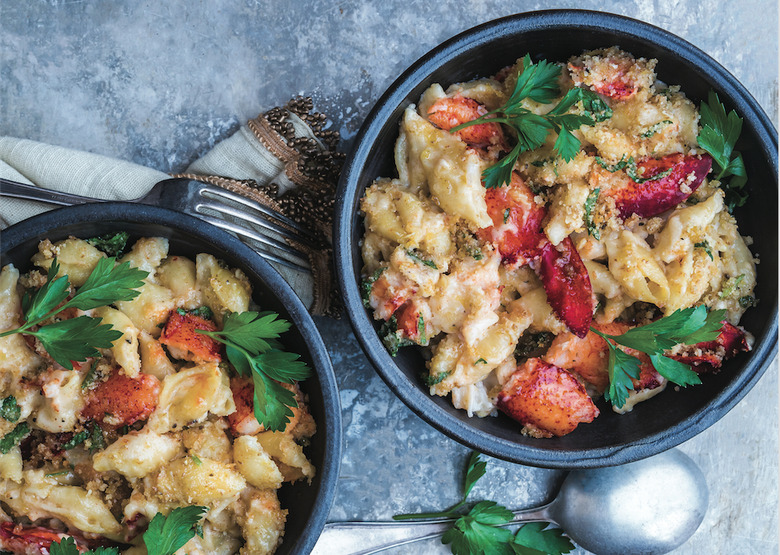 Ingredients
2 (1 1/4 pound) live lobsters (about 3/4 pound lobster meat)
1 pound uncooked pasta shells
1 tablespoon olive oil
3 tablespoons butter
1 garlic clove
2 tablespoons all-purpose flour
3 cups whole milk
1/2 teaspoon Dijon mustard
1/4 teaspoon cayenne pepper
1/2 teaspoon smoked paprika
1/2 teaspoon sea salt
1/2 teaspoon freshly cracked black pepper
2 cups grated aged cheddar cheese
2 cups grated gruyère cheese
1/2 cup grated Parmesan cheese
1/2 cup grated Parmesan cheese
1/2 cup panko bread crumbs
1 teaspoon lemon zest
1/2 teaspoon freshly cracked black pepper
1 tablespoon chopped fresh flat-leaf parsley
3 tablespoons olive oil
Directions
Preheat the oven to 350°F.
Cook the lobsters and pasta: Bring a large pot of salted water to a boil and prepare an ice bath in a large bowl. Carefully submerge the live lobsters in the boiling water (you can do it!!), cover, and boil for 8 to 10 minutes, until the lobster shells have turned bright red. Immediately transfer the cooked lobsters to the ice bath to cool.
Crack the lobster shells and remove the meat from the bodies, claws, knuckles, and anywhere else lobster meat is hiding. Cut it into 1/2-inch chunks, leaving the claw meat whole if possible (they're the prize at the bottom of the Cracker Jack box). Transfer the meat to a bowl and set aside.
Bring the lobster cooking liquid back to a boil. Add the pasta and cook according to the package directions (al dente, of course). As the pasta cooks, it will soak in all that lobstery goodness. Drain and toss with the olive oil. Pour the pasta into a large casserole dish.
Make the sauce: In a 3-quart saucepan, melt the butter over medium-low heat. Add the garlic and gently cook for 30 seconds. Add the flour and cook, stirring continuously, for 2 minutes, or until it begins to brown and develops a nutty aroma. Still stirring, add the milk in a slow and steady stream, making sure that all the flour has worked its way into the milk. Stirring away, let the sauce come to a gentle simmer and thicken, 4 to 5 minutes.
Turn the heat to low and stir in the mustard, cayenne, paprika, salt, and pepper. Stir in the cheeses, 1 cup at a time, until they have melted and the sauce is silky smooth.
Pour the sauce over the cooked pasta, add the lobster, and fold the lot together.
Make the bread crumb crunch: In a small bowl, combine all the ingredients and stir to combine.
Top the pasta with the bread crumb mixture and bake for 15 to 20 minutes, until the bread crumbs have turned golden brown. Garnish with fresh parsley and serve immediately.