Root Veg Preview: 20 Recipes We're Making This Fall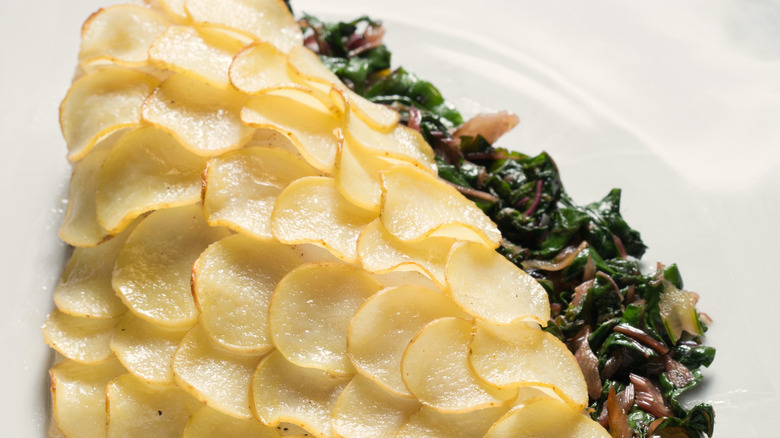 It's time to gear up for root veg season! This hearty produce keeps us warm and full all fall and winter long, and we're totally out of practice! Get back in shape with 20 recipes for carrots, parsnips, onions, beets, celery root and other favorites that will be the mainstay of your cooking repertoire for the foreseeable future. When was the last time you made potato scales for your fish, huh?
Recipe: Ben Pollinger's Dorade With Potato Scales
This dish reminds me of the old-style haute cuisine recipes that fascinated me when I was beginning my culinary training, dishes in which cooked fish was made to mimic the look of a live whole fish, decorated with "scales" made of pastry or cucumber slices. Here's a simplified, contemporary version decorated with sliced potato. It's not hard to do, and it brings a little restaurant elegance to your dinner table. You can cook the chard ahead and reheat it. Or preheat the oven and get the fish all ready, start the chard, then put the fish in the oven. The dorade and the chard will be ready at the same time.
Recipe: Ravioli With Beets, Butter And Poppy Seeds
The chefs' advice? We're on board.
"You can add bacon or prosciutto to the stuffing for a more complex flavor."
Recipe: Merguez Dogs With Pickled Carrots And Cumin Aioli
These attractive hot dogs are served European-style on a baguette, but that doesn't mean they're not perfect for a pigskin nosh. They're just not beef franks, and we're okay with that. The cumin in the aioli plays nice with the cumin in the sausage. Good sportsmanship all around.
Recipe: Blossom's Golden Beet Meatballs
The future of restaurants' vegetarian offerings is bright and healthy, even in a town famous for pork, seafood, barbecue...you get the message. Charleston, South Carolina's Blossom serves elevated Lowcountry cuisine with an emphasis on local vegetables, and their hearty golden beet, pecan and mushroom meatballs with tomato sauce won't disappoint. We peeked into the kitchen to borrow Executive Chef Adam Close's recipe. Serve these with parsnip purée (below) or over your favorite pasta.
Recipe: Fried Celery Root Steaks With Horseradish
Even without the salad on top, these golden crisp disks are scrumptious — they have the comfort-food appeal of fried mozzarella sticks but are infinitely more nutritious and refined. Serve them as a vegetarian main dish or a side dish to roast pork. The two-step cooking process may seem fussy, but it ensures the celery root is thoroughly cooked, and it minimizes the actual frying time.
Recipe: Potato-Parsnip Mash
While there's nothing wrong with a great classic mashed potato recipe (like, say, ours), I love the way parsnips blend right in alongside, taking nothing away and adding its own sweet, slightly tangy, delicate flavor. Best of all, you can cook the parsnips and the garlic right along in the pot with the potatoes.
Recipe: Sweet Potato Samosas
Traditional samosas are not wrapped in phyllo, but this packaged pastry is so versatile and convenient, it's the one pastry I don't bother making by hand. While this recipe calls for rolling the samosas in triangles, you can use any phyllo rolling technique that suits you. Regardless of how you wrap them, these Indian-inspired, spice-laced bundles are a perfect way to enjoy some vegetables.
Recipe: Roasted Beet And Feta Tart
This tart is all about the feta. You could easily swap out the roast beetroot for roast pumpkin, leeks or any other veggies you like.
Recipe: Potato Galettes With Sage
Sometimes, for a change, I add sweet potato to this recipe, but you could use carrots, parsnips— hey, why not try a whole heap of different vegetables? The cooking method remains the same. The galette should be crunchy on the outside and soft in the
middle, with a lovely sage flavor throughout.
Recipe: Labneh And Roasted Carrots Grain Bowl
Bowls of hearty whole grains topped with healthful, delicious fare are a trend that will outlast any fad pastry or rainbow this-or-that. Join food stylist and recipe developer Anna Hampton as she explores the wide world of ancient strains, gluten-free options and other filling, fiber-rich grains that pair beautifully with fresh vegetables, home-fermented foods and lean proteins for a meal that looks as good as it tastes. First up, a labneh and roasted carrot bowl that will make you swoon for farro.
Recipe: Fried Onion Petals With Za'atar, Beets And Labneh
Chef Josh Thomsen introduced us to a dish of crisp fried onion wedges that were the perfect size and shape for scooping up a vivid dip of minced roasted beets. We also love the fried chicken dusted with za'atar — a popular Middle Eastern seasoning blend of sesame seeds, sumac and thyme — served at Federal Donuts in Philadelphia. And so a mashup was born: fried onion petals seasoned with za'atar and meant to be dipped in a lemony mash of beets and labneh. Ketchup who?
Recipe: Penne Pasta With Celery Root Sauce
This is a new recipe. I have used celery root, which I like very much, reduced to a pulp to form the basis of the sauce. The addition of ham in small strips (or smoked ham) lifts the sauce and makes it very appetizing, though for a vegetarian version this can simply be omitted.
Recipe: Loaded Sweet Potato Tots
Raise your hand if you don't love tater tots. Thought so. While flavors are seemingly endless in a cafeteria-nostalgic kind of way, taking these childhood favorites in a Spanish direction and using sweet potatoes as a base, these are sure to be adult-approved as well. Studded with olives, almonds and chorizo, try them out at your next get-together. The recipe calls for the tots to be fried, but you can also bake at 450 degrees until golden brown, 12-15 minutes.
Recipe: Fried Potatoes With Horseradish Aioli And Dill
It would just be wrong to serve steak at a restaurant without a potato and some horseradish to go with it. Of all the delicious potato preparations out there, we wanted something that was crispy on the outside and creamy and pillowy on the inside, reminiscent of a steak fry.
Recipe: Sweet Potato And Beet Fritters With Herbed Buttermilk Dip
These might just be the prettiest additions to your party spread – and the most delicious. The beets add an interesting earthiness to these fritters and of course lend their amazing color. This recipe has a little more egg than a standard latke or fritter because the beet has very little starch to hold it all together.
Recipe: Carrot Mole With Toasted Pumpkin Seed Vinaigrette
Carrots are an indispensible part of every kitchen. Not only are they used to flavor stocks, stews, and roasts, they also serve as nutritious snacks for kids and adults alike. For this dish, I wanted to bring carrots to the forefront. They have an earthiness about them and an intriguing sweet flavor that's so undervalued. Once cooked and puréed, the crisp carrot is transformed into a bright and smooth purée that complements the crunchy pumpkin seed vinaigrette in this dish.
Recipe: Lucky Peach's BBQ Carrots With Ranch
Marc Vetri is one of America's most masterful masters of authentic Italian cuisine. But here, he shows off his ability to put the CLASS in TRASH instead. Okay, admittedly, he makes his own barbecue sauce and I'm telling you to buy KC Masterpiece (or another similar/preferred bottled sauce) because I'm pro-ease.
Recipe: Creamy Celery Root Soup With Pistachios
This creamy celery root soup is one of those dishes you should make in double-batches and freeze for cold times ahead. It's perfect in a soup shooter or as a light first course. Or you can add your favorite "make it hearty" ingredient like shell pasta, barley or quinoa (or even just good crusty toasted bread) and top with a poached egg for a rib-sticking main. Make it vegetarian by switching out the chicken stock, and make it vegan by omitting or substituting the cream.
Recipe: Kashmiri Potato Curry
The traditional Kashmiri dum aloo calls for deep-frying small potatoes, piercing them with spices, and then stewing them in a tomato-yogurt curry sauce. Due to the ease of the slow cooker, I decided not to deep-fry the potatoes but did prick them with the tip of a sharp knife to infuse the flavors of the sauce into the meat of the potatoes. The flavors penetrated extremely well, yielding a lighter version of the ever-so-delicious dum aloo. Tart white poppy seeds (khuskhus), help thicken the spice paste; they can be found in Indian grocery stores.