TikTok's Hasselback Tomatoes Are Perfect For Caprese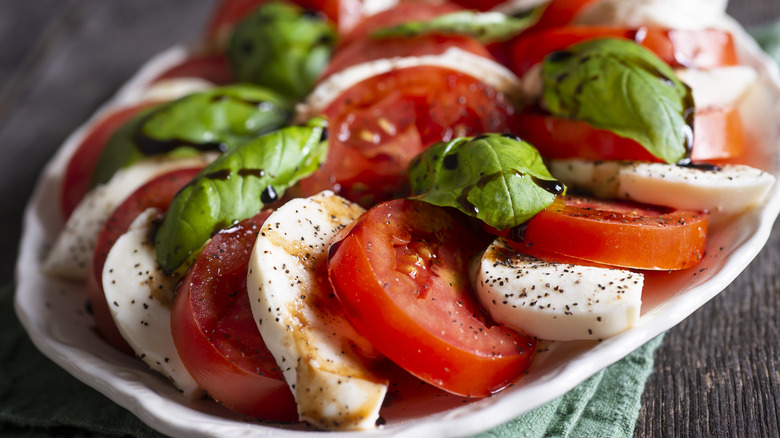 Rudisill/Getty Images
Tomato season comes on fast and strong, every year a little unexpected. If you grow them yourself, all of a sudden, you have more tomatoes than you know what to do with, and since you've already made eight tomato-mayo sandwiches, a few rounds of pasta, and a classic caprese salad (or simply eaten your cherry tomatoes straight from the bucket by the handful), you might be hunting for something a little more inventive to use up your summer garden surplus.
As usual, TikTok has the answer. The platform has given "tomato girl summer" a-whole-nother meaning by flooding our feed with a much-needed recipe. For what? Why, Hasselback tomatoes, of course.
You're probably already familiar with Hasselback potatoes, which are made by cutting thin slices into a whole potato about three-quarters of the way down, and then baking them until they are crispy. But you can "Hasselback" just about anything — including Hasselback eggs, and, yes, even tomatoes — and the recipe is actually probably the best caprese salad hack you've ever heard of.
What are Hasselback tomatoes?
It's best to avoid smaller tomato varieties that will turn to mush when you try to slice them. Large Roma tomatoes or plum tomatoes work well for these recipes since their shape is similar to that of your average potato, but a beefsteak will work in a pinch.
Set your tomato on the cutting board with a wooden spoon on either side and slice it horizontally with the sharpest knife you have, as thin as you can without making the tomato fall apart. The wooden spoons will stop the knife, ensuring an even three-quarter deep cut throughout.
After you've finished, slice up thin pieces of mozzarella. Wrap each slice in a basil leaf and tuck it between the folds of the tomato. When each cut has been filled, drizzle the whole thing with high-quality olive oil, balsamic vinegar, and flake salt. A balsamic glaze is also a good option as they are typically milder and easier to control than straight balsamic vinegar. The resulting dish is extremely aesthetic and easy to cut and eat.
Shake up your Hasselback tomatoes
Sea Wave/Shutterstock
If you've already tried the viral Hasselback tomato caprese salad, but you're now looking for something a little more creative, then don't be afraid to experiment and find other versions you like using the same Hasselback technique. Instead of mozzarella and basil, garnish your sliced tomatoes with pieces of gruyère, parmesan, or sharp cheddar, and add in fresh herbs like parsley, mint, or thyme. You could even make a salsa-inspired version with thin slices of jalapeño, pickled red onion, and cilantro, drizzled with olive oil and lime juice.
Baked Hasselback tomatoes are also a delightful treat. You can bake or broil the caprese-style tomatoes, or you can stuff them with parmesan, breadcrumbs, and woodier herbs like thyme and rosemary for something heartier. The melty cheese and crisp breadcrumbs will balance out the fresh, juicy sweetness of your tomatoes for a dish that transcends summer into fall.