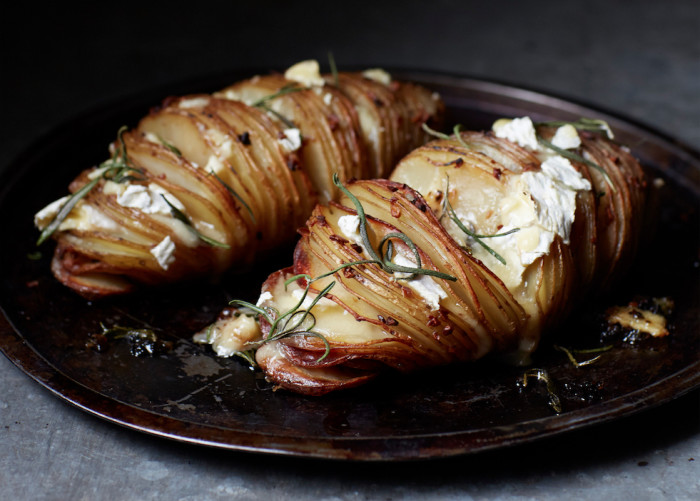 Chef John Whaite, of Great British Bake Off fame, has a collection of recipes out that highlights the simple, rather than the ornate. This latest cookbook, Perfect Plates, promises the home cook one very important thing: no recipe calls for more than five ingredients. Ideal for pantry cooking nights, beginners and anyone else who appreciates the beauty of a delicious, uncomplicated meal will love this book. These giant hasselback potatoes are stuffed with garlic and cheese. 
There is hardly anything cosier than a baked potato. It's all in the simple perfection of it: crispy, golden skin, encasing a fluffy, buttery interior. Whether served with baked beans, cheese, or whatever else you prefer, it is a staple — something we may take for granted until the moment we dig in again, when the troubles of the outside world are silenced, even if only for a moment. This version marries my favorite spud preparation — hasselback potatoes from Sweden — with those buttery beauties that I've relied on for decades.
Ingredients
2

large baking potatoes

4

garlic cloves

2

teaspoons

worcestershire sauce

3 1/2

ounces

Camembert cheese

2

sprigs

rosemary

1/2

stick

unsalted butter

sea salt flakes

coarse black pepper
Directions
For the potatoes
Preheat the oven to 375°F.

Clean the potato skins, if necessary, then cut deep slashes into them, but don't cut all the way through. The best way to ensure you don't mess it up, is to pop the potato between two wooden spoon handles, and with a sharp knife slice down until the handles prevent you from cutting any deeper.

Finely chop or mince the garlic, and add it to a saucepan with the butter and Worcestershire sauce. Heat over high heat, stirring, just until the butter melts completely.

Pour the melted butter over the potatoes, spreading the slices open as you pour. Bake, uncovered, for 11/2 to 2 hours, until golden brown and crispy.

Remove the potatoes from the oven and tear the Camembert into small chunks, slotting them in the crevices in the potatoes along with the rosemary. Return the spuds to the oven for just 5 minutes, or until the cheese has melted.