How Ina Garten Makes Canned Cranberry Sauce Taste Fresh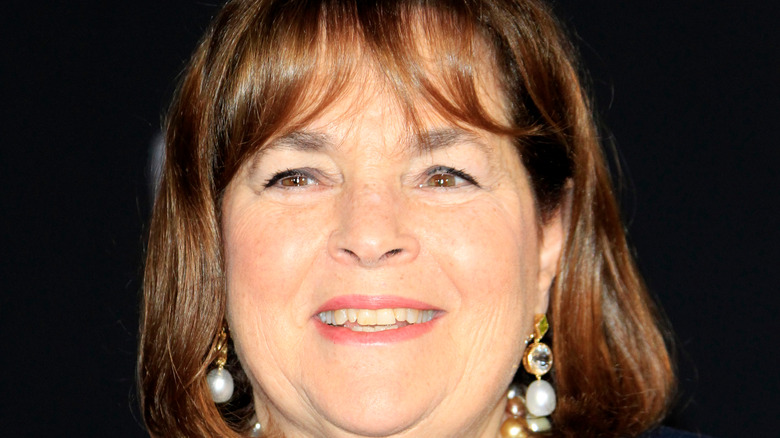 Kathy Hutchins/Shutterstock
Ina Garten always assures viewers of her shows and readers of her recipes that if you can't make something homemade, store-bought is just fine. Ina Garten is at it again with another trick that takes something simple and makes it delectable, and this time, she applies that same concept to something that many would consider beyond salvation — canned cranberry sauce.
In a flip from her usual focus on the fresh and homemade route, Garten's chunky cranberry sauce recipe is actually written specifically for canned cranberry sauce, an item on the list of store-bought substitutions that are Ina Garten approved. She does say that you can go through the trouble of cleaning and preparing fresh cranberries, but canned cranberry sauce will taste just as delicious. How could canned taste as good as fresh? Well, Garten carefully selects ingredients with bright and acidic flavors and crisp and crunchy textures to elevate this canned good. Citrus, nuts, and fresh fruit all make appearances.
What kind of canned cranberry sauce does Ina Garten use?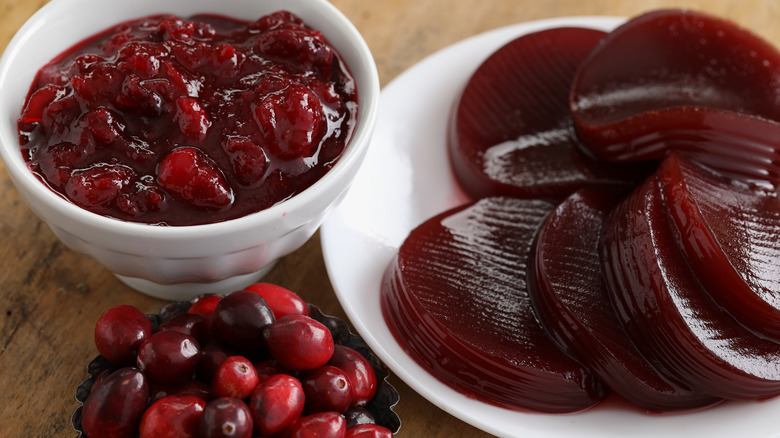 Debbismirnoff/Getty Images
First and foremost, Ina Garten starts with whole berry cranberry sauce, not the gelatinous stuff that gets served in the form of sad, can-shaped slices. It lacks that real-fruit texture and won't combine well with that extra yummy stuff.
Garten likes a classic can of Ocean Spray whole berry cranberry sauce and surprisingly, it has quite a short list of ingredients — cranberries, high fructose corn syrup, corn syrup, and water. No artificial dyes in sight! If you are after a product sweetened with something other than corn syrup, Thrive Market offers an organic whole berry cranberry sauce flavored with cane sugar and lemon juice instead. As long as the brand you choose has whole berries, it should work just fine.
If you are an overachiever or accidentally bought a couple of extra bags at Thanksgiving that are languishing in the back of your freezer, go ahead and make a homemade base. Boil together a bag of cranberries, water, and sugar for about 15 minutes before incorporating the other ingredients.
How does Ina Garten elevate canned cranberry sauce?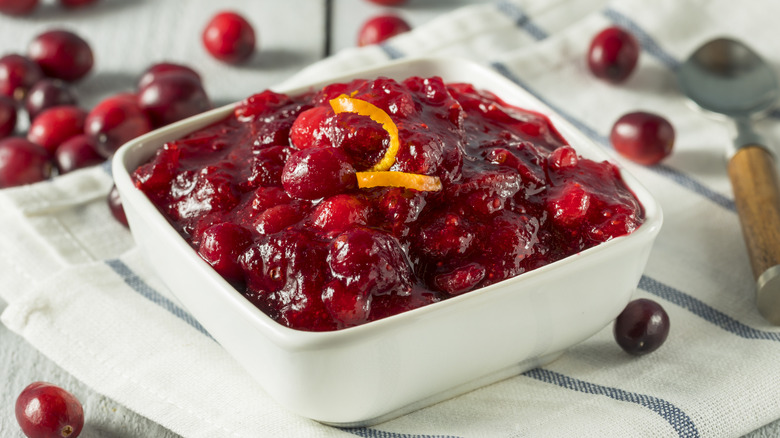 Bhofack2/Getty Images
Ina Garten starts by warming up the canned cranberry sauce on the stove. Then she adds additional ingredients in two batches — some of them cook with the cranberry sauce for about 15 minutes, and the rest of the ingredients get folded in off heat. For acid and zip, Garten adds both fresh orange zest and a little bit of orange juice to the simmering cranberry sauce. Nothing beats the aroma of fresh citrus. It is strong but complements the flavor of the cranberries. She also adds cubed apples at this point which play double duty for both acid and texture. Garten uses a Granny Smith apple, but other firm and tart apple varieties will work well here.
After these ingredients have cooked together, the cranberry sauce gets taken off the heat, and Garten adds chopped nuts like walnuts or pecans and raisins, which both add great texture. The nuts provide a bit of savory balance, while the raisins introduce a deeper, caramelized sweetness that compliments the tangy sweetness of the cranberries. The result is a cranberry mixture that falls somewhere between sauce, relish, and chutney. With all these great flavors coming together, no one will know that this delightful side dish started with a can.