Gordon Ramsay Gives In To Frozen Food With His First-Ever Lineup Of Meals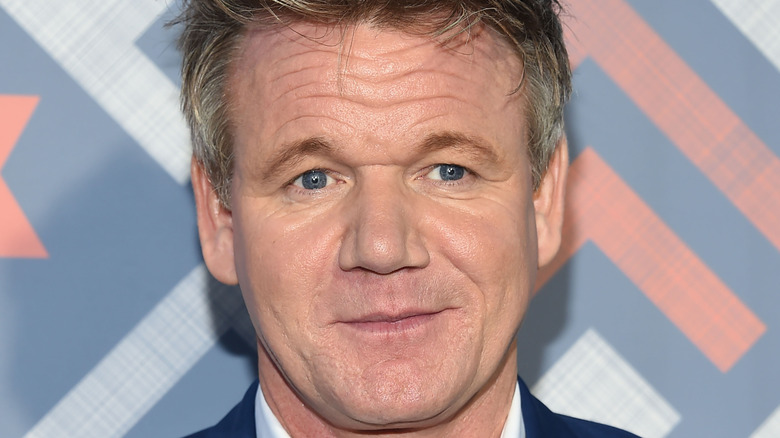 DFree/Shutterstock
Gordon Ramsay, the famed chef and restaurateur who trained at the soon-to-be-shuttered Michelin darling Le Gavroche, is branching out — or some might say, selling out — with a lineup of frozen meals called "By Chef Ramsay." The eight different ready-made plates are now available exclusively at Walmart.
The beef dishes include roast beef and potatoes, classic cheesy lasagna layered with Bolognese sauce, and shepherd's pie. For quick chicken options, the new frozen food line offers lemon caper chicken served with roasted potatoes and broccoli, as well as chicken pot pie crowned with puff pastry. Fish and chips complete the meat-forward choices, while vegetarians can enjoy mushroom risotto and macaroni and cheese topped with cornbread crumbs.
The "MasterChef" host used words like "thrilled" and "elated" to describe his feelings about the new product launch, telling People that every dish "represent[s] a special part of my personal culinary journey." It might seem like a bit of an overstatement from a man who has earned 22 Michelin stars over his career, but perhaps Gordon Ramsay is just growing weary of cooking and wants a frozen meal that meets his own standards.
Gordon Ramsay's journey to frozen meals
Pivoting to frozen meals might seem like a peculiar choice for a chef who has famously chastised many restaurants and bars for using frozen food in shows like "Kitchen Nightmares" and "Hotel Hell." On the other hand, Gordon Ramsay is a mogul. His first wholly owned restaurant, creatively named Restaurant Gordon Ramsay, has held three Michelin stars since 2001, making it one of a select few restaurants in London to have sustained that honor for so long. While some Gordon Ramsay-branded establishments are serving exquisitely plated dishes like Breton lobster with 100-year-old balsamic vinegar in Versailles, France, others are offering fish and chips in New York City's Times Square, or burgers on the Las Vegas strip.
Ramsay is clearly not opposed to something a little more low-brow, and it's working for him. His net worth was widely estimated to be around $220 million in 2022, with Forbes reporting he earned $70 million in 2020 from not just his restaurants, but also brand deals, Instagram endorsements, product lines, and television shows.
Interestingly, in 2021, the frozen food market in the United States was valued at more than $55 billion, with a forecast of steady growth in the coming years. Maybe frozen meals aren't totally aligned with Gordon Ramsay the chef, but they certainly make sense for Gordon Ramsay the businessman.