The Secret Starbucks Candy Corn Coffee You Need To Try For Halloween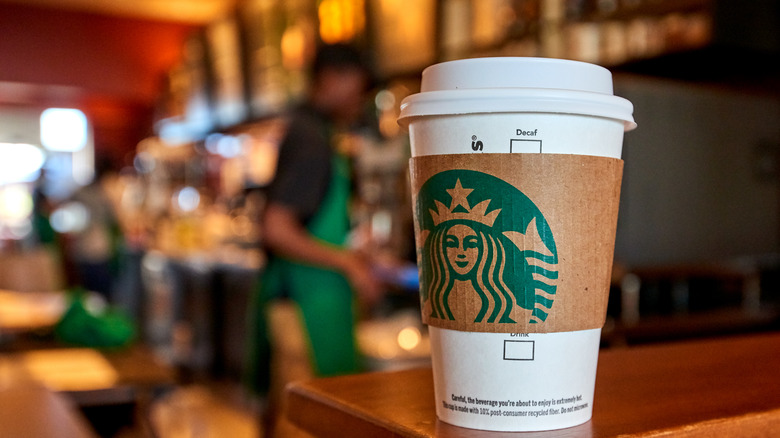 Harun Ozmen/Shutterstock
Starbucks knows a thing or two about creating seasonal coffees, and each year, we all go crazy for them. But it's not all about the pumpkin spice latte. Have you tried the equally seasonal candy corn cold brew yet? Candy corn is a staple of the season, and its signature sweet flavor pairs perfectly with coffee, making for the ultimate Halloween pick-me-up. As an added bonus, the layered finished drink actually resembles a giant candy corn. However, you can't just go into a store and order one, because it's only available on the Starbucks secret menu.
The secret menu consists of a collection of unique drinks created by both Starbucks baristas and fans. Because most of the items require a level of customization, knowing exactly what to order is key to getting the drink you want. Ordering a thirst-quenching candy corn frappe is actually pretty simple.
If you're going into a Starbucks branch, you'll need to order a grande pumpkin cream cold brew, but ask for no vanilla syrup. Instead, ask the barista to add two pumps of white chocolate mocha. On the app, it's a matter of opting for the pumpkin cream cold brew, and keeping the default size option as grande. Under the "flavors" section, remove the vanilla syrup, so it says zero. Then just add two pumps of white chocolate mocha sauce.
Other seasonal Starbucks secret menu coffees to try this fall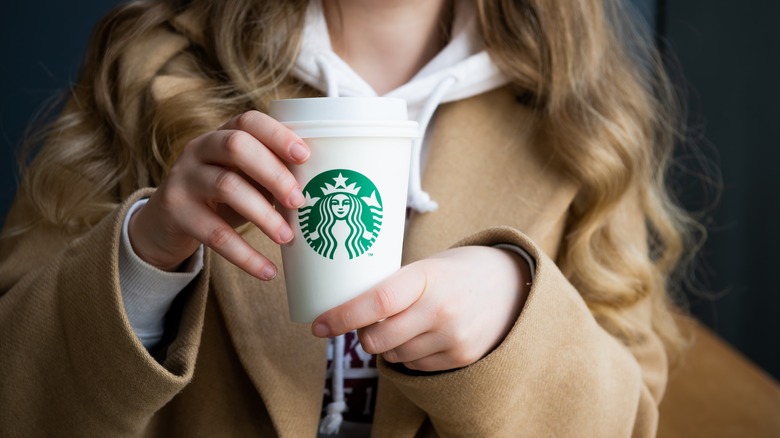 Tatiana_kashko_photo/Shutterstock
For coffee fans, the arrival of the pumpkin spice latte is a clear indicator that fall is here. Launched by Starbucks in 2003, it's become something of a phenomenon. Arguably, Starbucks is responsible for the rise of flavored lattes that have since flooded coffee shops. But if you're interested in adding a new sweet, seasonal flavor to your coffee, there are some other secret menu drinks perfect for a Halloween treat.
The Hocus Pocus latte is a super seasonal secret drink that takes an iced venti pumpkin spice latte with two pumps of pumpkin spice as the base, adding two pumps of white mocha, and two pumps of apple brown sugar syrup. Then ask for extra caramel drizzle, plus whipped cream, and cinnamon dolce topping. The Frankenstein frappuccino, meanwhile, is just the right green for Halloween, and apparently tastes like a bowl of mint chocolate chip ice cream. It starts with a grande matcha green tea crème frappuccino, with one pump of peppermint syrup, and a pump of white chocolate mocha. Then add frappuccino chips, and a mocha drizzle.
If you'd rather stick to the traditional menu, though, Starbucks rolls out seasonal drinks every fall for a limited time.