Turn Your Pumpkin Into A Boozy Punch Bowl This Halloween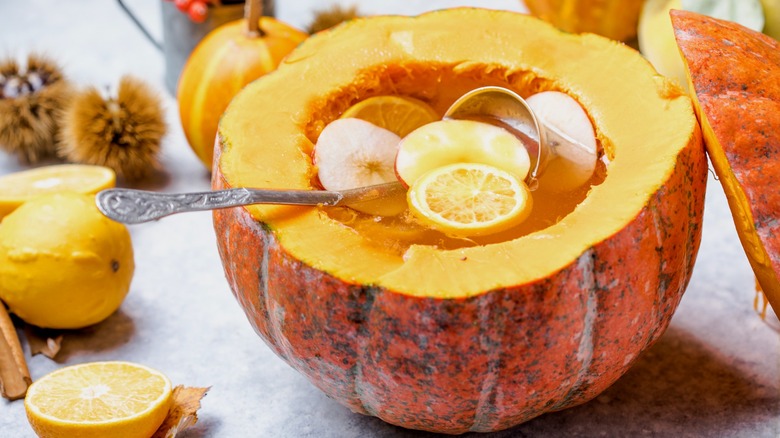 Gorchittza2012/Getty Images
A fall and winter staple, pumpkins are a huge part of any seasonal celebration, especially when it comes to Halloween. Whether carved into a jack-o'-lantern or crafted into a pumpkin sculpture, they make the perfect centerpiece. But why not elevate your festive party game by transforming a hollowed-out pumpkin into both a practical and decorative punch bowl?
It's important to choose the right kind of pumpkin for making a punch bowl, as you'll want something that's large enough to fill with your chosen drink. Common orange pumpkins, Cinderella, and cheddar varieties work well. Slice off the top quarter of the pumpkin with a serrated knife; drawing a pen line first can help, and cutting zigzag pattern along the top looks especially attractive, if your knife skills are up to it. Use your hands and a spoon to remove the seeds and innards (keep the strings for stock, and the seeds for roasting, to avoid waste). Then just rinse the pumpkin, and dry the inside with a paper towel to remove any moisture before adding your punch.
Obviously, you won't be able to carve the actual pumpkin, as it will be holding liquid, but you could shave in some stripes or patterns using a peeler if you want to get creative. If you want to take it a step further, and if you have the time and patience, you could even hollow out mini pumpkins to use as individual serving cups.
Seasonal punch ideas to fill your pumpkin bowl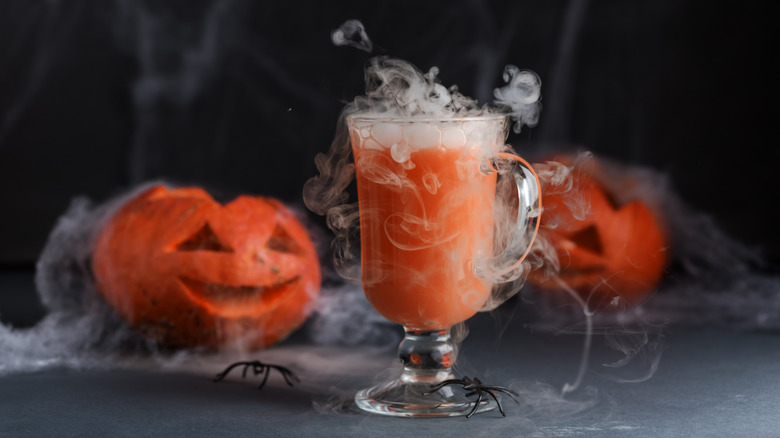 gostua/Shutterstock
Halloween is all about embracing big batch cocktails and mixed drinks that put the "boo!" into boozy. For "Harry Potter" fans, a butterbeer-inspired punch is a must-try. Give it an adult twist by combining equal parts vanilla vodka and butterscotch schnapps, then topping up with cream soda and garnishing with butterscotch whipped cream. Alternatively, try a magical-looking punch by mixing red wine, dark fruit juice, brandy, and raspberry liqueur, garnishing with autumn fruits for a blood-red brew. 
Want your drink even darker? Consider using black vodka, or vodka colored with black food coloring, in your favorite fruity punch base. If you're looking for a non-alcoholic spirit for your pumpkin punch bowl, a classic Halloween punch made with cranberry juice, lemonade, and lime juice — and swimming with gruesome gummy worms — might be the way to go.
To really pack a visual punch, you could place plastic spiders in your ice cubes before freezing them (though you may want to warn any arachnophobes first). Or go all-out and use dry ice to transform your pumpkin into a smoking seasonal punch bowl. Just make sure to wear gloves when handling dry ice, and place it in a larger metal bowl with a little water inside the base of the pumpkin. Put your punch in a smaller bowl above the dry ice, leaving a gap so the smoke swirls up around the drink. Then watch the looks of devilish delight on your guests' faces.