How To Repurpose The Last Scraps Of Watermelon
From the refreshing juice to sweet, tasty flesh, watermelons are simply too good to let any part of them go to waste. But, despite their delectable taste and a wide range of uses from watermelon granitas to salsa swaps, the gargantuan size of the fruit can make it difficult to get around to eating the entire thing before it goes bad. The good news is that you don't have to toss out the extra melon. There's a simple trick to use up each and every bit, and it involves using the scraps to make refreshing watermelon ice cubes.
Typically, a fully cut melon only lasts about three to five days in the refrigerator — provided it's placed in an airtight container or wrapped tightly in plastic wrap or foil. This helps to keep it from drying out so it stays fresher and crisper for longer. But, making watermelon ice cubes is a great low-waste solution to use and enjoy all of the leftovers and preserve them for longer in the freezer, allowing you to savor every last bite — or sip.
Watermelon ice cubes add big flavor to any beverage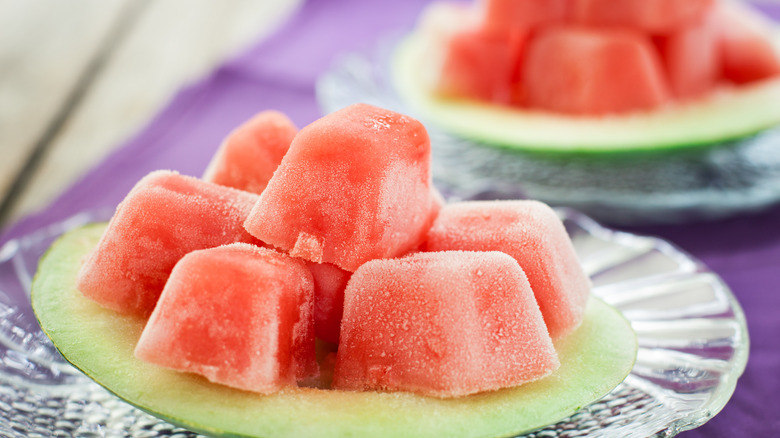 Kajakiki/Getty Images
From lemonade and tea to cocktails and, of course, basic water, watermelon ice cubes can be used to add a touch of fruity flavor to just about any drink. And the best part is, the flavorful frozen squares are incredibly easy to make: Simply puree the leftover bits of fruit in a blender until they're silky smooth (removing the rind and any seeds first), then pour the puree into ice cube trays, and place them in the freezer. Once frozen, pop the cubes into your beverage of choice for a unique and ultra-refreshing twist.
In addition to tasting delicious, this genius hack also help to prolong the lifespan of the sweet fruit to about eight months since they're frozen — just make sure to use an airtight container, such as a freezer bag, for long-term storage. What's more, there are many other clever ways to use up all of the perfectly good bits of melon scrap, from incorporating into recipes like chilled soups to adding the bits to your morning smoothie.
Other ways to put watermelon scraps to good use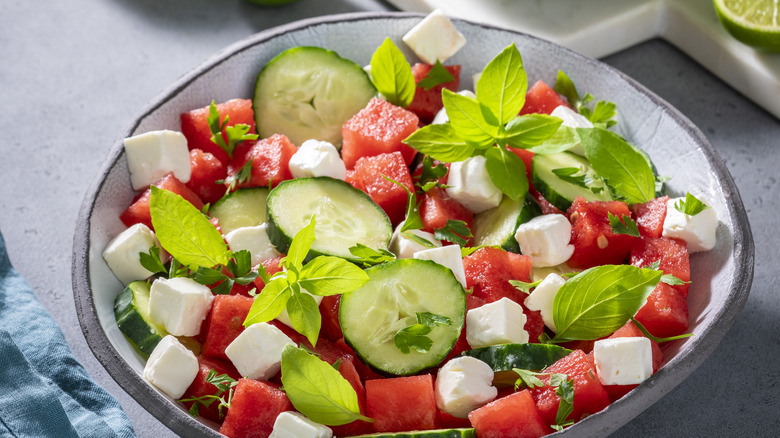 Mediterranean/Getty Images
There really is no limit when it comes to using up every last bit of watermelon, from mashing up with veggies like onion, bell pepper, and garlic to make a tasty watermelon and tomato gazpacho soup or blending with fruits like bananas and strawberries for a nutritious morning smoothie. You can also dice watermelon and mix with jalapeno, onion, cilantro, lime juice, and salt for a quick and easy homemade salsa, or combine with your favorite salad ingredients, such as feta, cucumber, and mint for a Mediterranean twist.
Another low-waste tip: You can even eat a watermelon's rind and seeds. Just peel off the thick, green exterior and cut the skins into chunks. Boil them with apple cider vinegar, sugar, water, salt, and your favorite spices, such as ginger, and let them cool for a take on melon pickles. Or, save your watermelon seeds for a tahini-esque butter that can be slathered over toast in place of creamy nut butter. With so many applications, the watermelon truly is your oyster.