The Odd Souvenir Alton Brown Steals From Great Restaurants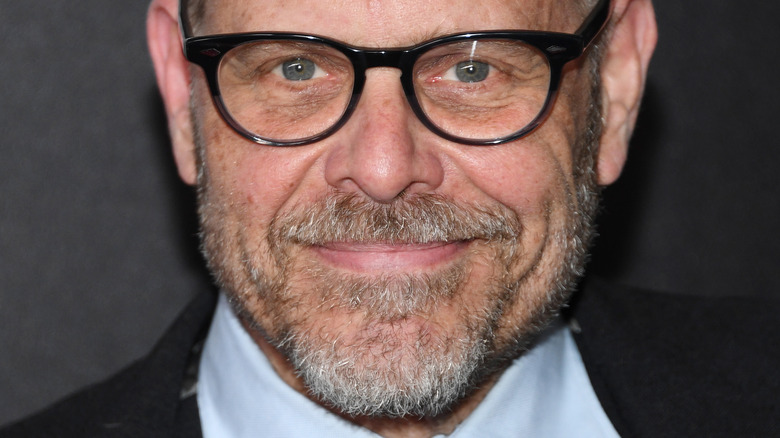 Dimitrios Kambouris/Getty Images
Going out for a meal at a top-rated restaurant is not typically something most diners can't do every week; it's often an experience people save up for or wait for a special occasion to enjoy. So, it's not surprising that sometimes people want to take a little souvenir home with them to remember it all. It might be a copy of the menu, or a branded pen — or, more daring diners might sneak away a piece of glassware or a shiny steak knife.
Even Alton Brown does it, although his choice of souvenir is odder than most — he always has his eye on the check trays. "I like them, and I like having a souvenir of that meal," he admitted in an interview with Eater. When he has the courage to swipe this peculiar memento from a restaurant, he makes sure to write on the back where it was from, and the date he ate there so he can remember it. It's not always his own check tray, either; he's owned up to nabbing them from other tables, meaning somebody else "takes the rap."
Before any restaurateurs decide to pay a visit to Brown's house to reclaim their property, it's worth noting that this confession was made several years back. But, wrong as we all know it is, the culinary personality is far from alone in wanting a little keepsake from his one-of-a-kind dining experience.
The most common items diners steal from restaurants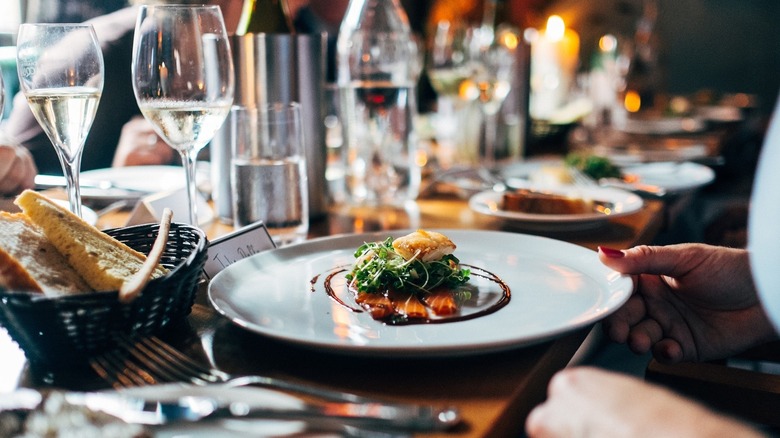 Adeyemi ayomide/Shutterstock
Stealing from restaurants is not a new phenomenon and is not unique to Alton Brown. Back in the 1990s, when smoking was still permitted indoors in public spaces, Quaglino's, a restaurant in London's West End that's owned by Sir Terence Conran, reported losing 1,000 of its attractive ashtrays every single month. Almost two decades later, napkins have gone missing on a huge scale; Jamie Oliver complained in 2012 that 30,000 of them were being pinched every month from his restaurants.
Fast-forward to 2019, and it was eco-friendly metal straws that caught diners' attention, often ending up in their purses and pockets (it was a hot commodity as straws started going out of style as more emphasis was paid to plastic waste). These all may seem like small things to take, but even the tiniest piece all adds up for business owners. One report estimated the petty theft was costing New York restaurants up to $5,000 a year.
Other items that restaurants frequently complain go missing range from silverware and unusual or branded glasses to pepper mills and even toilet paper. While they're in the bathroom, some diners will even swipe the soap.
More weird items stolen from restaurants – from a lamp to a $4,000 cognac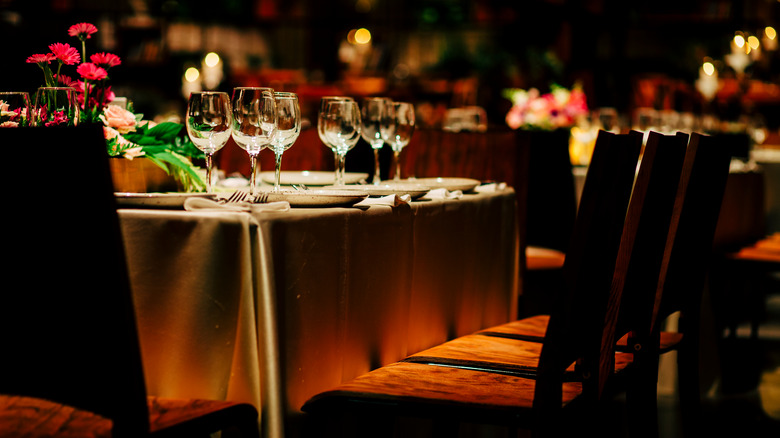 BorisK9/Shutterstock
It's not just the regular spoon or table decoration that goes missing from restaurants. Some diners have their eye on a much bigger haul. Back in 2002, the New York Times reported a number of unusual — and eye-wateringly expensive — items that had gone missing from well-known restaurants. The list included a $1,200 silver Champagne bucket from Locke-Ober in Boston and a $1,000 fish-shaped bamboo lamp from Dahlia Lounge in Seattle.
Even more ballsy was the bottle of cognac that a diner snatched in 2022 from behind the bar at Mount Hamilton Grandview Restaurant in San Jose, California. The Louis XIII cognac, which was 100 years old, had a value of $4,000.
But, thefts from restaurants don't just come at a financial cost; they can sometimes come at an emotional price, too. More recently, world famous chef Michel Roux Jr. took to Twitter to launch an appeal for the return of an ornamental frog that a diner had stolen during a tribute dinner for his late father, Albert. The piece was one of the oldest ornaments to decorate tables at his Michelin-starred London restaurant Le Gavroche, which recently announced its closure. There is no record of it being returned as of yet.