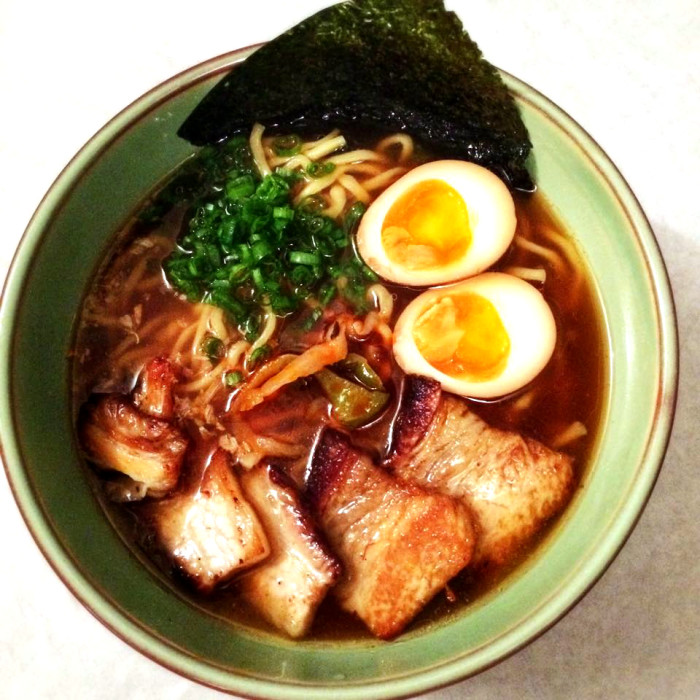 Brothers in cooking (and in life) Max and Eli Sussman have popped up on Food Republic today. Here are their picks for the most underrated places to eat in the place they call home, New York City:
1. Brucie
This Carroll Gardens spot easily falls into our top five favorite places in the city to eat — period. Every single time, the food wows us with its creative and delicious flavor combinations. Mark our words: ORDER THE BREAD. Baked in a cast-iron pan, it's some of the best we've ever had anywhere. It's served piping hot in huge chunks, perfect for dipping into the same incredible sauces that grace the pastas, meat and fish on the constantly changing menu. If meatballs are offered on the night you go, order them, too. You won't regret it. 234 Court St., Brooklyn, NY 11201, 347-987-4961; brucienyc.com
2. King Noodle
Say what you will about the room being crazy, or the menu starting out with kitschy stoner items. Both of those things were true, but the room is now remodeled and King Noodle has grown into an awesome neighborhood restaurant. Nick Subic's short-and-sweet menu is a welcome change from the sushi and pizza options around the corner — and usually you don't have to wait for an hour to get in. We have dreams about the green curry flat noodles. That is a must-order item. And if you are with a group and in the mood for some serious drinking, those huge, boozy punch bowls will knock you on your ass. 1045 Flushing Ave., Brooklyn, NY 11237, 718-456-6543; kingnoodlebk.com
3. Cafe Colette
Consistently delicious food in a beautiful room with solid cocktails and good coffee. Is there anything else you need from a restaurant? It's always packed, so it's not like it's a underground secret spot. But you never hear much about it for some reason. This place feels quintessentially Williamsburg. We always find ourselves asking, "Don't all these incredibly attractive people have jobs they need to go to?" But intentionally, Cafe Colette has channeled this European vibe where the top priority is relaxing. If you are in Williamsburg with nowhere to run off to, the fish tacos and the burger are both solid picks. 79 Berry St., Brooklyn, NY 11249, 349-599-1391; cafe-colette.com
4. Fritzl's Lunch Box
There are plenty of great restaurants in New York. But in this day and age, there are few where the chef-owner is almost always there cooking your food. Fritzl's is one of these rare breeds: affordable, laid-back and consistently delicious. That burger, the chicken sandwich — if you haven't been to this tiny little cozy spot for a leisurely lunch, you are sleeping on a real Bushwick gem. 173 Irving Ave., Brooklyn, NY 11237, 929-210-9531; fritzlslunchbox.com
5. Los Tacos No. 1
Yes, the best tacos in New York are in an awkward corner of a food court filled with tourists. But the amazingly fresh tortillas and outrageously fresh al pastor are more than worth it. 75 9th Ave., New York, NY 10011, 212-256-0343; lostacos1.com
Read more about NYC restaurants on Food Republic:
This post is brought to you by our friends at MasterCard Priceless Cities.