The Canned Food You'll Never Find In Ina Garten's Pantry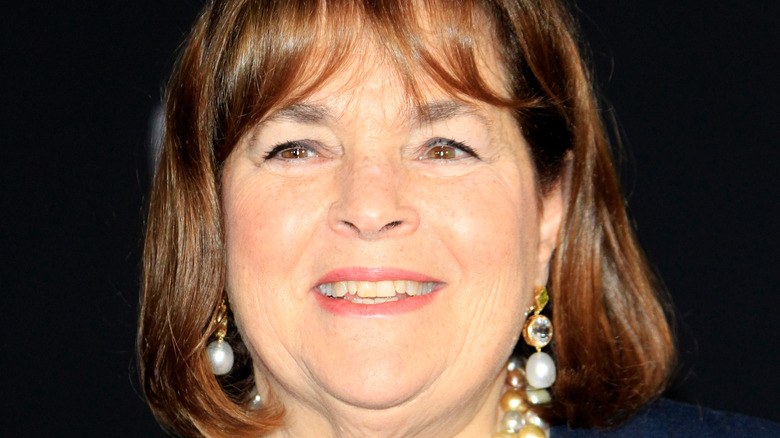 Kathy Hutchins/Shutterstock
Fans of Ina Garten know she isn't afraid of pre-packaged, store-bought ingredients. In fact, she all but encourages using them — especially if they are big on flavor and added convenience, meaning you won't be spending the entirety of your dinner party holed up in the kitchen. Garten admittedly names San Marzano canned tomatoes and Libby's canned pumpkin as two of her favorite pantry staples, but there is one item you'll never find in her picture-perfect pantry: canned beets.
Her aversion to the food item came up during a discussion with friend and journalist David Remnick, for The New Yorker Radio Hour. During the chat, Garten said her disdain for canned beets harkens back to her childhood experiences with dinner time, which is probably not what you'd expect. The Barefoot Contessa wasn't chopping vegetables and marinating meats alongside her mother or father; in fact, the kitchen was a place she was expected to stay out of while the grownups made the meals. Furthermore, her memories back then include being served fairly bland food for dinner, including those beets she dreads so much.
Beat it, beets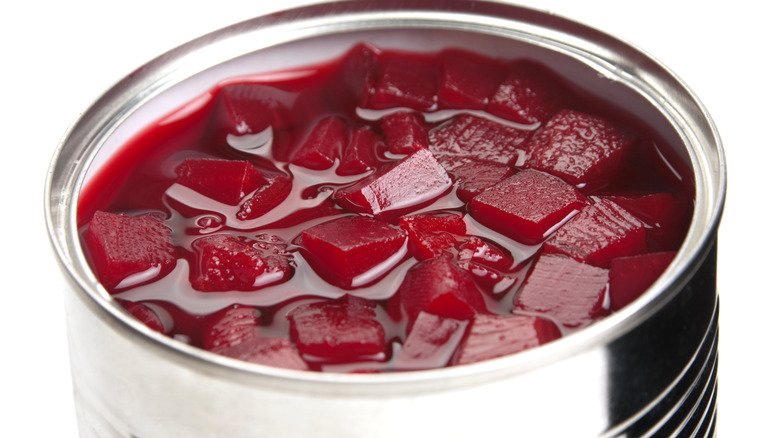 Lepas2004/Getty Images
Ina Garten explained to journalist David Remnick that, as a child, she was expected to be a good student, first and foremost. As such, cooking dinner, or even helping with it, was never part of her responsibilities. In fact, when dinner was served and the Rosenbergs (her maiden name) sat down to eat, Garten often became extremely stressed, as her strict father would quiz her and her brother about their studies. 
The food her mother made was nothing to get excited about, either. Garten recalls eating boiled chicken and canned peas, with no bread, potatoes, or carbs of any kind, and Harvard beets. As Garten shared, "No child likes Harvard beets. You might develop a taste for it afterward, but not when you're 10."
It wasn't until she married her beloved husband Jeffrey that Garten began to really hone in on the art of cooking, a task she would quickly fall in love with once she was free to make any dish she so desired — and that usually was dishes with lots of flavor and those that she and Jeffrey truly enjoyed eating. That newfound freedom led Garten to really enjoy the process and she began hosting dinner parties, which eventually led to her buying the Barefoot Contessa store in the Hamptons. And that, of course, inspired the first of her many cookbooks and fantastic television show.
Canned beets are out, but fresh is in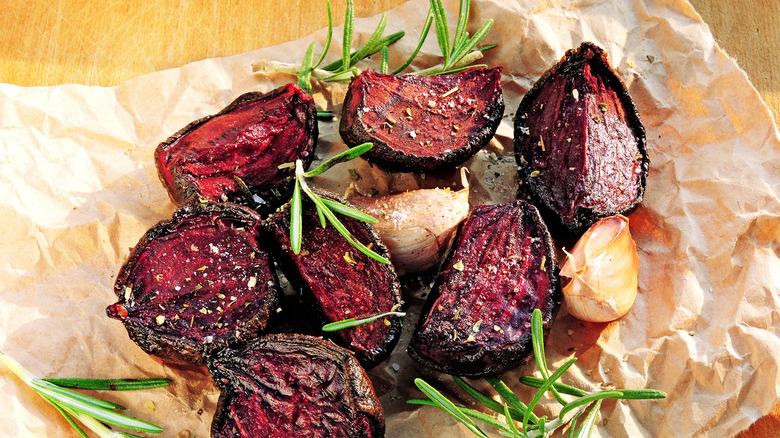 Oksana Shyriaieva/Getty Images
To be clear, Ina Garten is, in fact, a fan of beets — just the fresh ones. Over time, Garten has offered several recipes utilizing the sweet, earthy tubers, including balsamic roasted beet salad with peppery arugula, tangy goat cheese, and marcona almonds; as well as classic roasted beets with thyme and raspberry vinegar; and beets with orange vinaigrette.
While we now know that a can of Harvard beets will probably never be found in the depths of Garten's cupboards, she has been candid about what she considers fridge essentials and they include truffle butter, organic eggs, soups and stocks, vodka, champagne, bread, milk, vinegars, and ice cream. As far as the boiled chicken she grew up eating, Garten now prefers juicy chicken that's been roasted (as does Jeffrey), and she saves the boiling for when she makes chicken stock, which in turn, makes up the base of numerous of her soup recipes, stews, and luxurious risottos.