Make Dinner Parties Nostalgic With An Easier Menu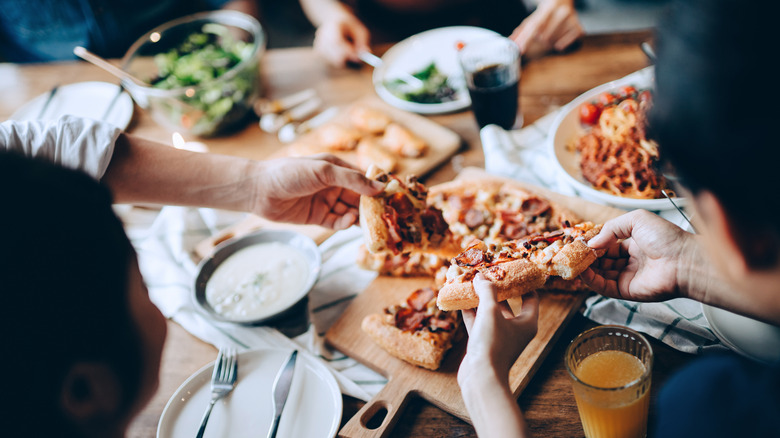 Getty Images
Do you love to entertain but you don't really have the time or a big budget to do so? That can be a huge bummer. Your home might be the spot where everyone wants to hang. You might have the most space, or you might be the most centrally located, but you might also be busy, or working with a limited budget. What's a potential host to do? Skip entertaining all together? Fear not! There are simple ways that you can turn a hang into the event of the season and there's no reason to break the bank or give up sleep. Sometimes just adding one thoughtful, creative twist to the evening changes the whole ballgame. 
If you're simply too busy to cook, you can host takeout nights that coincide with a game or an activity. Or cook one thing and delegate the rest. Maybe you cook the main dish and ask everyone to bring sides. If you're on a limited budget it's 100% okay to request a potluck dinner and pick a theme ... maybe even a competition with a prize for the winner? Who wouldn't want to come over and sample several different types of mac and cheese, or several kinds of pizza? When push comes to shove, your friends and family will be happier to see you over Thai food delivery than not at all. Send that invite!
How to make a take out night special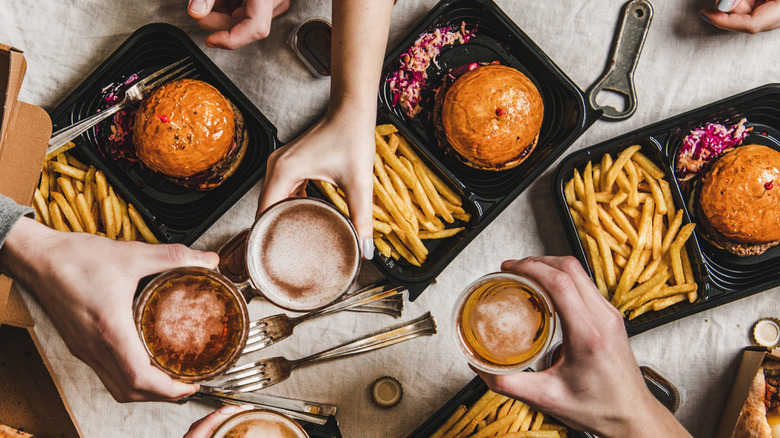 Foxys Forest Manufacture/Shutterstock
There's nothing wrong with ordering in and splitting the bill when you get together with friends and family. While it's not the same as gifting your loved ones a three-course meal cooked from scratch, we can't all be Ina Garten. You can, however, up-level a takeout night by adding an activity that turns the evening into a fun, memorable occasion. Why not order sushi and then do trivia, or how about pizza and a movie?
Maybe you make your famous margaritas and guacamole to tag along with the burritos you order from your favorite burrito spot, or make a specialty cocktail that pairs with heavy appetizers. A small unique twist can really make the event special and meaningful and there's no reason to shell out more money than you feel comfortable with or spend all day sweating over the stove. Eager to make your takeout meal a little more special? Break out the nice serving dishes and nice flatware, or eat outside.
Another fun option for up-leveling a takeout night is to combine it with a DIY wine tasting. Ask all of your guests to bring a bottle of wine under 10 dollars with the label hidden. Number each bottle and pour a small taste of each for your guests. Friends and family can get to vote on which wine they think is best and the winner gets a prize. If your circle doesn't partake in alcohol you can pivot to food. Maybe everyone brings their favorite hot sauce or salsa.
There's nothing wrong with potlucking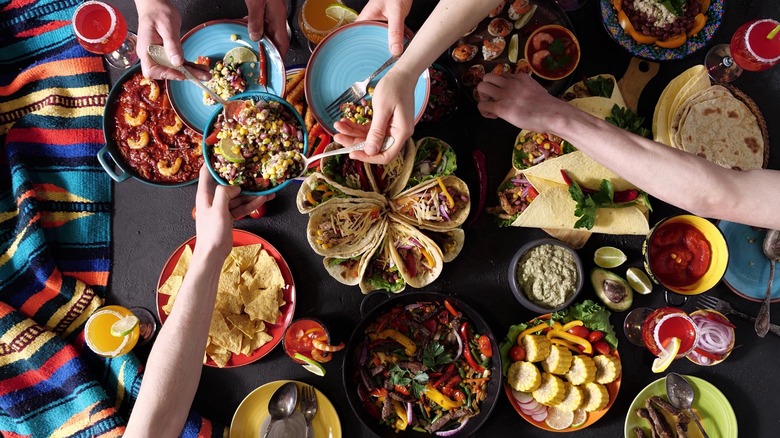 Fevziie - Shutterstock
When all is said and done, hosting a dinner party shouldn't mean that you have to cook everything you and your guests will eat. If you're not in the habit or headspace to do a takeout night, a delightful way to make a dinner party fun and worthy of nostalgia (without cooking the whole feast) is to potluck. 
Try choosing a theme and then have everyone contribute something that works within that theme. Rather than ordering pizza, why not make pizzas and ask guests to bring their favorite toppings? Then you can make a few different pies and let everyone taste them. Or maybe you do taco night and ask everyone to bring their favorite Mexican-inspired snack or side dish. Having an evening of heavy appetizers? Ask everyone to bring their favorite cheese. Allowing all of your guests to get creative with their offering helps to build excitement and it's a great conversation starter during the dinner party, especially if you're introducing groups of friends to each other. It might sound silly but talking to someone about their favorite cheeses could really deepen a friendship. 
All in all, if you want to get your loved ones together, don't shy away from making it happen. Life is short and spending time with the people we love is important. Keep it simple, add in a dash of fun, and everyone is bound to have a great time.