Numilk: Here's What Happened After Shark Tank
There's a better way to indulge in plant-based milk, and it's fresher and far more convenient. Called Numilk, it's a self-serve alternative to pre-packaged, store-bought options. It uses a custom, kiosk-type machine and flavored pouches to process the drink into a bottle or glass in real-time before your eyes. With just the press of a button, you can have naturally-processed, fresh, and nutritious vegan milk in under a minute. And it lasts for a week in the fridge.
The innovative idea was nothing more than a pipe dream drawn out on napkins back in 2017; however, in just a year, the three founders, Joe Savino, Ari Tolwin, and Lennie Friedman had their nifty kiosk developed and installed in their first grocery store, a New Jersey-based Whole Foods.
At the time, the vegan milk market was booming and expected to reach $16.3 billion in 2017 (per Innova Market Insights); it's now projected to hit $123.1 billion by 2030, according to SkyQuest, providing a great rationale for Numilk to enter the market. Especially since the trio found a way to improve upon the ultra-processed vegan milks dominating store shelves, which are often laden with artificial preservatives, gums, and fillers. Instead, Numilk features simple, whole food ingredients, like organic almonds for its almond milk and a blend of organic cacao, vanilla bean, and maple for its dairy-free chocolate milk.
With the grocery store partnerships established, the Numilk founders set out to find funding for a home countertop version and took their pitch to "Shark Tank."
Numilk enters the Shark Tank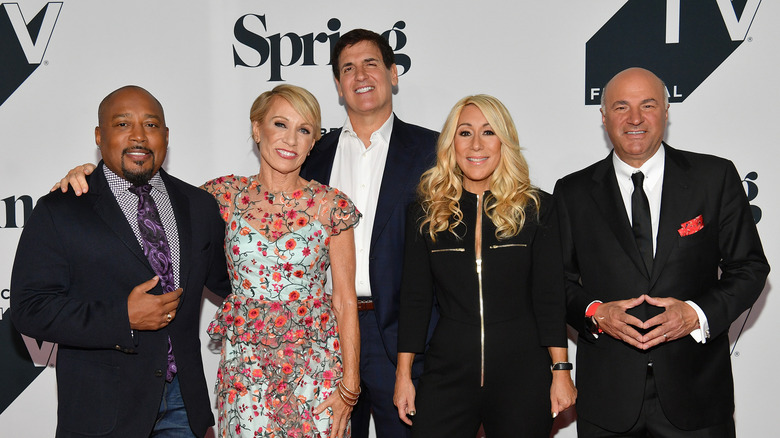 Dia Dipasupil/Getty Images
Joe Savino and Ari Tolwin represented Numilk when the company appeared on Season 12, Episode 18 of "Shark Tank" in 2021. The five judges on the panel—Mark Cuban, Daymond John, Barbara Corcoran, Kevin O'Leary, and Lori Greiner—were initially stunned by their ask: $1 million for a 5% stake in the company. "You got our attention," said Corcoran. But, soon after she took a sip of the drink, the shark noted that Numilk tasted nothing like store brands of plant-based milks.
All of the panelists liked the taste of Numilk, but they wanted more information on the high-tech machine that churns out the refillable bottles. O'Leary was first to chime in with his opinion, believing the business model's high cost (including building and maintaining the kiosks) was too much of a drain on the company's profit lines. This was evidenced, he said, by Numilk losing $7 million of the $12 million it had raised thus far due to high research and development costs. But, the entrepreneurs tried to sway the sharks, revealing a prototype of a home countertop version (like a Keurig) that they believed was more efficient.
Corcoran bowed out first, followed by John and Greiner. But seeing a fundamental demand for the product, O'Leary changed his tune and was in with an offer of a $1 million loan (to be paid back in three years with a 9.5% interest rate) in exchange for 5% equity in Numilk. Cuban, who has an extensive investment portfolio of plant-based brands, countered with an offer of $2 million, including $1 million in exchange for 7% equity and $1 million as a loan with 3% interest as well as 3% in company stock. The founders ultimately opted for the latter deal.
What happened to Numilk after 'Shark Tank'?
Numilk faced considerable setbacks in 2020, when the company's "Shark Tank" episode was filmed, due to the Coronavirus pandemic. As they told the sharks, that resulted in delayed launches with Kroger, Gelson's Markets, and other retailers. Even so, the brand has kept defying all odds. The day before their "Shark Tank" episode aired in March 2021, the founders launched a Kickstarter campaign for the Numilk Home machine, the smaller, countertop milk maker, and garnered $222,353 over a 45-day fundraising period. 
Numilk certainly had a whirlwind of a year after swimming with the sharks. They expanded, adding organic cashew milk to the line as well as several new flavors: Goldenmilk, which features coconut, maple, turmeric, and ginger; and Moonmilk, which contains maple, dragon fruit, chamomile, and ashwagandha. 
Around that same time, Numilk also launched an enticing new oat milk-based flavor, Matcha Latte, as well as specialty options of the month like Black Sesame and Vegan Egg Nog. Not only that, but the startup expanded into even more retailers, with its larger-sized Numilk Pro commercial machines added to a slew of coffee shops across the country.
Is Numilk still in business?
Fast forward to 2023, and business is still booming for Numilk, which is now available in more than 100 locations across the U.S., including rural states like Montana and North Dakota; plus, its website indicates the product is slated to ship to Puerto Rico and Canada in the near future. 
The coffee shop partnerships have been extra lucrative. Baristas are certainly raving about the sustainable vegan milk, with one barista from The Daily Coffee Shop in West Midtown Atlanta posting on Instagram, "Numilk has a lot of benefits to the environment and is better for storage." 
Considering that the refillable glass bottles eliminate the waste normally incurred with the average plastic milk carton, it's no surprise the brand has swiftly expanded. The creamy plant-based milk offerings are also now available at trendy shops like Arizona's Wild Iris Coffeehouse, Virginia's One Love Coffee House, New York City's Birch Coffee, Connecticut's Allora Coffee & Bites, and many more locations.
What's next for Numilk?
Perhaps the biggest news of all is that pre-made, 16-ounce lattes and protein shakes may be on the way, at least according to a post on Numilk's website, which will only further expand the company's portfolio.
Commercial customers, including coffee shops and other retailers, are currently able to order the device through the wholesale portal that exists online. But, those looking to get their hands on the $249 Numilk Home or the $699 Numilk Pro for at-home use will have to stand by because a waitlist is currently available for pre-order. (The difference is the Home and Pro versions produce 32-ounce bottles of dairy-free milk at the press of a button using the company's flavored pouches; however, the professional version connects to a waterline allowing for a larger quantity at one time.)
In the meantime, plant-based milk lovers can get a sip of Numilk in smoothies, lattes, shakes, and more at participating retail locations, including the relatively new pistachio-based milk featuring a combination of maple, vanilla bean, and Himalayan salt that was released last year.