The Fast Food Classic Ina Garten Would Pick As Her Last Meal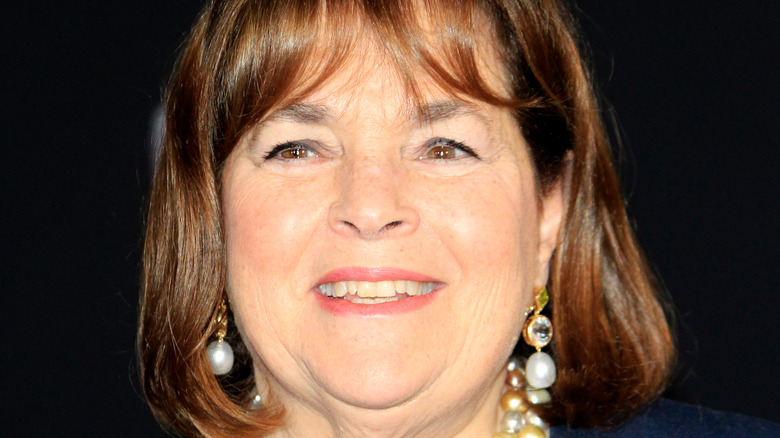 Kathy Hutchins/Shutterstock
It's a morbid question, but one that we're always asking the masters of the food and restaurant world, and one that we're always dying to know the answer to: "What would your last meal be?" It says a lot about a person — especially one who loves food and knows it well.
For Ina Garten, that question is fairly easy to answer. And although she admits that her last meal may be a surprising choice — it's not fancy lobster tails or an impressive roast or one of her notorious cosmos — it makes perfect sense that the queen of quality, home-cooked comfort food would choose an ultimate comfort meal.
The Barefoot Contessa's pick? A hot dog and french fries at Frenchie To Go. Fast food, but make it Parisian. Because fast food screams comfort, Parisian fast food screams comfort and class — which screams Ina Garten. So in true Ina Garten fashion, let's head to Paris.
Why the hot dog at Frenchie To Go is last-meal worthy
Being located in Paris is certainly a good start, but what makes the fast food at Frenchie To Go — and specifically the hot dog — worthy of a last meal? Ina Garten calls Gregory Marchand's homemade hot dog "the best lunch ever," and there's a reason.
First of all, Frenchie To Go isn't actually fast food (not as we know it, anyway). The "fast food" version of the Frenchie restaurant in Paris, Frenchie To Go calls their fare "fast good": it's "UK and US street food with a French twist." That French twist involves a completely homemade menu, with food sourced from the same suppliers as the seasonal fine dining restaurant.
That means Frenchie To Go's meat is homemade as well, including the deli meat, the pulled pork, and, yes, even the hot dog. Made in-house with 100% smoked beef sausage, the "Iconic Hot Dog" is served on bread from the bakery down the street and accompanied with sauerkraut and sweet mustard. Fast good, indeed.
Don't forget about the frites
When Garten divulged her last meal plans to TODAY, she added a coy (but crucial) afterthought to her iconic hot dog selection: "Maybe with french fries," she said, "since it's the last meal." Definitely with french fries. When in France, right?
These are no McDonald's or Burger King fries. Frenchie To Go offers a side of frites that are freshly made in their kitchens every day, with potatoes that are sourced from local, small producers. Seasoned with smoked salt, the frites can be ordered as is, "cheesy" or "supercharged".
Perhaps the best part? There's a whole selection of homemade sauces to choose from — and you know the French are good at their sauces. For dipping pleasure, you can add any of the following sauces to your order: the famous "bbq mon amour" sauce, cheesy sauce, ginger sauce, spicy honey sauce, green chili pepper sauce, or the "secret sauce," if you're feeling adventurous.