Van Leeuwen Teams Up With Jean-Georges Vongerichten To Create New Fruity Flavor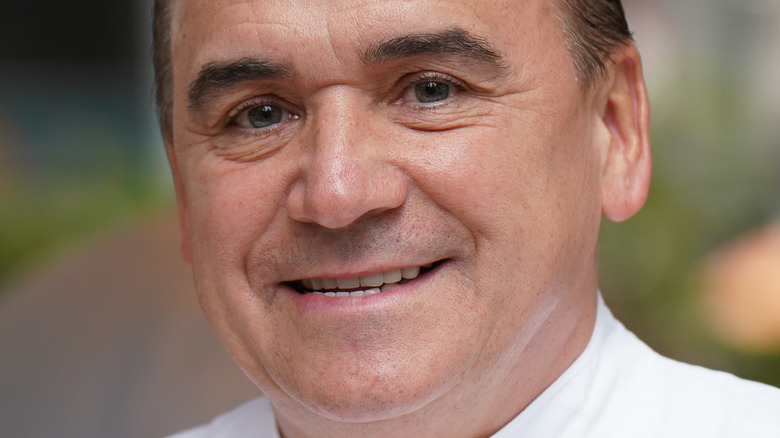 Jared Siskin/Getty Images
The beloved Van Leeuwen ice cream company is about to open its 50th location and has a big celebration in order. The brand is partnering with none other than world-renowned chef Jean-Georges Vongerichten for a special, limited-edition Sour Cherry Creamsicle flavor that will roll out beginning August 24.
Since 2008, Van Leeuwen has been specializing in made-from-scratch ice creams, including many popular non-dairy options, all of which are super rich and creamy. Founded by Ben and Pete Van Leeuwen and Laura O'Neill, the trio first set up shop as a single frozen treat truck in New York's Soho neighborhood. But the company has since exploded and is now getting ready to open a 50th location in the heart of NYC's Times Square, paying homage to where it all began. 
To mark the occasion, the brand is teaming up with another local treasure, the world-renowned chef behind NYC's twice Michelin-starred flagship Jean-Georges restaurant. The partnership is likewise inspired by Vongerichten's roots, as he commemorates his own big 5-0 this year (50 years of cooking, that is), with the flavor inspired by one of the first dishes he ever made in 1973, as noted in a press release.
Van Leeuwen's Sour Cherry Creamsicle flavor will launch exclusively at the Times Square location when it opens August 24, and will then be rolled out across all of its scoop shops across the country. 
An ice cream flavor 50 years in the making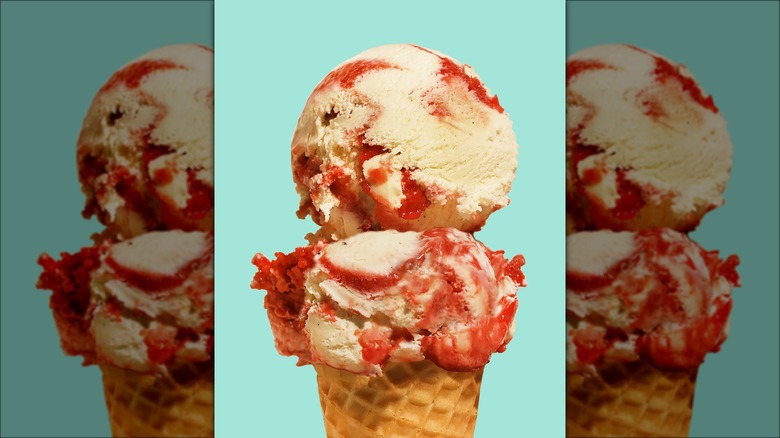 Van Leeuwen
It would only make sense Van Leeuwen would partner with a French chef; after all, the company is known for its French-style ice creams, which are made with more than double the amount of egg yolks as standard ice cream. (The vegan options swap it for a creamy mix of cashew milk, coconut milk, and coconut oil.)
But the latest Sour Cherry Creamsicle flavor collaboration with chef Jean-Georges Vongerichten is even more special when you consider its origins. Though he now has restaurants across the globe, Vongerichten first began his training in a work-study program at Auberge de l'Ill in France in 1973 as an apprentice, and his inaugural dish was in fact a sour cherry sorbet. 
Celebrating those nostalgic flavors, the base of Van Leeuwen's newest ice cream is its signature Vanilla Bean (recently declared the best vanilla ice cream in the country). It's then swirled with a refreshing sorbet made with morello cherries, a staple of Vongerichten's summer diet when he was growing up in Alsace.
On opening day at the new Times Square shop on August 24, Vongerichten will join the founders of Van Leeuwen to dish out scoops, which will be 50% off from 12-2 p.m. Guests can also receive a limited-time topping of cheesecake bites made by Van Leeuwen's Times Square neighbor, Junior's Restaurant & Bakery. There will also be offers and giveaways including an exclusive tote bag to the first 100 people in line.