The Royal Hawaiian Cocktail Gives Gin A Tropical Twist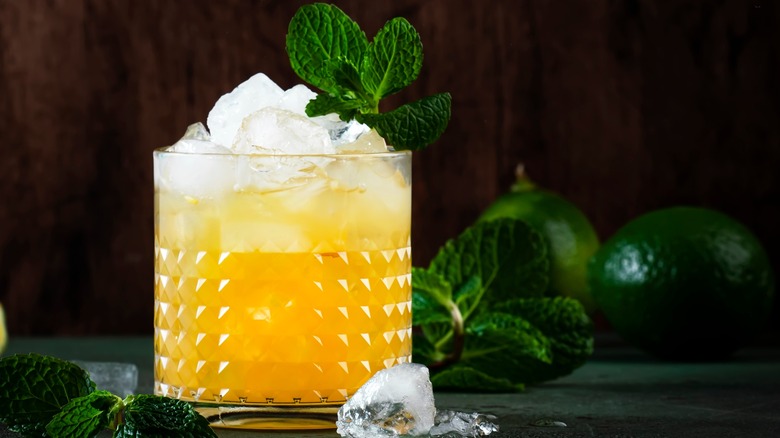 5PH/Shutterstock
While in the beautiful state of Hawaii, it's almost impossible not to get caught up in the spirit of all things tropical, including cocktails. Even die-hard beer drinkers and nothing-but-wine aficionados are tempted by the colorful libations in nearly everyone's hands, made with fresh fruit juices and garnished with paper umbrellas, pineapple wedges, and purple orchids. Like many drinks inspired by island life, several Hawaiian specialties feature rum, like the Mai Tai, the Blue Hawaii, and the Lava Flow.
But, a lesser-known cocktail called the Royal Hawaiian takes the flavors and feels of the Aloha state and shakes them up with none other than gin, better known as the partner to tonic and a staple in the Negroni. The Royal Hawaiian forgoes the opulence of over-the-top, sugary tropical cocktails and instead opts for subtlety. Tiki glasses and cocktail picks filled with cherries and oranges need not apply here; this drink pleases those who drink it with flavors of fresh pineapple, bright citrus, and the unexpected addition of orgeat syrup, all of which combine beautifully with the sharp taste of good gin. You certainly don't need to be in Hawaii to enjoy this delicious drink — wherever you are, expect an overwhelming desire for sunshine, palm trees, and clear ocean waters upon the first sip.
What's in a Royal Hawaiian?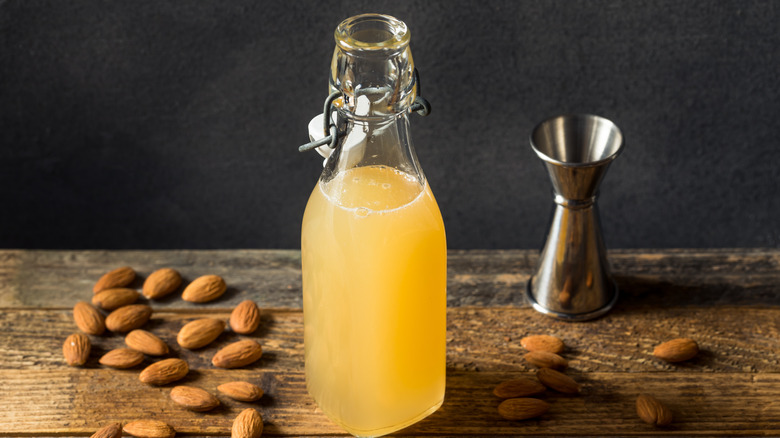 Brent Hofacker/Shutterstock
Gin may sound like a surprising choice for something described as "tropical," but the addition of lemon juice and almond (from the orgeat) balances out the pine flavor and strong botanical notes of the liquor. You may not have orgeat at your home bar, but it plays a vital role in many cocktails, including the aforementioned Mai Tai and Army & Navy cocktail (also made with gin). 
You can make orgeatby combining and heating sugar and almond milk in a saucepan until the sugar dissolves. Toasted almonds are then added to the liquid along with orange blossom water. The mixture sits for 24 hours before the solids are strained out. Adding this to any drink will add a flavor similar to marzipan. You can also order orgeat on Amazon or possibly find it at a specialty liquor store.
The Royal Hawaiian begins by combining gin, fresh pineapple juice, lemon juice, and orgeat into a cocktail shaker. The drink is shaken with ice and then it can be served over pebble ice with a mint garnish to bring home the tropical vibes. Other versions of the drink are served straight up, or without ice. Of course, if you really want a maraschino cherry garnish, go for it.
Royal origins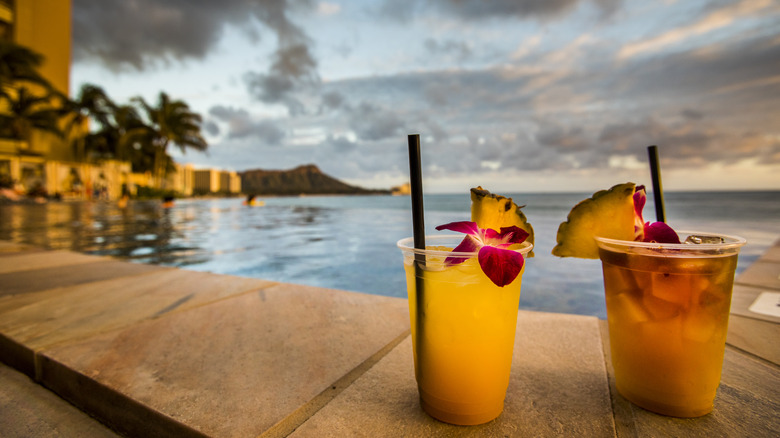 Visualcommunications/Getty Images
Though its origins are debated, many people agree that the Royal Hawaiian originated at Hawaii's Royal Hawaiian Hotel but under the name Princess Ka'iulani cocktail. Princess Ka'iulani was the heir to the Hawaiian throne in the late 1800s and unsuccessfully fought to keep the island's crown intact. Others believe that the drink was introduced under its current name from the beginning.
The Royal Hawaiian Hotel still stands in all its pink splendor on the shore of iconic Waikiki Beach in Honolulu, but it appears its namesake drink is not on the resort's menus. The hotel's Mai Tai Bar, however, does serve an array of Mai Tai's and other cocktails made with orgeat syrup. So long as that key ingredient is present wherever you are, a bartender could probably whip one up, or you could concoct your own taste of the islands at home.