You Only Need One More Ingredient For Fresh Watermelon Sherbet
Africa Studio/Shutterstock
There's nothing like ice-cold fruits to quench your thirst and satisfy your hunger; and crisp, juicy, watermelon is often at the top of the cravings list. Packed with loads of vitamins for nutrition and water for hydration, most people eat watermelon straight out of the bowl or maybe propped up on a popsicle stick, but it also shines in a simple, two-ingredient dessert. 
Using some condensed milk — perhaps you already have that in the pantry — you can transform your frozen watermelon cubes into a delightfully refreshing sherbet (not to be confused with sorbet, more on that later). With this method, you can also avoid the dreaded artificial watermelon flavor that you may get from a store-bought variation. It's also a fantastic way to use up any leftover watermelon after a cookout and there's no fancy ice cream machine required (although it would be a great excuse to bust out the Ninja Creami you got for Christmas).
Making watermelon sherbet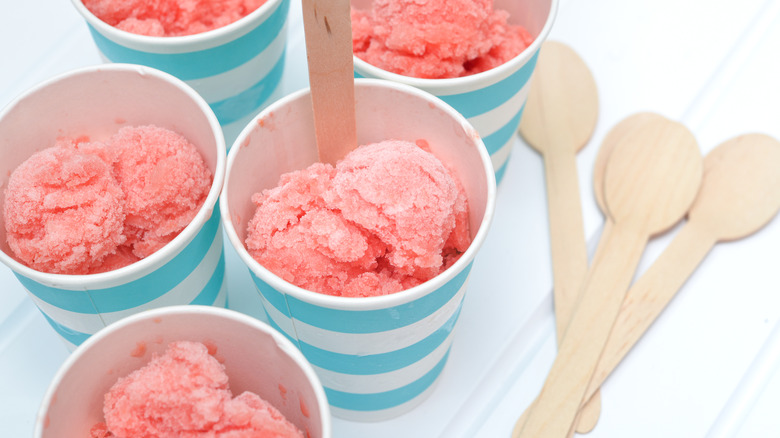 Nirad/Getty Images
Before we go ahead and detail the steps to make watermelon sherbet, we should explain the difference between sherbet and sorbet, two culinary terms that often cause considerable confusion. Sorbet — the one spelled without the "h" — is a frozen dessert made with syrup and fruit purée. Meanwhile, sherbet is made with fruit and dairy (albeit far less dairy than ice cream).
To make watermelon sherbet, you will need to cut your watermelon into small chunks. Place them on a tray lined with foil, then put the tray in the freezer until the watermelon pieces become solid. Ensure there is room between each piece of watermelon, so they don't stick together. Place the frozen fruit into a food processor and add sweetened condensed milk. Blend until the mixture is creamy. Meanwhile, line a deep baking dish with parchment paper, and pour the watermelon and condensed milk mixture into it. Smooth the top with a spatula, then place in the freezer until frozen through. The result is a sweet and creamy dessert that would pair well with a slice of fresh lemon pound cake.
Making sherbets and sorbets with other fruits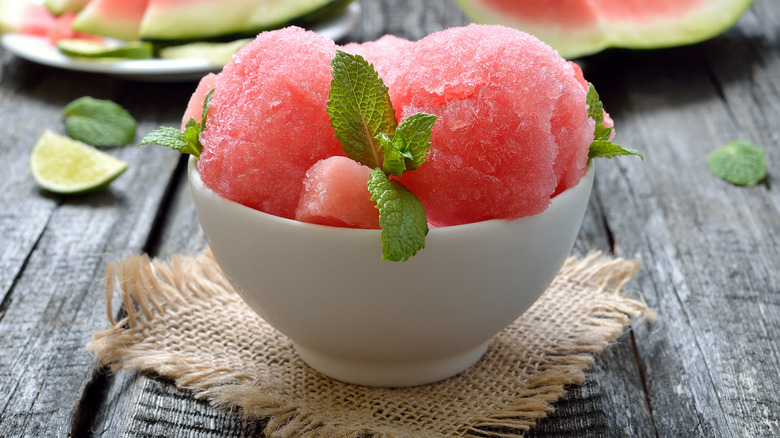 Nadezhda Nesterova/Shutterstock
Alternatively, if you don't have condensed milk in the pantry, or simply want to avoid dairy altogether, you can make a watermelon sorbet instead. Just like making sherbet, cut your watermelon into pieces and freeze them individually. Make a simple syrup with equal parts sugar and water, then set it aside in your refrigerator to cool. Place your frozen watermelon chunks into a food processor along with the cooled simple syrup and pulse until you have a smooth texture. Add lemon or lime juice for a hint of tartness to counterbalance the sweetness of the fruit and syrup. Then, pour the mixture into a container and freeze it.
Many fruits are suitable for either sherbet or sorbet, and making the desserts is a lovely way to preserve their flavor at their peak. For example, mangoes and peaches make great ingredients for sherbets, though you might want to peel the peaches before freezing. On the other hand, apples, pears, and bananas are less juicy and might be too fibrous to make good sherbet, so we suggest opting for a fruit with a high water content.