The Playful Popsicle Stick Hack For Snackable Watermelon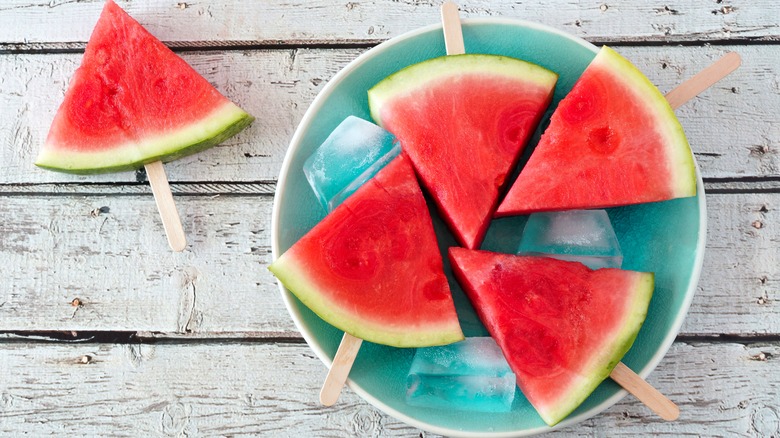 Jenifoto/Getty Images
Bursting with a unique flavor trifecta of bitter, sweet, and sour notes, watermelon is an enticing snack that always seems to keep you coming back for more. But wouldn't it be great if you could indulge in a refreshingly juicy bite of watermelon without all the sticky, dripping mess? Well, now you can. That's right, messy melon slices are out — watermelon served on a stick is in. Not only is it less awkward to eat, but in popsicle stick form the delicious thick-skinned fruit can be enjoyed fresh and even frozen, too. It's a watermelon win-win.
For a mess-free twist on your average hand-held slice, simply grab a knife, a cutting board, and a handful of popsicle sticks because this sweet treat is sure to be liked by adults and children alike. Trust us — you're never going to want to eat watermelon using a fork, spoon, or your fingers again.
Bite into watermelon on a stick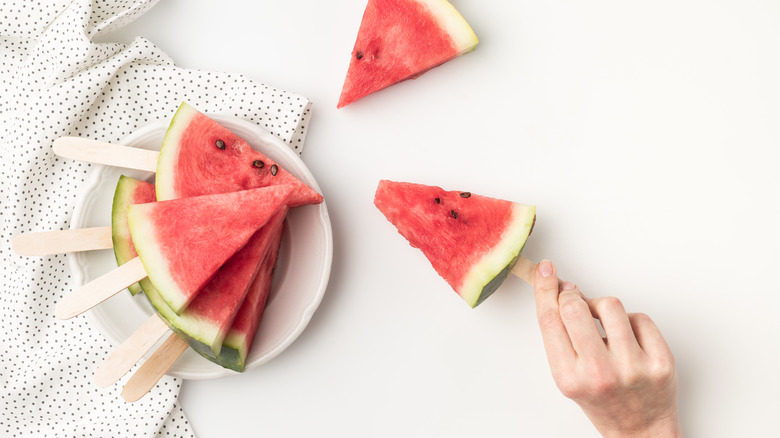 Lightfieldstudios/Getty Images
Making watermelon on a stick is even easier than you think. But, before you go grabbing a cutting board and a sharp knife, it's important to note that you should never cut into an unwashed melon because the juicy pink flesh inside can become contaminated if the rind is covered in dirt, germs, or other bacteria. So, be sure to give your watermelon a good scrub before cutting.
For perfectly pie-shaped wedges, cut the melon into 1-inch-wide discs and then cut each slice into triangle-shaped pieces. The rind will probably be too thick to push the popsicle sticks in on their own, so use a knife to cut a small slit into the middle of each rind before pushing the sticks in so that only about 3 inches of them remain sticking out of the rind. 
And, there you have it: A delightfully scrumptious snack made ready in minutes. But, if you want to take your flavorsome wedges to the next level, all you have to do is freeze them for an icy kick with each bite.
Pop your watermelon popsicles in the freezer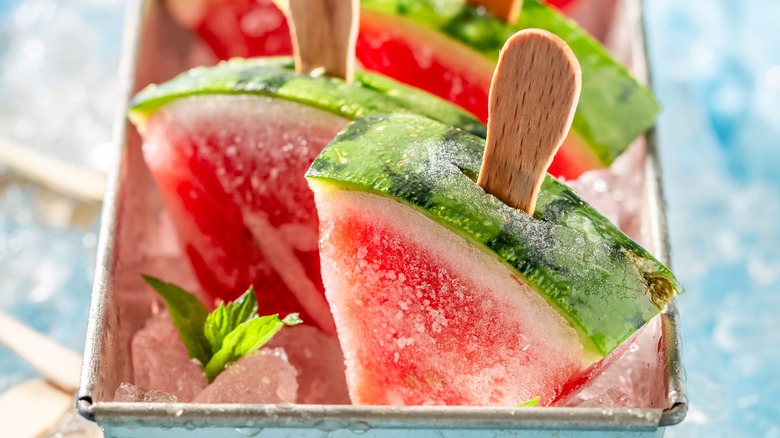 Shaiith/Shutterstock
Your fruit on a stick just got even cooler. For a frosty treat that beats out ice pops, sorbet, and the like, simply freeze your melon sticks. It's easy: Place them on a parchment-lined baking sheet in a single layer, pop the pan into the freezer for about two to four hours, and then they're ready to lick. To make snacking easier, remove any seeds before placing them into the freezer. You can also cut off the skins before pushing the popsicle sticks in; however, this is completely optional, as the rinds can also be frozen.
Since cut watermelon generally only lasts about three to five days in the fridge, freezing it is a great way to extend its lifespan to about eight months. Once frozen, just be sure to put the popsicle wedges into airtight containers, such as cold storage bags, so that they can be stored in the freezer and enjoyed at a later date.