Vegetarian Thai Green Curry Recipe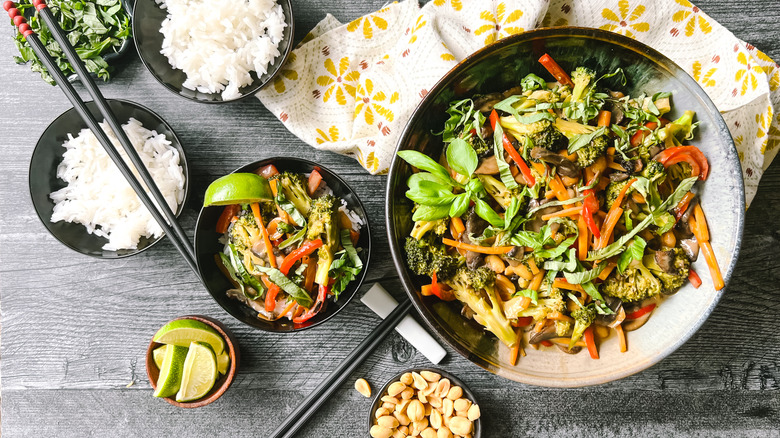 Julie Kinnaird/Food Republic
Have you ever noticed that Thai curry comes in the same range of colors as a stoplight: red, yellow, and green? This green curry definitely means "go," as it gets a double dose of verdant hues not only from green curry paste, but also because one of the main ingredients is broccoli. Developer Julie Kinnaird calls this "a really satisfying and healthy recipe that has a rich curry flavor and nice crunch from the peanuts and vegetables." She also notes that the green curry paste is used in two different ways, as it's sautéed with the vegetables and puréed into the sauce. "This carries the green curry flavor throughout the dish," she explains.
While Kinnaird admits that there's a lot of slicing and dicing to be done before you can get started, as is the case with many vegetable-based recipes, she assures us that "once all of the prep is done, it comes together quickly." This curry is suitable for both vegetarians and vegans, and it makes a great side dish for your favorite Thai recipes. To turn it into a heartier main meal, simply serve it with rice like Kinnaird does, or add some plant-based protein such as tofu. 
Collect the ingredients for this vegetarian Thai green curry recipe
Julie Kinnaird/Food Republic
In addition to broccoli, the curry's components include mushrooms, a bell pepper, a carrot, and peanuts. You'll also need coconut oil for cooking, plus coconut milk, soy sauce, green curry paste, coconut sugar (yes, there's a whole lot of coconut going on here), and lime juice to form the sauce. Fresh basil makes a pretty green garnish for the finished dish.
Blend the curry and cook the vegetables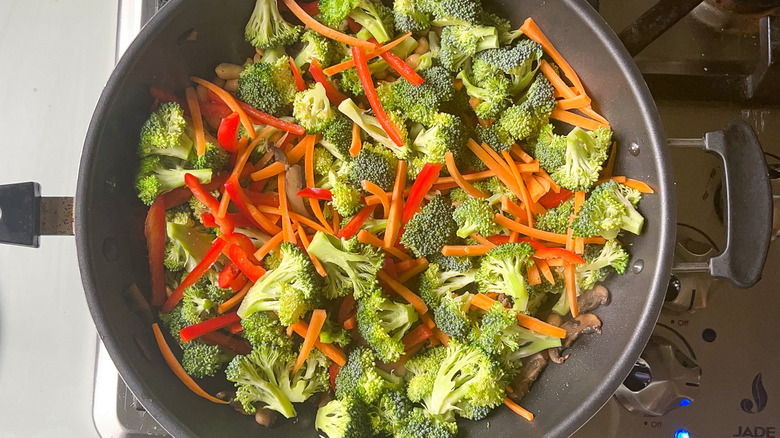 Julie Kinnaird/Food Republic
First up, purée the coconut milk, soy sauce, and coconut sugar, along with 2 tablespoons of the green curry paste, in a blender until smooth. Set this aside for a bit later.
Melt a tablespoon of coconut oil over high heat, then fry the mushrooms for 10 minutes until they turn brown and soften up, releasing their moisture. At this point, add the rest of the coconut oil to the pan with the remaining teaspoon of curry paste, then stir in all of the chopped vegetables along with the peanuts. Cook the vegetables for 2 minutes until they, too, start to soften. Don't fry them for too long, though: As Kinnaird advises, "Just a quick sauté is needed before adding the sauce," since the vegetables will finish cooking during the next stage of the recipe.
Simmer everything in the sauce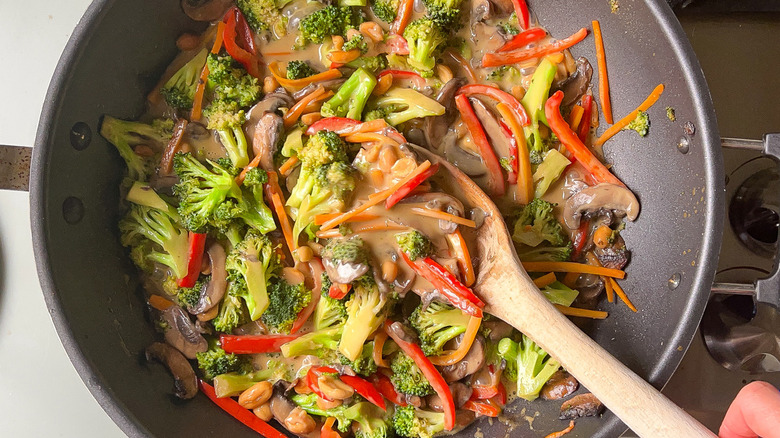 Julie Kinnaird/Food Republic
Take your blended curry sauce from earlier and pour it into the pan with the vegetables, letting it come to a boil. Once it does, turn the heat down so the sauce is simply simmering, then cook the vegetables for 5 more minutes to let the curry thicken up a bit.
Add the final touches, and serve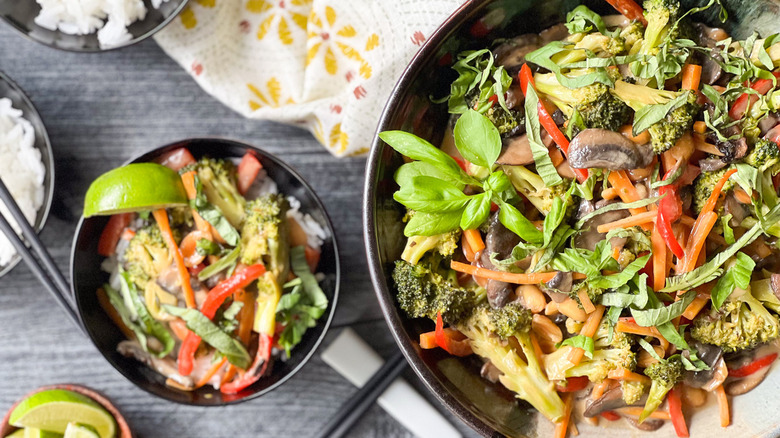 Julie Kinnaird/Food Republic
Once the curry is cooked, scatter some chopped fresh basil over the top to dress it up. If you like, you can add some lime wedges for squeezing to give it a bit more zing. Kinnaird also likes to serve it over rice. She prefers jasmine but says that "any sort of cooked rice or even rice noodles will be delicious."
Kinnaird says this curry is good in the refrigerator for 3 days, making it a great candidate for meal prep. Just heat up your leftovers in the microwave or on the stovetop, and enjoy this comforting dish all over again.
Vegetarian Thai Green Curry Recipe
Complex in flavor and completely plant-based, this veggie-packed green curry is perfect with a bowl of rice.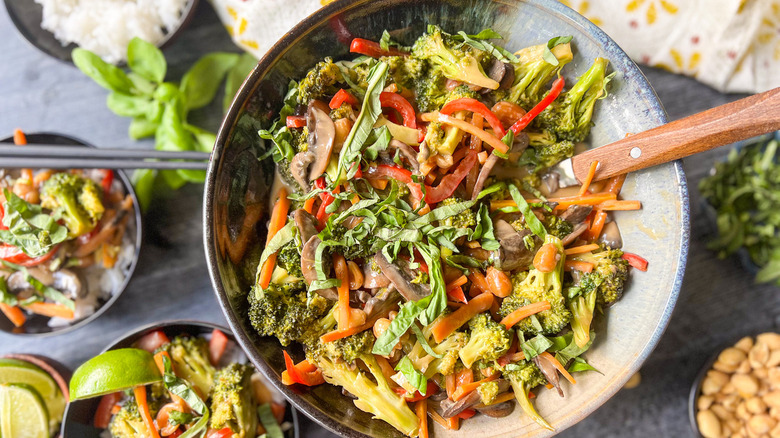 Ingredients
1 (13-ounce) can full-fat coconut milk
¼ cup soy sauce
2 tablespoons coconut sugar
2 tablespoons + 1 teaspoon green curry paste, divided
2 tablespoons coconut oil, divided
4 cups sliced brown or white mushroom caps
6 cups broccoli florets
1 large red bell pepper (stem, seeds, and ribs removed), sliced into strips
1 large carrot, peeled and cut into matchsticks
½ cup unsalted peanuts
Juice of 1 large lime
⅓ cup thinly sliced fresh basil leaves
Optional Ingredients
Cooked rice, for serving
Lime wedges, for serving
Directions
Combine the coconut milk, soy sauce, coconut sugar, and 2 tablespoons curry paste in a blender. Process until smooth, and set aside.
In a large skillet, heat 1 tablespoon coconut oil over high heat until melted.
Sauté the mushrooms for about 10 minutes until they have browned and released their juices.
Stir the rest of the coconut oil and the remaining 1 teaspoon curry paste into the pan, followed by the broccoli, pepper, carrot, and peanuts. Sauté for about 2 minutes until the vegetables start to soften.
Pour the blended coconut milk mixture into the pan and bring to a boil. Reduce the heat to a simmer and cook the vegetables for about 5 minutes to thicken the sauce.
Stir the lime juice into the curry and cook for 1 more minute.
Remove the curry from heat and garnish with basil. Serve immediately with cooked rice and lime wedges, if desired.
Nutrition
| | |
| --- | --- |
| Calories per Serving | 458 |
| Total Fat | 36.8 g |
| Saturated Fat | 24.4 g |
| Trans Fat | 0.0 g |
| Cholesterol | 0.9 mg |
| | |
| --- | --- |
| Total Carbohydrates | 28.1 g |
| Dietary Fiber | 7.2 g |
| Total Sugars | 13.0 g |
| Sodium | 987.3 mg |
| Protein | 14.5 g |