8 Authentic Thai Dishes And How To Spot Their Fake Versions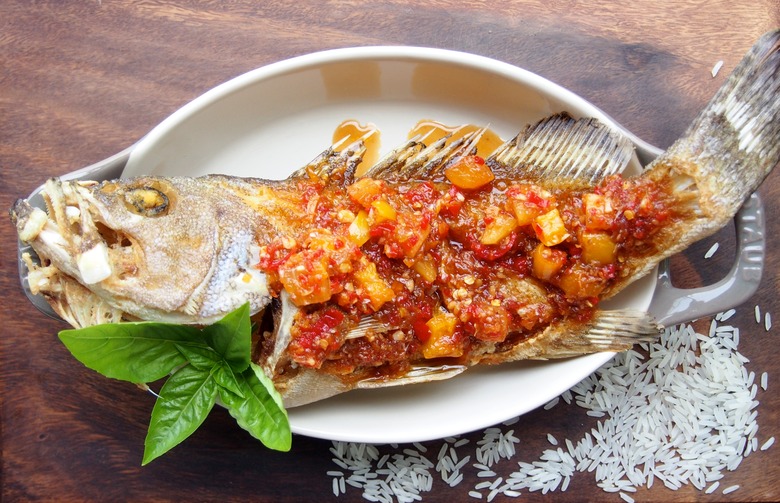 You may have wondered if people actually eat "drunken noodles" in Thailand. But heck, you might not care because they're so darn tasty! Either way, we think you deserve to know the truth. Here's how to tell whether or not your favorite Thai dishes are authentic.
1. Krathong Tong
So many types of appetizers find their way onto Thai menus. We've seen a fair number of restaurants thinking they can get away with fried cheese triangles, but fried appetizers are actually very common in Thai cuisine thanks to the Portuguese influence. Krathong tong can be found at fancier restaurants in Thailand. These delicate fried shells are typically filled with chicken, potato, corn, carrot and a tangy cream sauce — we know, we know, not very Thai-sounding ingredients, but trust us on this one.
2. Gai Haw Bai Toey
Few restaurants offer this dish because it calls for pandan leaves, an essential ingredient in Southeast Asian cuisine. The leaves are wrapped around chicken marinated in soy sauce, sesame oil and coriander roots. When fried, the leaves perfume the chicken, imparting a grassy, herbal flavor. Look out for this dish — if a restaurant offers this treat, you can be assured you are in good Thai hands.
3. Gaeng Keaw Wan
Thai green curry is usually eaten with steamed jasmine rice, but if a restaurant offers fermented rice noodles with your curry, you can expect to be eating as you would in Thailand. This curry leads with a sweet flavor, followed by a little heat from chilies and salty umami from the fish sauce. What's essential to know is that all Thai curries start with different curry pastes made up of entirely different combinations of fresh herbs and spices. Think about that the next time you reach for the takeout menu.
4. Lad Na
This is a very comforting dish for Thai people because it's essentially noodles in a gravy. The gravy gets its flavor from fish sauce, black soy sauce and oyster sauce and shouldn't be too sweet. If this dish is served with condiments like dry chili flakes, sugar (for you to add as you like), fish sauce and sliced hot chilies in white vinegar, you're eating authentic lad na.
5. Pad Thai
Here's the thing: There is just no way to make pad thai without all the necessary ingredients, and many restaurants hope you don't catch them skimping on the pickled radish, bean sprouts, dried shrimp, Chinese garlic chives and crushed peanuts. No shortcuts allowed. If you see carrots or peppers in your noodles, toss them to the side in protest. In Thailand, some prefer to use vermicelli instead of the regular pad thai noodles. Sometimes pad thai is served wrapped in a thin egg crepe, but it's always served with traditional Thai condiments.
6. Gaeng Mussaman
Expect to find potatoes, roasted peanuts and chicken thighs in this fragrant curry. The word "Mussaman" in Thai means "Muslim." Unlike green curry, Gaeng Mussaman is not served with fermented rice noodles but over jasmine rice. Look for a pungent aroma from the combination of coriander, cumin, cloves, ginger and cinnamon. The flavors of this curry are slightly sweet and sour from tamarind sauce.
7. Pla Rad Prik
This dish is done right when the fish is fried whole — head, tail and all. Striped bass and grouper are both good candidates for this treatment, topped with a traditional sweet, sour and spicy sauce. A word to the wise: The stuff in the head is delicious.
8. Pad Kra Prao
Most commonly called basil chicken, beef or shrimp, this dish is a Thai favorite. In Thailand small street vendors serve it over warm jasmine rice, and here's the key: If your plate is topped with a crispy fried egg, you're looking at the real deal. The condiments for this dish: fish sauce and chopped chilies.
Read more about Thailand on Food Republic: