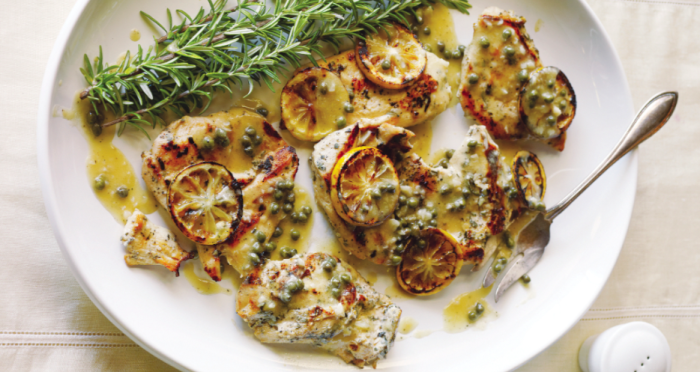 Fabio Vivani of Top Chef and Top Chef All-Stars releases his cookbook this week! We nabbed a couple of recipes from this awesome new addition to our food library, including this super-simple, classic chicken piccata. Good thing we have meat mallets.
Piccata means pounded in Italian. But in America, chicken piccata is associated with a lemony caper sauce, but that's not the only way you can make it. My family's traditional chicken piccata is with mushrooms, like the chicken Marsala recipe above, but it can also be made with lemon, or with red wine and radicchio, or with whatever the heck you want. So unless you piccata it, don't call it piccata.
Ingredients
4

boneless and skinless chicken breasts, cut in half lengthwise into 8 flat, even pieces

3

tablespoons

butter

1

tablespoon

olive oil

Salt and pepper

1

tablespoon

paprika

1/2

cup plus 2 tablespoons

lemon juice

1/4

cup

chicken or beef stock

4

tablespoons

capers, drained, or rinsed if salted

1

lemon, sliced into 1/6-inch rounds

3

whole radicchio Treviso (the long one)

2

cups

shaved Parmesan cheese

2

tablespoons

extra virgin olive oil
Directions
Place each chicken piece between two sheets of plastic wrap and pound, using a meat mallet, to a thickness of about 1/4-inch.
Heat 1 tablespoon of the butter and the olive oil in a sauté pan over me­dium heat.
Season the chicken on both sides with salt, pepper, and paprika. Cook in the olive oil until nicely browned on both sides.
Add the 1/2 cup of lemon juice, the stock, the capers, the rest of the butter and the lemon slices. Reduce until the sauce is thick and velvety. Turn off the heat.
Julienne the radicchio and toss it in a bowl with the 2 tablespoons of lemon juice, the Parmesan and the extra-virgin olive oil, plus a pinch of salt and pepper.
Serve the chicken with the radicchio on top.
Check out these chicken recipes for dinner on Food Republic: