Trader Joe's Will Never Deliver Your Groceries. Here's Why.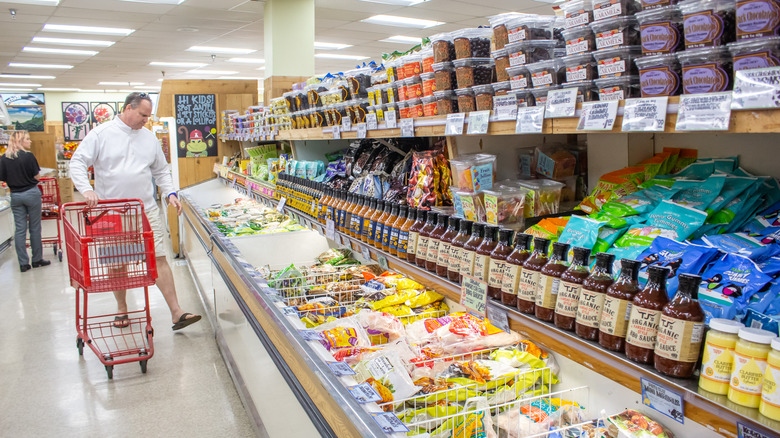 The Image Party/Shutterstock
In the age of Instacart, FreshDirect, and Amazon, there are few things you can't have shipped to your door with just a click of a button. If you're feeling hungry, you can order takeout, cook-at-home meal kits, or groceries to be delivered on the same day — sometimes even within the hour. But while companies from Uber to Instagram have hopped on the food delivery bandwagon, one grocery store remains steadfast in making its customers come to them.
For years, fans of Trader Joe's have bemoaned the fact that the beloved grocery chain doesn't offer any kind of delivery service. In 2022, the company even teased customers with a temporary delivery service, exclusively available in Manhattan's Upper West Side, but this wildly popular service was quickly disbanded.
So if the idea of a TJ's delivery service is so popular, why has the company resisted it? Simply because it would be too expensive, and customers would likely end up paying the difference.
Free shipping doesn't really exist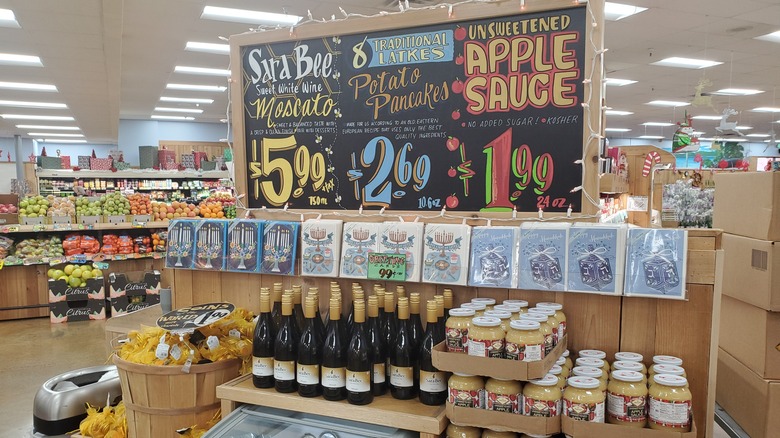 Smith Collection/gado/Getty Images
On an episode of the Trader Joe's podcast titled "Why is Trader Joe's a Bricks and Mortar Store," co-hosts Tara Miller and Matt Sloan unpacked the logistical difficulties of setting up a regular delivery service, along with the financial downsides of investing in the necessary infrastructure.
Sloan explained that remaining a brick-and-mortar store allows Trader Joe's to keep doing what it excels at "really well, without any of the distractions and all of the costs that ultimately might get passed onto those shopping with us" if they were to implement a delivery service. He went on to say that "free shipping doesn't really exist" when you factor in the cost of the trucks, warehouses, and other resources required for a successful delivery operation. Many other platforms have experienced significant challenges when attempting to provide delivery options to their customers.
Miller and Sloan also hinted that Trader Joe's would have to raise prices, and customers would end up subsidizing any "free" delivery services by paying more for their food. Since affordability is one of Trader Joe's main selling points, the chain would essentially be shooting itself in the foot. "It would add cost throughout the equation for everybody, whether they used and took part in those services or not," Sloan said.
The Trader Joe's experience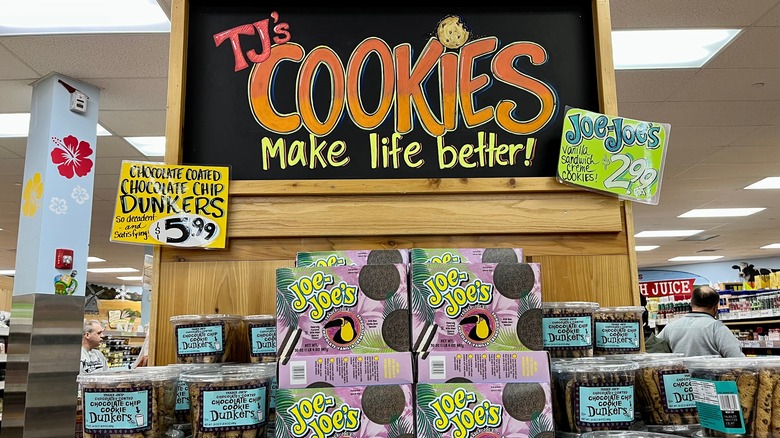 Jaclyn Vernace/Shutterstock
Another factor in the Trader Joe's delivery conundrum is that it would deviate from the cherished TJ's experience. The chain has put a lot of time and effort into curating a very specific type of reputation and in-store experience — however, it has faced criticism for placing more of its stores in neighborhoods where the population earns an upper-middle class income, despite its famously affordable groceries. This approach seems to reinforce the idea of making healthy food more accessible to those who already have it, while denying it to communities that could benefit most. Trader Joe's refusal to deliver underscores this image of exclusivity, forcing TJ's fans in underserved neighborhoods to travel well out of their way for favorites like Joe-Joe's cookies or Organic Elote Corn Chip Dippers. It keeps lines long and stores packed, turning a trip to Trader Joe's into a kind of pilgrimage, or a special treat.
"That experience would not be the same if you were trying to order something from a website that just showed you the products you already know about," Tara Miller explained. "Walking through the store and meeting up with a crew member who talks to you about a product that just arrived this week in the store. You might not know about that product when you are shopping virtually as opposed to in a physical space, you tend to have blinders on and you see the products you are already looking for."