Are Cook-At-Home Meal Delivery Services Really Worth It?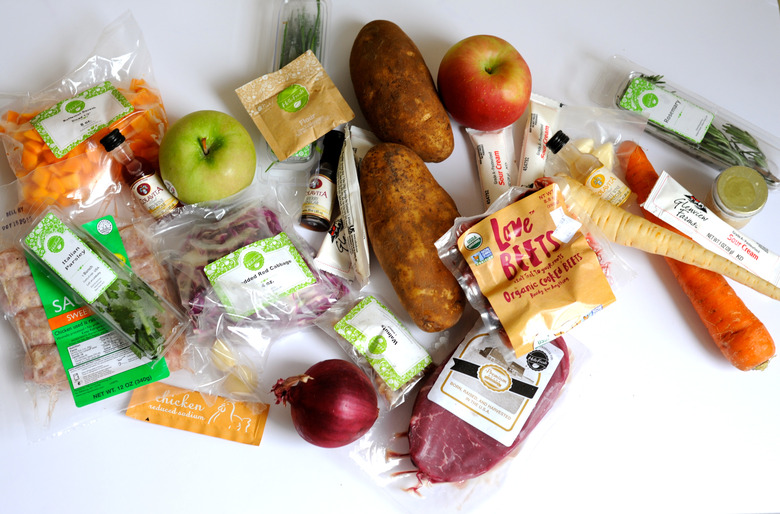 A giant refrigerated box from Hello Fresh. (Photos: Ally-Jane Grossa
If you're the type of person who likes the idea of cooking but doesn't have the time or patience to shop for ingredients, modern society has a simple solution: cook-at-home meal delivery. In many cities, you'll find several reputable services that will set you up with all the fresh ingredients and easy instructions you need to make proper meals at home without the usual hassles of navigating crowded grocery aisles and scouring for serviceable recipes. Everything shows up right at your front door. Just add heat, cookware and elbow grease.
I just spent the past month testing three of the most popular services in New York City — Blue Apron, HelloFresh and Plated — to find the good and the bad with each. All three function in pretty much the same way: You sign up for a weekly delivery of perfectly portioned ingredients to make easy meals at home, following fairly simple directions, all of which arrives in a single refrigerated box. Each service charges about $10 per meal per person, so three meals for two people runs about $60 per week.
These services are generally healthy and cost-effective alternatives to takeout, and all three services claim to carefully test each recipe and provide detailed instructions. It's interesting that Blue Apron, HelloFresh and Plated have all been around since 2012 and continue to compete with each other three years later. Blue Apron and Plated are both based in New York City, while HelloFresh comes from Germany and provides meal delivery throughout Europe. Of course, these are not the only three available. Countless new competitors have sprung up recently, such as Handpick, Chef'd and Home Chef.
Because each service works in almost exactly the same way, here's what to expect: You arrive on the website and immediately provide your email address and zip code. Next you select the plan that best fits your lifestyle (most services require a minimum of two meals per week with two servings each) and select the dishes you like. Each plan offers five options for omnivores and vegetarians. Then it's time to select your delivery day and enter your credit card information. All three services capture your card info and will continue charging you for weekly deliveries until you elect to cancel or skip a week.
I tested all three major services, completing three meals from each company over the course of one week each. [Full disclosure: In the very early days of Plated, I contributed three recipes as a guest recipe developer, but this involvement did not influence the results of this article, which is not sponsored in any way, shape or form.] Here's what I found:
Plated
Introductory offer*: 4 free meals; my credit card was charged $48
Subscription cost for 2 servings of 3 meals: $72 per week, free shipping
Best dish: Vegetable hand rolls. The mayonnaise/miso dressing packed a delicious, salty umami punch, and the combination of roasted sweet potatoes and mushrooms in sushi was impeccable. I'd certainly re-create this.
The good: The meals were above average for weeknight dinner. The flavors were more thought-out than the other two with about the same number of ingredients. Plated has more flexibility with the meal subscription, and for an extra $4 you can add dessert. On the plus side, it was a breeze to cancel.
The bad: Plated is the most expensive of the three. The recipes seem out of sync with the way a home cook would follow a recipe. A vegetarian sushi recipe took 20 minutes longer than promised, though the dish was delicious. Of course, sushi rice is a difficult thing to master, and there were no tips listed for how to troubleshoot, a serious oversight. Plated's portions felt smaller than the other two, barely feeding two hungry people at dinner.
HelloFresh
Introductory offer*: 4 free meals; my credit card was charged $34
Subscription cost for 2 servings of 3 meals: $69 ($59 for vegetarian), free shipping
Best dish: Pan-seared chicken sausage with tangy cabbage and butternut squash-apple puree. Chicken sausage isn't something I'd normally make for dinner but pairing it with a tart apple squash puree was inspired. The puree was so much more than a standard vegetable mash and because the sweetness came from an apple and not maple syrup, it had a very clean taste. The cabbage slaw was certainly tangy (I had to use less vinegar than was suggested) but the three components came together perfectly for each bite.
The good: You earn free meals by referring friends. I liked this packaging best — each meal's ingredients were neatly placed in a box, which I found the best for storing in a shared refrigerator. I loved that the recipes came in a little booklet, which seemed more permanent than the cards provided by Blue Apron and Plated. The steak from HelloFresh was far and above the best meat. It was tender and flavorful, whereas the steak from both Blue Apron and Plated was a bit chewy.
The bad: The recipe language was a bit misleading. The instructions for potato pancakes tell you to "grate" the potatoes and onions, but in the picture provided, the pancakes appear to have been made from potatoes processed into a puree. Two of the recipes called for some sort of salad with vinegar as the only dressing. I found them to be almost inedible and had to doctor with oil and honey. HelloFresh isn't easy to cancel. The "FAQ" points you toward a page that doesn't exist.
Blue Apron
Introductory offer*: $20 off your first order; my credit card was charged $39.94
Subscription cost for 2 servings of 3 meals: $59.94, free shipping
Best dish: Southern-style chicken cacciatore with creamy grits and basil. The chicken was flawless thanks to detailed directions that included patting each piece dry with a paper towel. A lot of thought clearly went into the "Southern cacciatore spice blend" which included spiced paprika, ancho chili powder and garlic powder. The tomato and pepper cacciatore sauce had just the right amount of spice and the same rub used for the chicken didn't overpower. It was an easy one-pan dish (if you disregard the grits pot) that kept surprisingly well for lunch the next day.
The good: Blue Apron offered a wide range of meals and the best straightforward directions. This felt important because the recipes from the other two services didn't feel as tested (imprecise directions and missing ingredients). Blue Apron's recipes were tight and easy to follow. It's the cheapest of the services, and the meals are simple and filling. There are helpful video tips on the website, and I had no trouble making the meals in the promised time frame.
The bad: Blue Apron uses a ton of unnecessary packaging, though it has recently instituted a program to reuse it. The meals were filling but lacked bold flavors to make them memorable. One Asian noodle dish was mediocre, and I found myself lamenting the fact that I hadn't ordered Chinese takeout.
The Winners
Best packaging: HelloFresh. I like that each meal's ingredients are separated into shoe box–like dividers. The tiny bottles of vinegar were adorable.
Best taste: Plated. Flavors were complex and sauces delicious.
Freshest ingredients: HelloFresh. The meat was delicious and the produce perfect and flavorful.
Best recipes: Blue Apron. Directions were easy to follow and intuitive.
Best looking: Plated. The photos are Pinterest-worthy, and the website is easy to navigate. Bonus points for helpful live-chat customer service.
*Introductory rates listed here reflect promotional offers and discounts available in September 2015. These prices may change over time.