Why Trader Joe's Never Offers Discounts On Its Food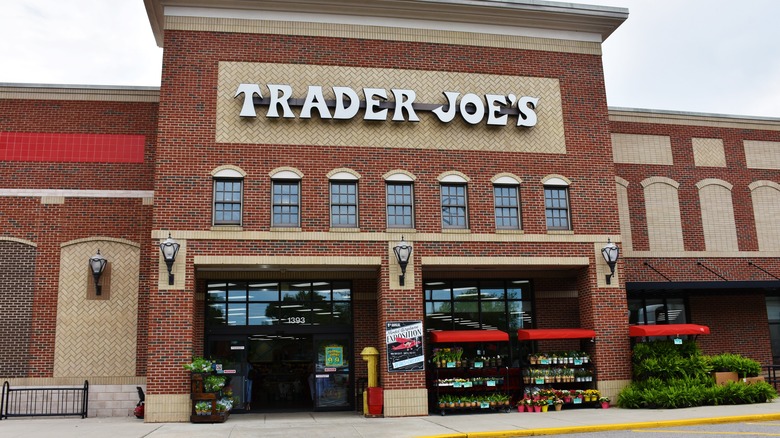 refrina/Shutterstock
If you've ever stepped inside a Trader Joe's store, you know that the beloved grocery destination is famous for its mouth-watering cookies, unique baking mixes, creative dips and sauces, and unbeatable selection of frozen foods — not to mention the aesthetically pleasing displays and labels. But another thing you might have noticed is the lack of sale signs. At Trader Joe's, nothing ever runs on special, there's no store card sign-up for discounts or coupons, and pricing remains pretty consistently the same. But why?
Joe Coulombe, who opened the first Trader Joe's store in Pasadena, California in 1967, chose the word "Trader" to inspire images of merchants at sea in exotic locales, buying inexpensive goods to bring back to their customers. And in fact, Trader Joe's buys all its products directly from suppliers. This means that most items in the store won't be popular brands you'd find in other supermarkets, but are rather branded with the Trader Joe's name. The company claims that it bargains for the best price, buying in large volumes, and contracting with suppliers early, essentially eliminating any need for weekly sales. 
Sales and loyalty cards don't exist at Trader Joe's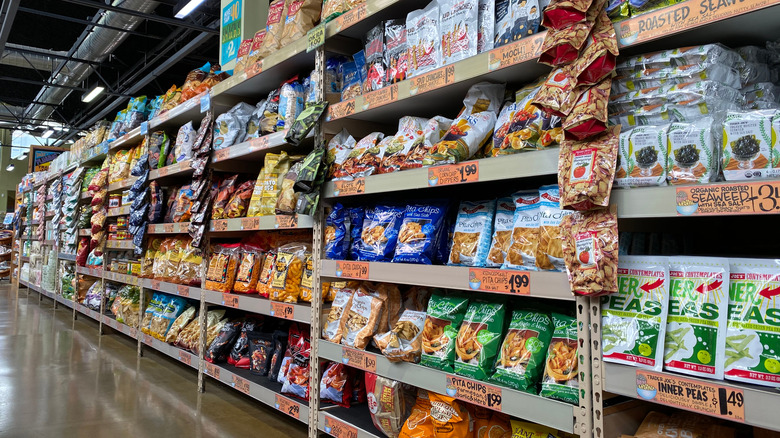 Larry Zhou/Shutterstock
Trader Joe's doesn't have any kind of loyalty program like a membership card or rewards app, simply because it just doesn't need them. On the Inside Trader Joe's Podcast, the brand shared that a loyalty program has never made sense since many customers tend to shop where the best deals are, rather than staying faithful to one particular store. Trader Joe's places more of an emphasis on the company being loyal to the customers, rather than the other way around, aiming to make sure that everyone who walks into the store has the same access to low prices. And since the company is always working to offer the best possible deals on high-quality products, customers want to keep coming back.
This also means that Trader Joe's doesn't collect data on individual customers. While the company tracks sales to figure out which products customers love the most — and inventory changes often because if something isn't selling well it's pulled from the shelves to be replaced by a new item, further helping to keep costs low — it doesn't track the particular sales of each member like other supermarkets do. 
There are other ways to save at Trader Joe's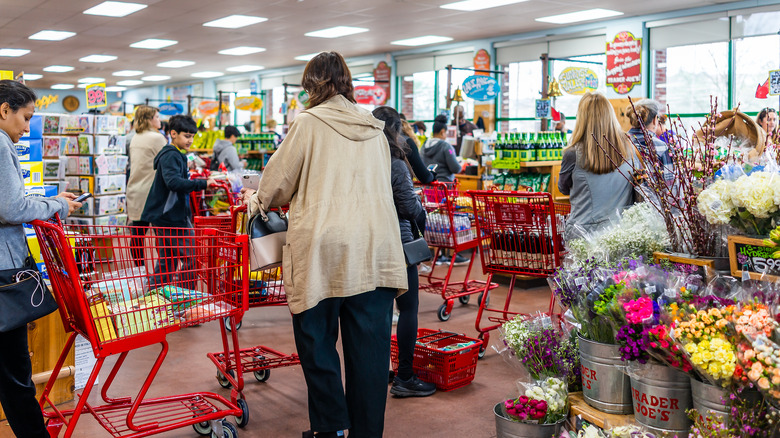 Kristi Blokhin/Shutterstock
There are still great ways to save money at your local Trader Joe's. While the store doesn't put out any of their own coupons for discounts on their products, that doesn't mean coupons aren't allowed. You're reportedly always welcome to use manufacturer coupons on the brand name items that Trader Joe's does stock in order to save more.
Furthermore, it's worth noting that the store also has some products that are made by the same manufacturers of popular brands, but sold under the Trader Joe's name at a lower price point. For example, you can get Joe's O's, which are similar to Cheerios, for much less than the brand name product. You can also save a lot of money on other products like cheese, frozen veggies, and wine (if alcohol is sold in grocery stores in your state) by buying the Trader Joe's brand.