Why You Can't Visit A Virtual Restaurant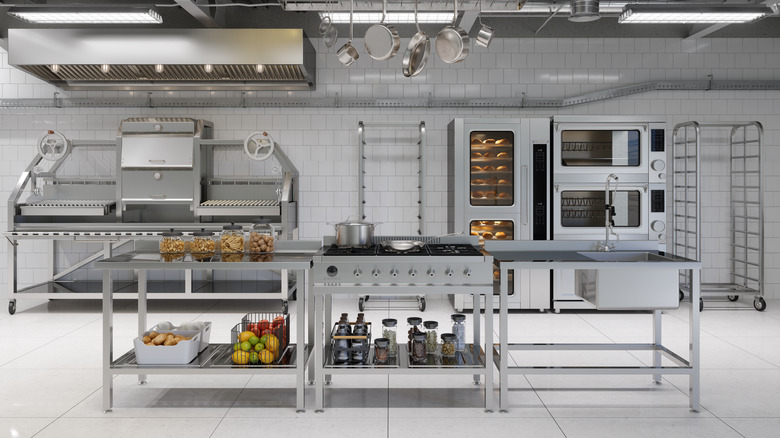 Onurdongel/Getty Images
Unlike the experience of preparing sushi in a VR game, virtual restaurants aren't actually accessible inside the metaverse. While they are actual brick-and-mortar spaces you can see and touch, that doesn't mean you can dine there. 
Virtual restaurants, also called shared, pop-up, cloud, commissary, or ghost kitchens, share a commercial kitchen with other restaurants or food trucks and don't have a dining room or front-of-the-house staff. The business often lacks signage, and its name and branding only exist online. The space can be in an existing restaurant that sub-rents its kitchen when it's not operating, a warehouse space, or a ready-made shared commercial kitchen built by corporations like CloudKitchens for this purpose. 
The restaurant industry is notoriously challenging, forcing 60% of U. S. restaurants to shutter within the first year and a staggering 80% by the fifth year (per CNBC). With the increased demand for food delivery since 2020, the popularity of virtual restaurants has grown as a less expensive option with fewer risks for breaking into the industry.
They are more common than you may realize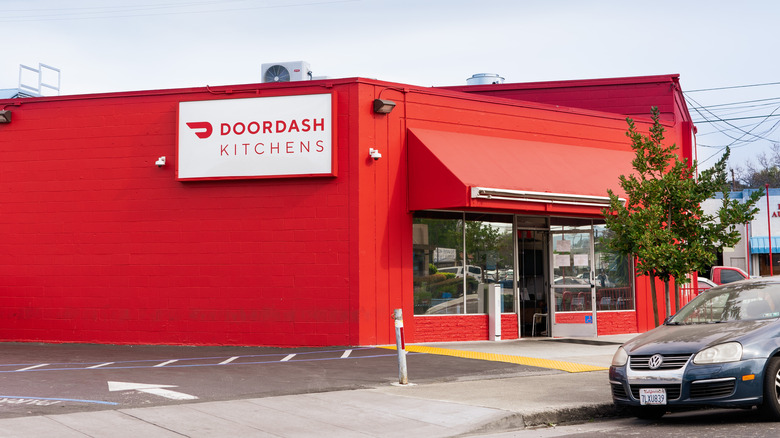 Sundry Photography/Shutterstock
Whether you realize it or not, delivery apps like Grubhub, DoorDash, and Uber Eats house thousands of virtual restaurants that are only accessible through delivery apps. In 2017, Uber Eats initiated the trend, helping develop delivery-only restaurants. Within two years, it listed over 3,000 virtual restaurants on its app in the U.S. By 2022, the number of virtual restaurants on Uber Eats could be counted by the tens of thousands (via Insider).
The concept even enticed DoorDash to expand into brick-and-mortar. So, while these are real "restaurants," you won't be able to sit down and dine in one because the dining room simply doesn't exist — and no, you don't need a headset to eat at one. In 2019, DoorDash launched a hybrid model, DoorDash Kitchens, a brick-and-mortar space custom-built for five independent restaurants in the San Francisco Bay Area. DoorDash provides pickup and delivery services, but each business has its kitchen with shared storage and refrigeration.
The new virtual restaurant model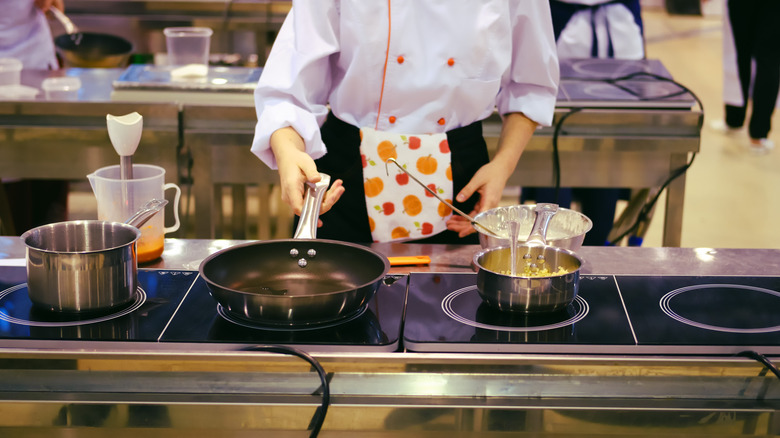 Pedal to the Stock/Shutterstock
The virtual model appeals to existing businesses interested in trying a new menu or concept. They cook in the same kitchen but operate a new company under a different brand that is only available through delivery, so the cost of changing things like the logo is minimal. It's an inexpensive way for them to test out new dishes or cuisines without the expense of operating another kitchen. 
This market segment has exploded since COVID and stands to become a $1 trillion business by 2030, according to Michael Schaefer, a food-and-beverage analyst at Euromonitor, shifting the traditional structure of virtual restaurants into the next phase (via Insider). Corporations like Nextbite, Virtual Dining Concepts, Absolute Brands, and C3 build ghost kitchens and manage and maintain the space for smaller businesses to operate out of. 
Some delivery-only restaurants are capitalizing on established brands like Saladworks, social media influencers, and celebrities by licensing the brand to sell products like Mariah Carey's Cookies on DoorDash. MasterChef Table licenses the popular Fox reality cooking competition name for dishes sourced by MasterChef contestants and chefs. Other virtual restaurant licensing deals have been made with Packed Bowls by Wiz Khalifa and Guy Fieri's Flavortown Kitchen. The industry is working on making virtual restaurants more transparent to consumers.