Alton Brown's Infallible Method For Crunchy Potato Skin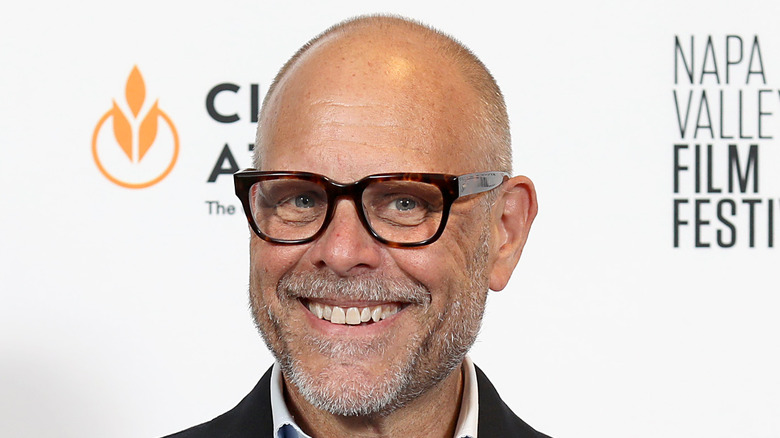 Kelly Sullivan/Getty Images
A comforting side for meat dishes such as steak and a tasty vehicle for a variety of toppings, baked potatoes are great for hydration, due to their high water content, and are packed with fiber and micronutrients. But, how do you elevate a simple baked potato recipe from good to great? Chef Alton Brown has some top tips to help.
The perfect baked potato has a crisp, crunchy skin and a soft, fluffy interior. Brown's classic method is easy to follow, uses just three ingredients, and takes little over an hour. And, perhaps surprisingly, there is no foil in sight.
Once you've prepared your potato using Brown's recipe — you'll just need a fork, some oil, and salt — the oven does the rest of the work for you. If you're really pushed for time, you could start your potato off in the microwave on high for a couple of minutes, says Brown, but you'll get the best results by finishing it off in the oven.
The perfect baked potato needs oil – but no foil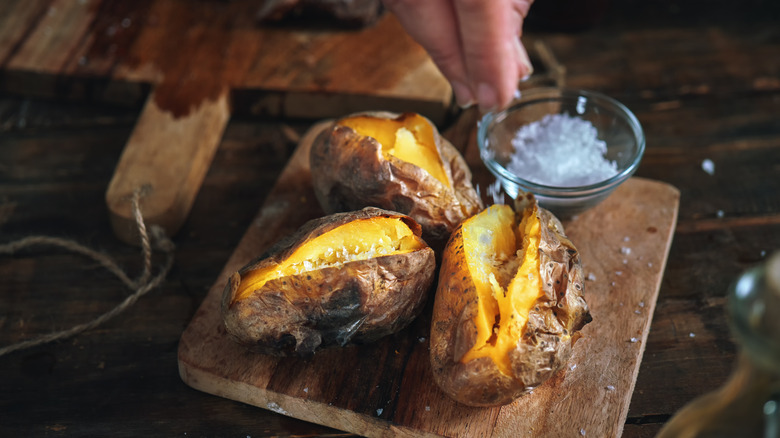 Gmvozd/Getty Images
The first step is to choose the right kind of potato. For Alton Brown, this means using russets — he prefers Washington State, but the Idaho variety is fine, too. Having preheated the oven to 350 degrees Fahrenheit, Brown then proceeds to "go psycho" on his potato. This isn't quite as scary as it sounds, though; it simply involves pricking holes all over the potato with a fork. This allows steam to escape as the potato cooks, resulting in the fluffy texture inside that we all love so much.
Brown puts his pricked potato into a bowl with a little oil, which he rubs into the skin to help it crisp up in the oven. The oil also helps to regulate the moisture inside the potato for a better texture. He then sprinkles the potato with some kosher salt and pops it straight into the middle of the preheated oven with no baking sheet.
The average russet potato will take about an hour in the oven, and Brown says there's only one way to tell when it's ready — give it a squeeze. You're looking for skin that feels crunchy, while the flesh inside feels soft. And, unless you want a "limp, soggy, gummy" potato, Brown says you should "stay away from the foil."
Take your baked potatoes to the next level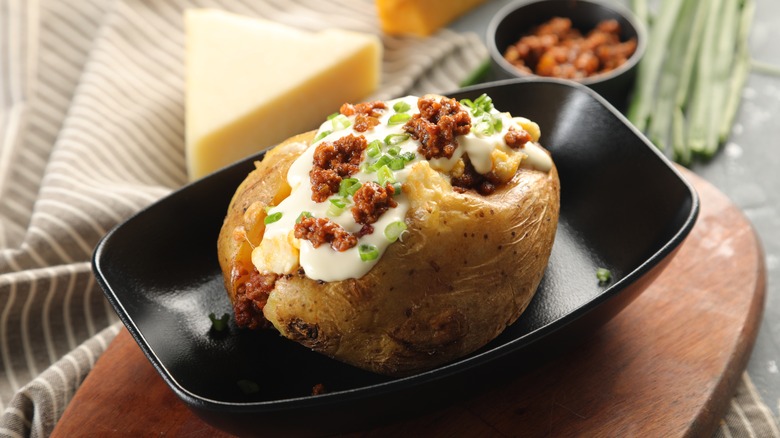 Hashem Issam Alshanableh/Shutterstock
Once you've mastered Alton Brown's infallible technique for the ultimate baked potatoes with crunchy skin, there are a number of ways to serve them beyond the family-favorite fillings of cheese, sour cream, or tuna mayo. A unique topping for baked potatoes can take the comforting carb from simple side to center stage.
Ina Garten likes to serve baked potatoes with cool, creamy whipped feta, which she blends with cream cheese, olive oil, lemon juice, salt, and pepper. You can prepare the filling in advance and leave it in the refrigerator until you're ready to serve, making it a handy weeknight dinner idea. Jamie Oliver suggests a recipe of colorful, homemade veggie slaw to stuff into a potato, while British chef Andy Waters favors an unusual filling of crab and walnuts.
Baked potatoes have even appeared on the fanciest restaurant menus, such as Clare Smyth's three Michelin–starred venue, Core, in London, where they were paired with seaweed, fish roe, and dulse beurre blanc in a signature dish. With Brown's top tips, we can all begin to take our baked potatoes to the next level.