The Secret To Wildly Flavorful 2-Ingredient Dips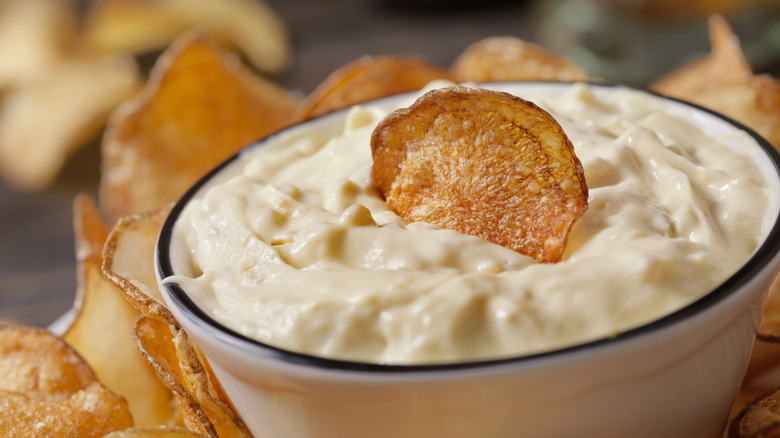 Lauripatterson/Getty Images
Dips are the quintessential party food, turning raw veggies and plain tortilla chips into something much more appealing. If you don't feel like making a dip yourself, supermarket aisles are filled with premade options — many of which are onion-flavored — in both the produce aisle and on shelves near the chips. Still, you likely have all the ingredients at home to create one that's wildly flavorful, and quicker to make than a trip to the market, using just two ingredients (plus salt and pepper).
For creamy dips, start with a container of Greek yogurt, sour cream, creme fraiche, mayonnaise, soft cheeses, or even ranch dressing as the base. Then, look in your pantry for marinades, barbecue sauces, glazes, and simmer sauces to create a delicious dip that everyone will want the recipe for. 
This is the ideal time to take stock of those partially used bottles residing in the refrigerator — you know, the ones you bought for that one recipe you never made again. The possibilities are endless, but here are some delicious combinations to get you started.
Two-ingredient sour cream dips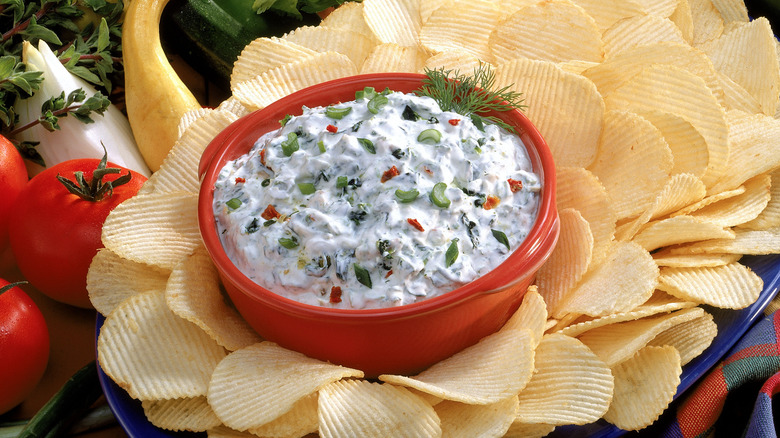 Burke/triolo Productions/Getty Images
Depending on your preference, 1 cup of Greek yogurt, creme fraiche, or sour cream can be used interchangeably as the base for these recipes, since they make an ultra-creamy dip with a tang that we love. It's worth splurging on quality brands with two-ingredient recipes to create big flavor you can appreciate. 
One of the easiest dips to throw together combines sour cream with whatever international dipping sauce you have on hand, like soy, hoisin, or ponzu sauce. These condiments have a complex umami flavor that adds depth to the creamy base, making it delicious on kettle-fried potato chips or shoestring french fries. 
In a small bowl, combine your sour cream with 2 tablespoons of soy or tamari sauce — alternatively, you could use two packets saved from Chinese takeout — to create a flavorful dip, or smear it on bread for the best roast beef sandwich you've ever had. You could even slather this dip on crostini for a hearty appetizer; just be prepared to watch the platter disappear.
For a Mexican-style dip, add a packet of taco seasoning or a few tablespoons of taco, enchilada, or fajita sauce to make a roasted chili- and cumin-flavored tortilla dip. Customize the amount of heat by adding as much or little as you like to instantly transform sour cream. 
Barbecue sauce, our favorite grilling condiment, creates a sweet, smoky dip. Use your favorite brand or grab a small batch from your local farmers market to try something new. 
Two-ingredient dips with soft cheeses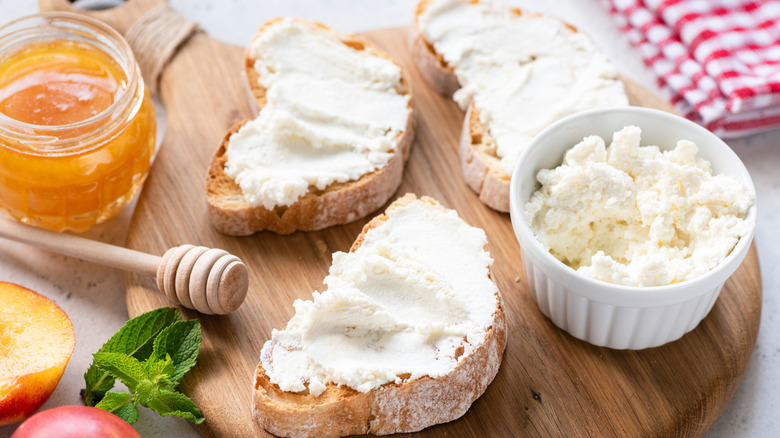 Vladislav Noseek/Shutterstock
Soft cheeses, like ricotta and feta, make delicious bases for dips and spreads. To make them more spreadable or scoopable, whip them in a food processor with water, or by hand, before adding your second ingredient.
Ricotta is a good choice for both sweet and savory dips. For a salty dip, add chopped sun-dried tomatoes, jarred pesto, or briny olives to whipped ricotta, and serve with crackers, breadsticks, or crostini. For a sweeter option, whipped ricotta paired with local honey is one of our favorites. The ingredients can be combined, or the honey can be drizzled on top for a lovely presentation that is perfect with toasted bread. Combining ricotta with the balsamic glaze used on caprese salads also makes for a delicious option. Bonus: Although cannoli dip requires three ingredients, we'd be remiss if we didn't mention it. Combine ricotta, softened cream cheese, and powdered sugar until smooth; then serve with broken waffle cones for a simple dessert. Mini chocolate chips are optional but encouraged.
Mediterranean dips get a head start using feta. Whipped feta with Greek olive oil is delicious on its own, but if you have a bottled vinaigrette or marinade on hand, you can create a zesty dip in seconds to serve with pita chips.
Dairy-based dips keep fresh in the refrigerator, covered, for up to a week, which is convenient since we can think of many ways to enjoy them beyond the chips and carrot sticks.