16 Unforgettable Fast Food Milkshakes To Try This Summer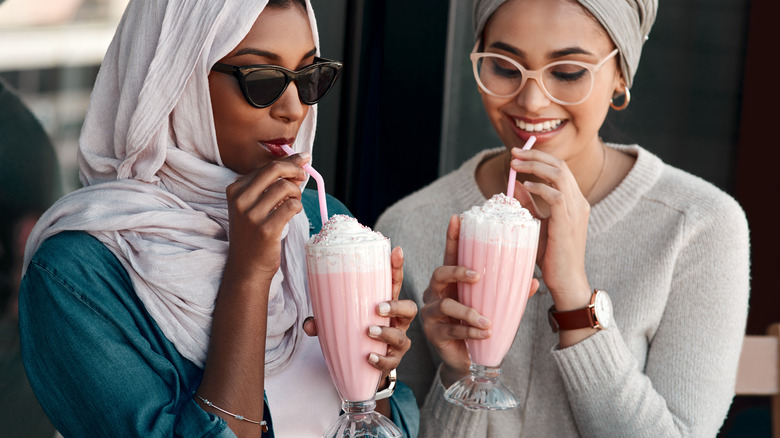 Peopleimages/Getty Images
No matter what lyrics are suddenly running through your head right now — "My milkshake brings all the boys to the yard," or "Shake, shake, shake ... shake, shake, shake ... shake your booty," or even "BEEE-kay, have it your way" (Um, we know what you're thinking) — we're all here for one thing and one thing only: The most freakin' balls-to-the-wall, chillest and illest, unbeatably awesome milkshake of the whole summer. And, lucky for you, we've got them all. Picture Oprah shouting to each of us, "You get a milkshake! You get a milkshake!"
Have you even seen a strawberry swirl lookin' so smooth? Or a vegan shake tasting this rich and creamy? Or a $100 vanilla shake poured into a Swarovski crystal fountain glass? We're equally like, "Why," and also, "Yes please, thank you, and can we have another?" Shake what yo mama gave ya', but you can also buy it at the drive-thru.
Whether you're a vanilla bean purist, a curator of the custard, or a shake-of-the-moment hashtag trendsetter hashtag bomb hashtag milkshakes, this sizzling hot season is your time to shine. Grab a straw — this summer's about to get shake'd!
Arby's
From the brilliant, meaty, Arby's sauce–covered minds behind the original java and mocha monster that was the cult-favorite Jamocha Shake in 1964 — a dessert loaded with chocolate syrup and piled with whipped cream and chocolate drizzle before frozen shakes ever got trendy — comes ... the Jamocha Shake, again! It's here, possibly for a limited time, possibly forever. Was it ever gone? Just get it while you can, because nothing good lasts forever.
Jamocha joins some other stalwarts of the Arby's milkshake menu, including the always-classic vanilla and chocolate varieties. But, the brand also throws down on seasonal specials with fun flavors for the kids and the kids at heart. Remember the Liger Shake of 2017, built to rival the explosive debut of the Starbucks Unicorn Frappuccino? The summer lineup showcases another returning sensation — the impossibly dreamy Orange Cream Shake. Just like a Creamsicle, this seasonal flavor features natural orange syrup swirled into a vanilla shake and topped with whipped cream. It's a perfect trip down memory lane, or whatever street your Arby's happens to be on.
Five Guys
Colleen Michaels/Shutterstock
If you're a Five Guys ... guy ... you know these shakes are all about the mix-ins. Forget any wimpy sprinkles or snoozy chopped nuts — these additions are serious business. And, since each shake is spun by hand, you'll be tasting jam-packed flavor till the very last sip. There are no vanilla ice cream dead zones in these cups.
The fact that they're called "milkshakes" on the menu should be your first clue that they are, indeed, shakes made of milk, whey, and sugar. Mix in your top picks from a list that might include bacon, strawberries, Reese's cups, bananas, salted caramel, peanut butter, Lotus Biscoff cookies, malted milk, cherries, or Oreos. You'll have to DIY the french fries, if dipping them is your jam. Add any or all of those treats to a vanilla, chocolate, or strawberry base and start living your best life.
Where do you start if you've never customized a Five Guys shake? We might pull an Elvis with one of The King's favorite sandwich flavor combos of peanut butter and bananas. But, we wouldn't hate on bacon and salted caramel against that sweet, vanilla base. Vanilla ice cream with strawberries and chocolate serves up a classic, Neapolitan vibe. Of course, if you want to feel like a kid again, just add everything in at once.
Wendy's
We could argue all day as to whether a Wendy's Frosty classifies as a milkshake or not. Or, we could just go get a Wendy's Frosty. On the thicker, spoonier side of the shake spectrum, the Frosty has been coming in hot since the 1960s. The O.G. featured the "light chocolate" flavor we know and love, which founder Dave Thomas invented by mixing chocolate and vanilla together like a boss. But, the famous Frosty has gotten a few upgrades since then.
The standard flavors you'll find on the menu are vanilla and chocolate options in several sizes (the only one we care about being large). But, you certainly can't do summer without a little fun. Ever since 2022, Wendy's has been going fruity with a seasonal, strawberry Frosty flavor. Made with actual strawberry purée and flawlessly blended into the vanilla Frosty base, it's like a strawberry yeti just punched your taste buds in the mouth (in a good way).
The kicker is that when strawberry appears, vanilla has to sit one out, which is a bummer for all the simple pleasure seekers in the house. But, stay strong, friends; just like last year, this limited edition comes and goes as fast as your summer vacation tan.
Shake Shack
Calling all custard heads! Shake Shack's got a lineup that you just have to taste to believe. (We're available for moral support ... a tear ... they're so beautiful). First, there are the originals that made their debut with the brand back in 2004  — vanilla, chocolate, and coffee, all made with the Shack's signature, house-made frozen custard and poured to please. Coffee has since peaced out from the menu, but boy oh boy have these shakes caught fire.
You'll find vanilla, chocolate, vanilla and chocolate combined, the black and white (with vanilla custard and fudge sauce), strawberry, and cookies and cream. But, you'll also notice a few new kids on the block, such as the Triple Chocolate Brownie shake with chocolate chips and brownie crumbles, the Oreo Cookie Funnel Cake shake with cookie bits and funnel cake crunch, and a super-rich chocolate shake for the vegans made with NotMilk. You will NotNotice a difference; 'tis divine.
While these flavors read chocolate, chocolate, and more chocolate, the Shack has also spun some lighter fare in the past. One past Pride Shake featured blackberry and strawberry custard, topped with mango, passionfruit, and rainbow glitter. And, there was a floral Shack-ura Shake with vanilla custard and cherry blossom jam. Tragically, it was only available in Tokyo. Sigh. Only crinkle-cut fries can possibly mend our broken hearts.
In-N-Out Burger
You know it's a shake — and not a soda — when it's the green-and-white In-N-Out Burger cup. For a brand famous for keeping things lean and mean with the menu options, it's no surprise the shake rundown goes like this: vanilla, chocolate, strawberry. Of course, just like the rest of the top-notch ingredients from this chain, the ice cream is real, and it's spectacular.
There is no official not-so-secret menu for these shakes, as there is for the rest of In-N-Out's items. But, you might be able to sweet talk the cashier into a Neapolitan shake (all three flavors in one), or a half-n-half shake (pick your two favs). There also might be a root beer float option involving the vanilla shake, but when we reached out to vanilla, it chose not to comment.
Thanks to In-N-Out's obsessive following, we now know the absolute best way to enjoy an In-N-Out milkshake. And, officially, it's pretty much any way you like. Of course, we would dip a fry (or twenty) into the vanilla shake, and even a Neapolitan french fry situation would clearly be on the table — as long as we had two other friends to complete the three-way milkshake lineup. You know what? Maybe we'll just order one of each flavor for ourselves. As 2020 Paris Hilton would say, that's "Sliving."
Burger King
We see you, BK fans! If you're wondering what all the fuss is about, you're also in the right place. As far as fast food chains go, Burger King really has its finger on the pulse of America. Whether it be Frozen Fanta or nuggets made of actual fire (almost), BK knows what we want. Or, at least what we're willing to try once and share on social media.
But, where the brand has been flawless is on its milkshake menu. The veritable Goldilocks of shakes — not too thick, not too milky, juuuuust right — BK's King Shake flavors feature Oreo and also vanilla this summer. Don't think too hard about it. Of course, we could order a hot brownie, crumble it up, and mix it into either one of these flavors, but you don't mess with a legend.
While we can confirm that Oreo is trending at the moment, Burger King has crafted some previous shakes that many of us might like to see back on the regular schedule. There was the sweet and vanilla cake-y Cupcake Sundae Shake, the fun sized $1 mini shakes of 2020, and that time that BK came out with a Lucky Charms shake that tasted just like the cereal. Whatever's being whipped up in the kitchen, BK's got those shakes on lock.
Culver's
This, friends, is legit frozen custard. It's made fresh throughout the day with milk that comes from happy dairy cows on local farms. With a creamier feel than its air-filled ice cream cousin, custard is an experience you'll never forget. Side effects may include giddy delight, an aura of sugar high, and frozen dessert enlightenment. Once you taste Culver's, you won't be able to look at regular ice cream again. (It's over, Ben & Jerry's. It's not us, it's you.)
This menu is deceptively simple. What might appear to be a run-of-the-mill selection of flavors — vanilla, vanilla malt, chocolate, chocolate malt, and strawberry — soon leads to a world of mix-ins, the likes of which you have never known. Basically, Culver's want you to live your best life, via milkshakes. If dessert-based self-improvement is wrong, we don't want to be right.
Take your pick of vanilla or chocolate as your frozen custard base, ask for it to be spun as a shake, and hold onto your pants. Along with a variety of fresh fruit and nuts, mix-in options include: Reese's peanut butter cups, Oreos, Snickers, M&Ms, Heath bars, Butterfinger, Dove chocolate, Andes mints (that one's for you grandma!), salted caramel, chocolate syrup, melted caramel, hot fudge, marshmallow crème, espresso, root beer, and crumbles of cookie dough, brownies, granola, sugar cookies, cheese cake, chocolate cake, and butter cake. Phew. Well, at least we died doing what we love — slurping down milkshakes.
BurgerFi
From the quaint world of family-spun frozen custard we teleport into the BurgerFi Universe. (We're imagining that with a Saturday morning cartoon–style, reverberating announcer voice, and also lightning.) Since its inception back in 2011, BurgerFi has been all about chef-crafted cuisine at fast food prices. The environmentally friendly brand is easy on the planet and effortless to enjoy, especially after you get a peek at the milkshakes. (Omg, we already finished ours.)
This place is hand-spinning creamy, rich, frozen custard into a variety of knockout flavors. Depending on the location, you might get to choose from red velvet, black and white, vanilla, Ghirardelli chocolate, Oreo cookies and cream, coffee mocha, mint, strawberry, and banana churro. We might throw together a DIY combo like coffee mocha and banana churro to get the party started. But, like, where do you even begin — they're all winners. Ugh, we just want everyone to have fun.
Heads up, this is one spot to watch for surprise, limited-edition shakes, as well. Remember the Dunkaroos snack sensation from the '90s? BurgerFi had a shake for that. And, St. Patty's won't go by without the chain's mint green Oreo shake. The Tricked Out shake debuted for Halloween, loaded with candy and cookie custard, along with M&Ms and whipped cream. There was also that time a maple bacon shake briefly graced the menu. 
Whataburger
We're officially petitioning Whataburger to change its name to Whatamilkshake. We already feel a little bit like we're gonna get into some delicious trouble here. It's Whataburger, land of phenomenal milkshakes. You can't say no, especially to the ice cream machine.
Returning to the menu for your next beach day is the banana pudding shake. If you've ever tasted un-shook banana pudding — with whipped cream, banana pudding, bananas, and Nillas — this is a perfectly smooth and tasty version of the nostalgic dessert. If you want something to chew on, you'll have to mix in your own vanilla wafers.
Banana pudding will sashay away before we know it, but Whataburger's got some solid favorites on regular rotation. Go classic with chocolate, strawberry, or vanilla, or go a little more complex with each of those flavors done up as malts. In the years the company has been in operation since its opening in 1950, Whataburger has also poured Dr. Pepper, root beer, and salted caramel shakes. Whataburger is also totally cool if you want to mix a few flavors together and add a chocolate drizzle on top.
Sonic Drive-In
If you know, you know. Sonic became an official brand back in 1959, with vanilla, chocolate, strawberry, and pineapple milkshakes proudly featured on the menu for just 30 little cents. But, you don't become a legend without changing with the times.
Fast forward to now and you'll find some old favorites along with a rotating list of on-trend options. Currently featured are vanilla, chocolate, and strawberry, plus caramel, hot fudge, peanut butter, and fresh banana Classic Shakes. The Master Shakes series adds some candy and cookie crumbles with Oreo cheesecake, Oreo chocolate, Oreo peanut butter, strawberry cheesecake, and regular cheesecake. We dare you to drink them all at the same time.
The milkshakes at Sonic are made from actual ice cream, so they taste rich and natural right off the bat. And, this brand certainly doesn't lack anything in the creativity department. Past limited editions have included a churro shake that came with an actual churro, as well as brownie batter and cake batter shakes. That's it — we're never chewing dessert again; if it can't be siphoned through a straw, we don't want it.
Dairy Queen
Okay, okay, everybody — settle down. We're not counting the DQ Blizzard as a milkshake. That would be bananas; it's impossible to get through a straw and famous for remaining inside the cup even when it's being held upside down. The spoon it comes with can barely handle the load. If DQ ever invents anything sturdier than that, we're not counting that as a milkshake, either.
We're here for a slightly different lane of the Dairy Queen menu, perhaps one that's a bit less traveled: the milkshake lineup, each of which comes with an actual, regulation-sized straw. Of course, we expect nothing but the best from a fast food chain that's been doing shakes since the '40s and crushing it. It's real milk, real DQ soft serve, and real delicious.
They might not be as thick as the Blizzards, but these shakes are no weenies. There's a little something for everyone with flavors that include caramel mocha chip, frozen hot chocolate, hot fudge, chocolate, peanut butter, caramel, vanilla, strawberry, and banana. Dairy Queen also likes to feature a pop-in flavor now and then, so keep an eye on the 'Gram for treats like the Under the Rainbow Shake with rainbow sprinkles, or the Pumpkin Cookie Butter Shake with milk, pumpkin, and devastatingly luxurious cookie butter.
Monty's Good Burger
For those of us who want all of the milkshakes and none of the dairy, Monty's Good Burger shakes were crafted just for you with creamy Oatly brand oat milk, and a whole lot of magic. Even if you don't do the stuff from the cows, we promise you'll never get bored with this Willy Wonka–like menu, which features plenty of buzzy celebrity partnerships.
First up is Travis' Oat Matcha Latte shake. What was supposed to be a limited-edition collab with Mr. Kourtney Kardashian — Blink 182 drummer Travis Barker — got so popular that it earned a permanent spot on the roster. It even features Travis' brand, Barker Matcha powder. Oreos are also (sort of) in the house with Monty's O'Yeah shake, loaded with Newman-O's chocolate sandwich cookie crumbles. You can also get any shake as an adorable, half-sized mini.
Other flavors in rotation include Chamberlain Coffee (a collab with influencer Emma Chamberlain's brand), strawberry, vanilla, chocolate, and mocha. The Cookie Shake series features any one of the standard flavors topped with a Monty's cookie made by Rocco's Sweet Shoppe: the Middle of the Brownie cookie, Max's Chocolate Chip Cookie, or Rico's Sugar Cookie. (Monty, Max, and Rico are dogs, by the way, and who better to know a good cookie when they see one?)
Chick-fil-A
Welcome to creamy, luscious Thicc-fil-A. The cows may be passed up for most of Chick-fil-A's menu, but the chain's kickin' the chicken to the curb for its milkshakes, which is fortunate because chickens don't make milk, so it would be kind of hard to do milkshakes with them.
This summer, pluck a ripe, juicy Peach Milkshake off the menu and float away on stone fruit clouds to heaven. Topped with whipped cream and a cherry, it features a vibrant seasonal peach purée blended into Chick-fil-A's signature Icedream. And, no, we didn't spell that wrong. Icedream is a technical name for the brand's soft serve, which packs a little more air — and a little less butterfat — than standard ice cream. It's still made of real ingredients like milk, cream, and sugar, and it's indiscernible from the usual stuff.
Not feeling peachy? Grab a vanilla milkshake, or even a chocolate, strawberry, or cookies and cream shake. But, don't miss the bus on the limited-edition peach shake. Crafted over the course of a reported 15 tries, this latest version features just the right blend of summer and sunshine in a cup.
Burgerville
We all have our go-tos when it comes to our favorite fast food shakes. But Portland, Oregon, locals know nothing beats a dreamy shake from Burgerville. Secret's out, though, guys. Man the milkshake machines.
You're gonna have to work for this one. It's thick, rich, and velvety, with flavors that highlight the seasons. Once the berries burst forth during Oregon's famed summer harvest season, they make it into just about every single dish from July through September. That includes Burgerville's summer milkshake, the Oregon Raspberry Shake. Real, ridiculously perfect, local raspberries get blended into vanilla ice cream, or vegan Cosmic Bliss, and topped with whip and raspberry drizzle. It's all-raspberry everything. After you drink you, you can put your raspberry hat on and skip out to your raspberry car, powered by raspberries (what else), and drive back to your life-sized raspberry Airbnb.
It's delightful, but we always want more. Also on the menu, you'll find a sweet cream shake featuring local dairy from Alpenrose, the Oregon strawberry shake (love those berries), a chocolate shake made with organic Holy Kakow chocolate sauce, a hazelnut chocolate shake, and the Portland cold brew shake in partnership with Portland Coffee Roasters. We want Burgerville to go national, but also, it's perfect just as it is.
Steak 'n Shake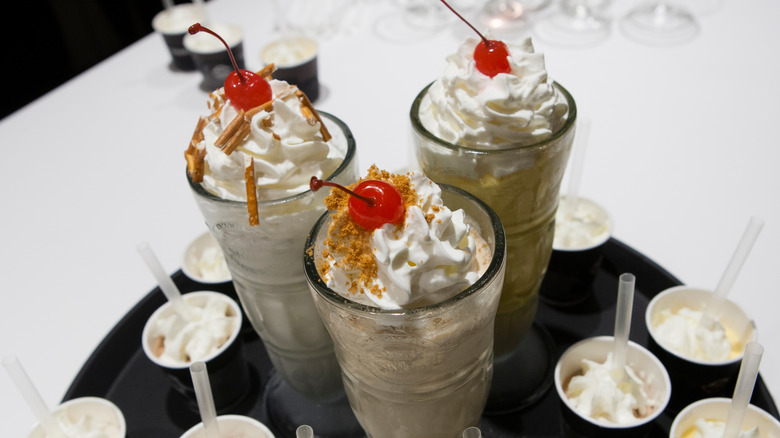 Andre Roque Almeida/Shutterstock
Well, if you're not here for steak, then you're obviously here for 'n shake! Steak 'n Shake has definitely put the time into churning out some serious winners. After opening its doors in 1934, the chain has since spent almost a century hand-crafting its shakes with real ingredients and serving them up in a tall glass with whipped cream and a bright-red cherry. It has all the charm of a 1950s soda shop, except with Wi-Fi — wait, there's Wi-Fi, right?
The selection here is positively screaming for your sweet tooth. Standouts include chocolate chip cookie dough featuring all the dough your heart desires, birthday cake with crumbles of actual frosted yellow cake in it, Kit-Kat with candy crumbles in every bite, and Nutella. It has Nutella in it. Case closed.
No offense to the ol' standbys — chocolate, vanilla, and strawberry — as well as banana, Oreo cookies and cream, Oreo mint cookie, Butterfinger, Snickers, M&Ms, and cotton candy, which are all beautiful in their own ways. But, secret-ish menu alert: You can pretty much ask for any type of shake you want. Just pick from the toppings available at the restaurant, and leave the onion rings in your pocket for when you get home.
Serendipity 3
We admit that it's definitely not a chain and maybe not quite fast food. But, Serendipity 3 in New York City created a jaw-dropping milkshake to beat all others. Serendipity 3's chef and creative director, Joe Calderone, dutifully set the bar for once-in-a-lifetime indulgences with $200 fries, a $69 Haute Dog, the $214 Quintessential Grilled Cheese, a $295 burger, and (former record holder) the $1000 Golden Opulence Sundae, which was only knocked off the podium by its big record-breaking sister, the $25,000 Frrrozen Haute Chocolate.
For you today we have the LUXE Milkshake, available for the low price of $100. The epitome of luxury, it was invented for National Vanilla Milkshake Day (June 20, for your next trivia night) in 2018. We begin with a regular, fluted milkshake glass adorned with no less than 3,000 glimmering Swarovski crystals. The frozen dessert portion features exotic ingredients like Jersey milk (slowly tucking the Benny back in the wallet), Tahitian vanilla ice cream (Benny coming back out of the wallet), Devonshire luxury clotted cream, and Madagascar vanilla beans. Topping that, you'll find whipped cream, edible, 23-karat gold, Italian Luxardo Gourmet Maraschino cherries, and finally, a drizzle of a delectable caramel sauce called Le Cremose Baldizzone. And, if you say it with a little chutzpah, you'll totally forget it's made with donkey milk. Also, different thing — do you happen to have $100? Asking for a friend.