Bottle Breacher: Here's What Happened After Shark Tank
What happens when a former Navy SEAL strides onto the "Shark Tank" set bearing an object made from genuine bullet casings? The world found out on Season 6, Episode 8 of ABC's wildly popular reality show, featuring financial investors Mark Cuban, Lori Greiner, Kevin O'Leary, Daymond John, Robert Herjavec, and Barbara Corcoran.
It was 2014, and the Shark investors had a full slate of hopeful entrepreneurs lined up for a chance of life-changing deals. Eli Crane was only one of the small-business owners appearing that season — but a memorable one by most any standard. His product had emerged from a literally hands-on approach to kitchen tools, specifically bottle openers. His handcrafted openers utilize dummy .50 caliber bullets that have been previously fired, decommissioned, and otherwise bound for a banal after-life existence.
The product bears the name Bottle Breacher, assumably named after military breacher experts who use shotguns for resolving critical incidents. But Crane's admittedly less-critical need now was how to successfully and artfully open a bottle of beer or soda. To his credit, he had found a niche solution for that problem before offering the Sharks a piece of his non-military action. Crane had already been making and selling his Bottle Breacher bottle openers for about two years, and now needed help to expand availability and broaden the reach of all those has-been metal bullets. 
What happened to Bottle Breacher on Shark Tank?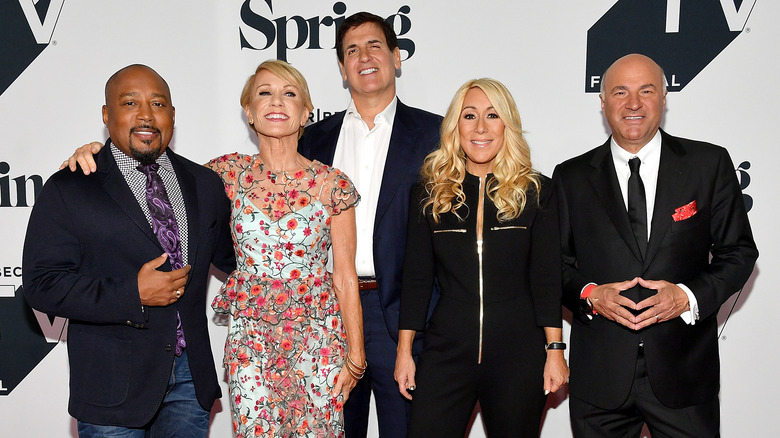 Dia Dipasupil/Getty Images
Navy SEALS, even former ones, have a commanding presence, whether intentional or not. It's an important part of their life story, but it's not the only part. As Crane explained to investors when entering the waters of "Shark Tank" with his wife, Jen, his life had taken a more creative turn. After receiving a bottle-opener made out of a spent bullet, gifted by his brother, a Marine helicopter pilot bringing it back from the Philippines, his brain went into overdrive while realizing the potential for post-life bullets. 
Before making it to "Shark Tank," his original goal was to bring in $500 in extra monthly income, but after putting his Bottle Breachers for sale, he pulled in about $22,000 in revenue in the first seven months, working out of his garage. He started hiring other military personnel to help with growing sales, after finishing their shifts each day, and had grown sales to about 150 bottle openers at most per day.  
The production team was now ready for things to take off in a big way, so Crane pitched to the Sharks for about an hour and 20 minutes, requesting $150,000 in exchange for 10% of the company. As they cracked open beers provided by Crane, not every Shark on the stage felt the patriotic pull of a potentially profitable product — albeit one with a niche market that Greiner, in particular, couldn't confidently embrace. But Mark Cuban and Kevin O'Leary teamed up to jointly offer the requested funding with 20% ownership, sealing the deal. 
Bottle Breacher after Shark Tank
After taping the "Shark Tank" show, Crane had about 2.5 months before it aired, during which time he made the crucial decision to expect the best. Ordering inventory and hoping for a positive response from viewers, they woke up the morning after the show aired to find orders of 60,000 Bottle Breachers waiting to be fulfilled. The company website crashed almost instantly, but he had a backup site ready, directing buyers to Etsy for placing orders. In a YouTube video, Crane credits his team's military training for meeting the challenge, quoting the Navy SEALS motto of "two is one, and one is none" when it comes to contingency planning. 
With some growing pains but a lot of support, the Cranes and their company expanded from the original Bottle Breacher bottle opener to include variations and customization. By the summer of 2018, four years after "Shark Tank" and support from Cuban and O'Leary, the company was nearing $17 million in sales.
Is Bottle Breacher still in business?
Bottle Breacher is still in business and thriving as of 2023. The product line comes in several go-to bottle-opener emblems, including the American flag, a skull-clad American flag, police and firefighter emblems, and a hunter-favorite deer symbol. Customization options now allow personalized engravings for wedding favors, bachelor parties, holidays, retirement gifts, and more. It's possible to order engraved wooden gift boxes as well as openers with inspirational phrases such as "Don't Think, Just Do."
A military theme, with sometimes-controversial interpretations of patriotism, still prevails in Bottle Breacher products. Commemorative Bottle Breacher bottle openers pay homage to veterans of the Vietnam War and Pearl Harbor, and families can order special engraved designs and gift boxes for "Never Forgotten" service men and women. Another new addition to the line is "frag" openers made from fragmented grenades used in training. Plenty more merchandise is available for sale, ranging from keychains to wooden drink coasters, bottle cozies, and military-themed ice coolers.
What's next for Bottle Breacher's founders?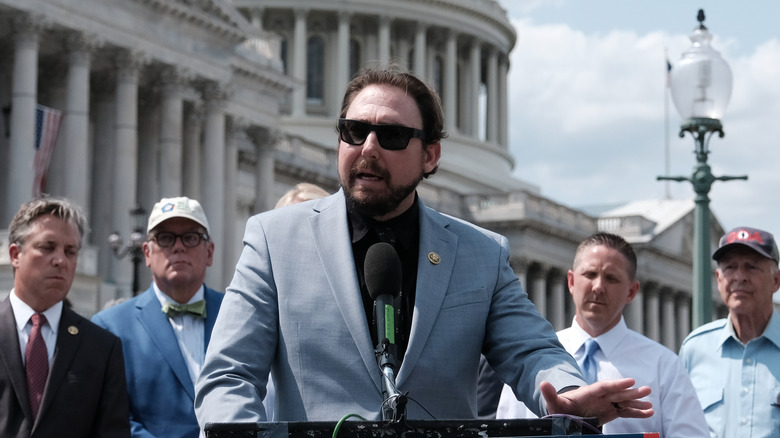 Michael A. Mccoy/Getty Images
Though Bottle Breacher products remain essentially the same, continually evolving with new designs and themes, the company is no longer in the hands of Eli and Jen Crane. Ownership transferred to Mike and Amber Wall in the spring of 2022 but continued the company theme of family and military. As for Eli Crane, there's a reason his presence and story no longer feature prominently on the Bottle Breacher website. As of 2023, he's moved on to a nationally and politically prominent position as a Republican U.S. Representative for Arizona's Congressional District 2.
In a "Where We Are Today" update, the new owners state a firm commitment to hiring, supporting, and encouraging U.S. veterans as the company continues to grow. They note that military appreciation for them is year-round, not just for the single month of May designated by Congress in 1999. Back in 2017, Bottle Breacher touted a 25% veteran hire rate with products made by military veterans. There's no word on current statistics, but the sentiment seems like a permanent fixture in the one-time "Shark Tank" supported venture.