Ina Garten's Top Tips For Texturally Perfect Blueberry Muffins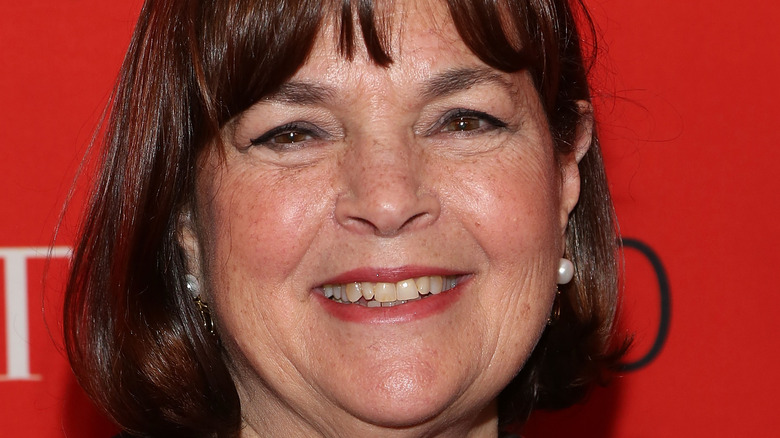 Taylor Hill/Getty Images
Ina Garten is at it again with even more helpful tips and tricks to make simple recipes shine. Whether she's dishing out the secret to juicy chicken or making the perfect overnight mac and cheese, Garten pays attention to the details, and she knows what works.
This time, Garten shared a video of possibly the most Instagram-worthy blueberry muffins ever. The batter is thick and luxurious and somehow looks similar to a rich vanilla buttercream. It is packed to the brim with big, juicy blueberries. She doesn't specify where she got those pretty jewel-toned berries, but if they didn't come from her personal garden, they probably came from a local farmer near her home in East Hampton, New York.
The only thing better than a warm and tender muffin fresh out of the oven is one with a crunchy sugar top, which Garten prioritizes. After filling up a lined muffin pan with batter, Garten sprinkles each muffin with a healthy pinch of white sugar. Often, muffins will be topped with larger crystal sugars like turbinado or demerara for a big crunch factor, but Garten's choice of sugar would give the muffins a more delicate crunchy texture. How good is that?
What other tips does Ina Garten have for perfect blueberry muffins?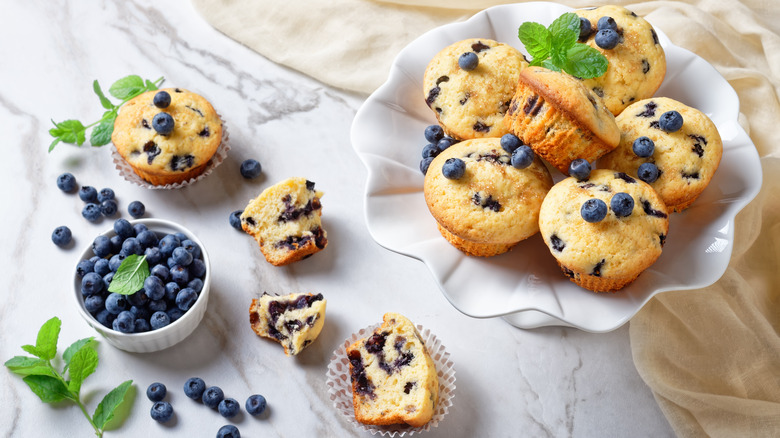 from my point of view/Shutterstock
One of Ina Garten's tips is something that can easily be overlooked — the temperature of the oven. Oven temperatures are often inaccurate and can vary significantly from what the dial is set to. Use an oven thermometer to see where your oven temperature is actually at, and adjust accordingly so you don't accidentally end up with terribly dry or weirdly undercooked baked goods.
An ice cream scoop helps to portion muffins evenly. This doesn't just help with aesthetics — evenly scooped muffins also cook more uniformly. Garten also suggests not just greasing the muffin cups but also the top of the pan. That way, especially if you're making jumbo-sized muffins, the bottom side of muffin tops won't stick to the pan. Sprinkle a little (or a lot) of sugar on your blueberry muffins for a Hamptons-worthy breakfast or afternoon sweet treat.