Ina Garten's Secret Weapon For Macaroni And Cheese Is Patience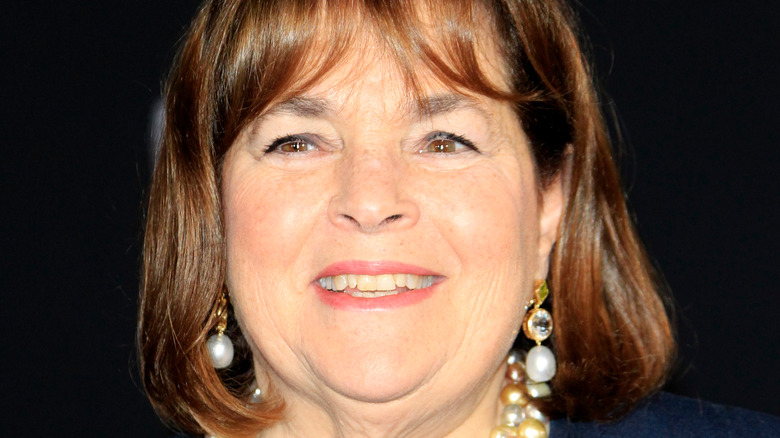 Kathy Hutchins/Shutterstock
Creamy and cozy, mac and cheese is pretty much the perfect comfort food. It's the kind of dish that gives you a big hug after a hard day. Sometimes crunchy on top and always oozing with gooey cheese, it's no wonder this affordable, filling meal is equally popular with adults and kids alike.
While store-bought can be a nostalgic quick fix, nothing beats making the best mac and cheese recipe from scratch. But making it yourself can be daunting, for one main reason: the bechamel sauce. The process traditionally involves making a roux by whisking flour into melted butter to create a paste (being careful not to let it brown), then slowly adding milk as you mix the sauce to a smooth consistency. It sounds easy, but it can be tricky. And sometimes it's a bit more stress than is necessary when you just want something fast and easy.
Luckily, there is another way, and it doesn't involve bechamel at all. Ina Garten comes to the rescue with her secret weapon for making everyone's favorite dinner without all the fuss. It just needs a little forward planning and some extra time.
The key is letting the mix sit for 24 hours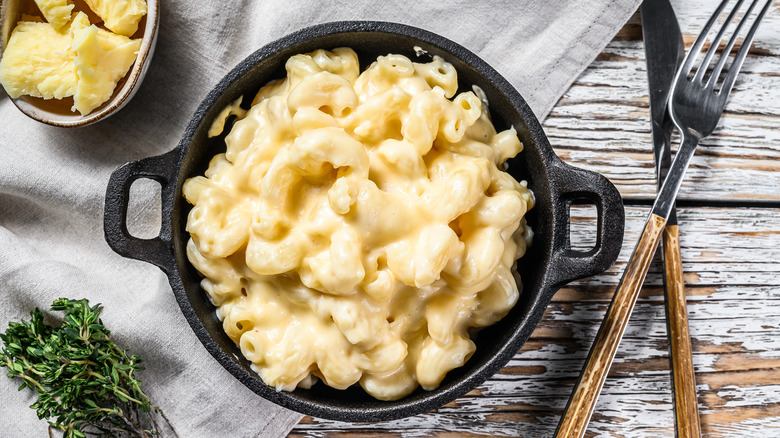 Vladimir Mironov/Getty Images
Barefoot Contessa Ina Garten shared the recipe for her ultimate mac and cheese recipe on Instagram during the 2020 pandemic quarantine, and it immediately proved incredibly popular. So popular, in fact, that it caused her site to crash, as her millions of followers looked to discover the chef's secret.
"Mac & Cheese is the ultimate comfort food but this overnight version is so easy — you don't even need to make a bechamel!" Garten captioned her Instagram post. "It's the ultimate, ultimate comfort food dinner!"
Garten's recipe, which is easy enough for beginners, uses elbow macaroni, heavy cream, and a mixture of grated Gruyére cheese and sharp white cheddar for a perfectly creamy, cheesy result. The key to her recipe is to let the pasta sit in the refrigerator overnight for a full 24 hours in the cream mixture before baking it in the oven. This allows the pasta to absorb the cream and expand, as the recipe explains.
How to make Ina Garten's overnight mac and cheese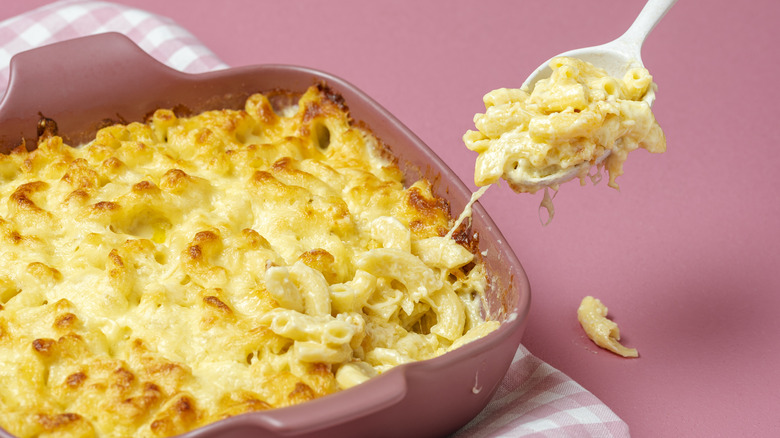 Say-cheese/Getty Images
The day before you want to serve the mac and cheese is when you'll want to get started making Ina Garten's overnight recipe, since it takes a full 24 hours to sit before baking. Garten advises to start the process by mixing cream, nutmeg, Gruyére, cheddar, salt, and pepper in a bowl while you cook the pasta. When the pasta is ready, you simply fold it into the already-made creamy mixture, cover the bowl with plastic wrap, and then refrigerate for 24 hours.
When you're ready to cook the mixture the next day, you just need to let it come to room temperature for an hour or so (or microwave it for a few minutes if you can't wait), then tip it into a buttered gratin dish, and top it with more cheese, breadcrumbs, and butter for a crunchy topping. Then it's ready to bake until it's golden brown and crusty.
Garten's followers certainly seem impressed with the results. "This was delish! Definitely going in the 'make again' file!" said one person. "Made this tonight and not only was it insanely delicious, it was super easy!" said another. A third commented, "I made this for my family last night and it was a huge hit!! Thank you." The perfect mac and cheese, made even more rich and indulgent while you sleep — you can't get more comforting than that.