Baskin-Robbins Debuts Playful Cake And Ice Cream Flavors For August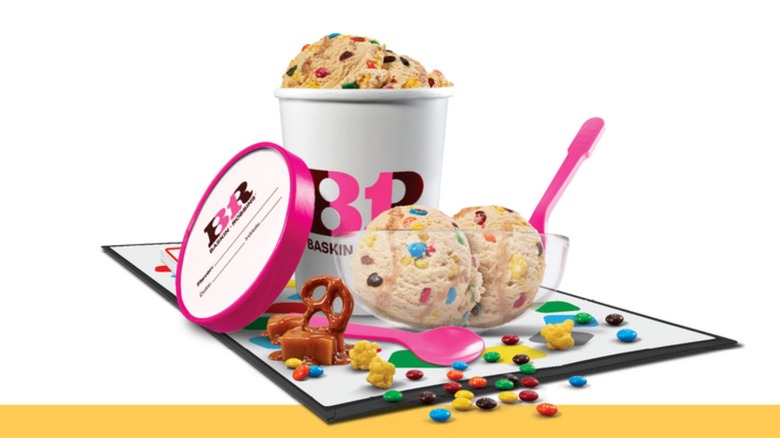 Baskin-Robbins
Baskin-Robbins announced two new confections launching August 1, 2023 — Confetti Crazy Cake and Game Night, its latest flavor of the month.
Confetti Crazy Cake is the newest customizable cake option made with a layer of vanilla confetti cake topped with your choice of ice cream flavor — Chocolate, Beach Day, Chocolate Chip, Cookie Monster, Lemon Sorbet, Sunday Funday, or August's flavor of the month, Game Night. This is the brand's first new cake flavor in 20 years, and customers can add a layer of confetti cake to any of its dozens of celebration cakes.
The colorful cake is coated in white frosting, dripping with dark chocolate, and surrounded by rainbow sprinkles. The cake is available in 11 sizes, ranging from a ⅙ sheet cake which feeds 4-6 people for $25.99, to a double full sheet cake which feeds 36-48 people for $129.99. Customized cakes require up to two days' notice to create.
Baskin-Robbins' newest ice cream flavor combines popular family game night snacks in a single scoop of sweet and savory ice cream. Salted caramel ice cream is loaded with M&M Minis and clusters of butter-flavored popcorn with a caramel pretzel swirl throughout.
If the new treats aren't tempting enough, participating Baskin-Robbins locations nationwide are offering customers discounts to promote the new frozen treats. 
Promotions all month long at participating Baskin-Robbins locations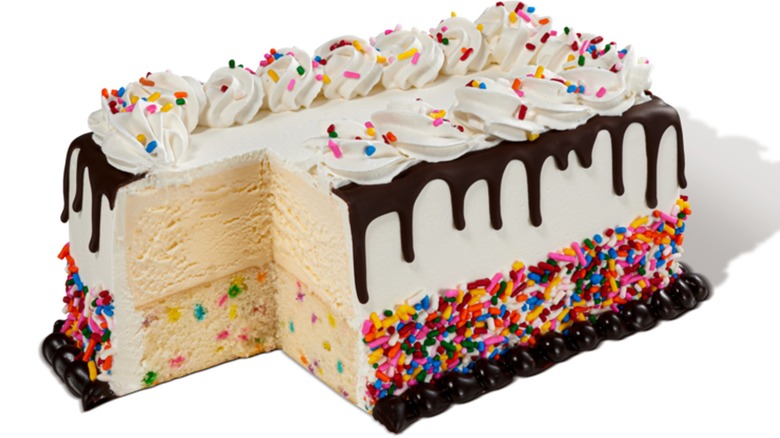 Baskin-Robbins
To entice customers to try the new flavor, participating Baskin-Robbins locations are offering $2 off a Fresh-Pack (customizable quarts) of Game Night when ordering on the Baskin-Robbins Mobile App, using the code GAMENIGHT. The offer expires on August 15, 2023, and is unavailable for delivery orders. 
If you live in the Los Angeles area, Baskin-Robbins is hosting a live game night at The Grove on Friday, August 4, 2023, from noon to 10 p.m. PST to promote the new flavor. Customers will be treated to free ice cream and enjoy an afternoon of games and prizes while supplies last. 
Finally, to celebrate the brand's original 31 flavors concept (a different ice cream flavor each day of the month), it's offering 31% off any scoop of ice cream at participating stores nationwide on August 31, 2023, as part of its "Celebrate 31 Returns" promotion. This promotion is valid all day on months containing 31 days — January, March, May, July, August, October, and December. The discount excludes waffle cones, toppings, and sundaes and is unavailable on delivery orders.