The 3 Most Important Ice Cream Cones (And When To Use Each One)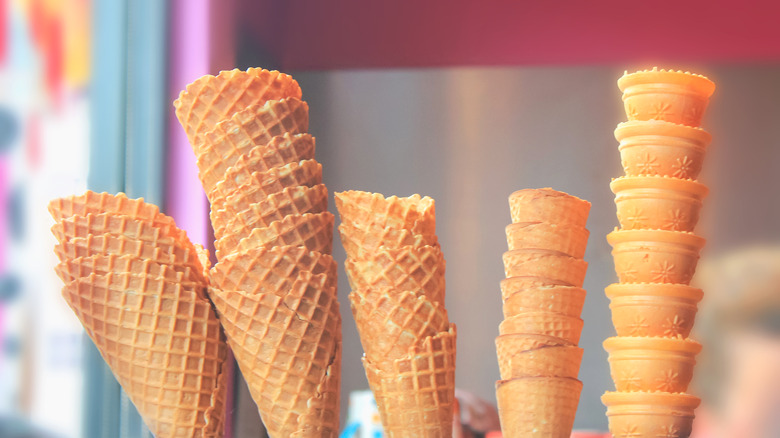 Kanawa_studio/Getty Images
There's no wrong way to enjoy ice cream, but everyone has a preference. Whether you like salty bits of pretzel smooshed into dark chocolate ice cream or a scoop of old-fashioned rum raisin, we respect both!
Ice cream is delicious in countless ways, whether served plain in a cup or perched atop a cone — accessorized with sprinkles, of course. For those who prefer cones, there are three main types to choose from: cake, sugar, and waffle cones. Confectioners have further expanded the category by upgrading each option to include chocolate dips, sprinkles, and nuts, making this a delicious time to be alive.
But did you know there's actually a reason why most soft-serve ice cream is served in a cake cone, or why sugar cones are often the go-to for prepackaged novelty ice cream products? While cones are largely interchangeable and a matter of personal preference, each type of cone complements the ice cream in a unique way. Factors such as who is eating the ice cream and where it's being consumed also influence which cone is best suited for your chosen ice cream flavor.
Cake cones are for purists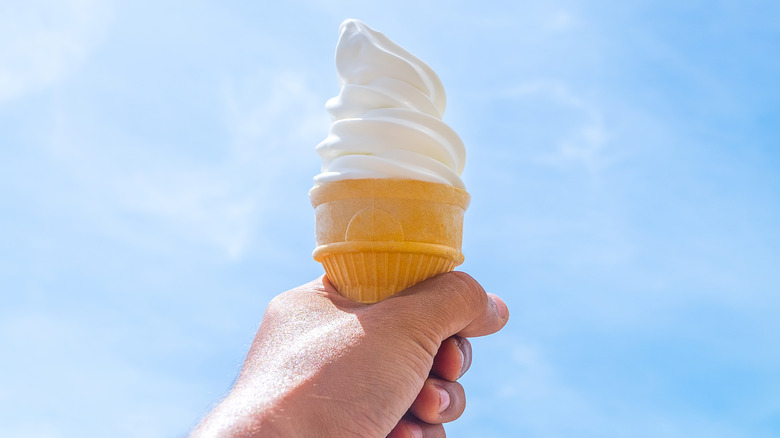 Nodty/Shutterstock
Cake cones, also known as wafer cones, have a light, almost airy texture. They contain the least sugar and have the mildest taste of the three options, so they won't compete with the ice cream flavor. If the cone is merely a vehicle for enjoying ice cream, then cake cones are your best choice.
Wafer cones were likely the first type of cone you enjoyed as a child. Their soft texture makes them easy to bite into, and their base seems tailor-made for little hands. The bowl-shaped top holds ice cream neatly, delaying the inevitable drips when the weather is hot or the eater is slow. Unlike sugar and waffle cones, which are rolled and have a small hole at the bottom, cake cones have flat bottoms, preventing ice cream from leaking out. This is why they are preferred for soft-serve ice cream. The flat bottom also allows eaters to set down their ice cream conveniently to wipe messy faces and sticky hands.
If you want to enjoy a cake cone without ice cream, here's a bonus idea: Line a cupcake tin with cake cones and fill them with cake batter. Their flat bottoms keep them upright, eliminating the need for liners. Once the cupcakes have cooled, frosting can be piped on to resemble ice cream. Don't forget the sprinkles.
Sugar cones add crunch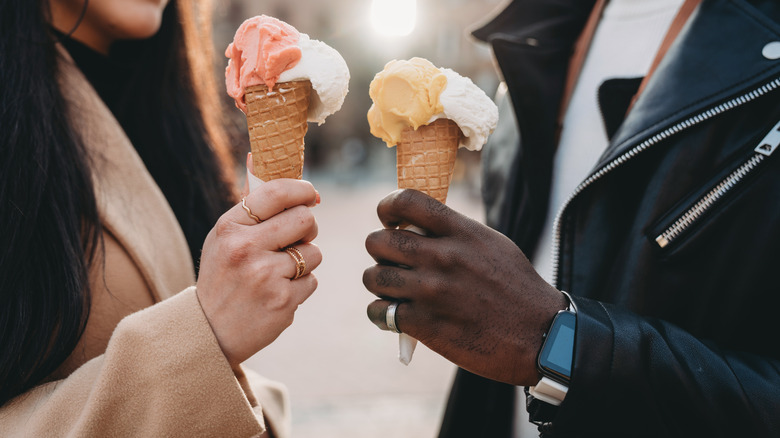 Filippobacci/Getty Images
Sugar cones are a sweeter option, featuring a brown sugar and molasses flavor. Their pointy shape is adorned with a lattice pattern, similar to a small waffle cone, but with a flat brim and often produced commercially.
Among the three cone types, sugar cones have the sturdiest texture, making them a good choice for hard-packed ice cream that could crack more delicate cones. Double and triple scoops should pose no problem. Their warm caramel flavor pairs well with most ice creams, making them an excellent choice for those who want more texture alongside their creamy treat. Even slow eaters can enjoy the cone's crunch, which holds up well against melting ice cream over time. Since they don't become soggy, sugar cones are often the go-to choice for manufacturers who prepackage novelty ice cream products like Nestlé Drumsticks. Don't discard broken shards of sugar cones; they make excellent sundae toppings.
Beyond ice cream, sugar cones make a delicious substitute for cannoli shells. Pipe homemade or store-bought cannoli cream into the cones and top them with mini chocolate chips. For a chocolate cannoli, dip the top of the cone in melted chocolate and fill it with cannoli cream once the chocolate has hardened.
Waffle cones are roomy and versatile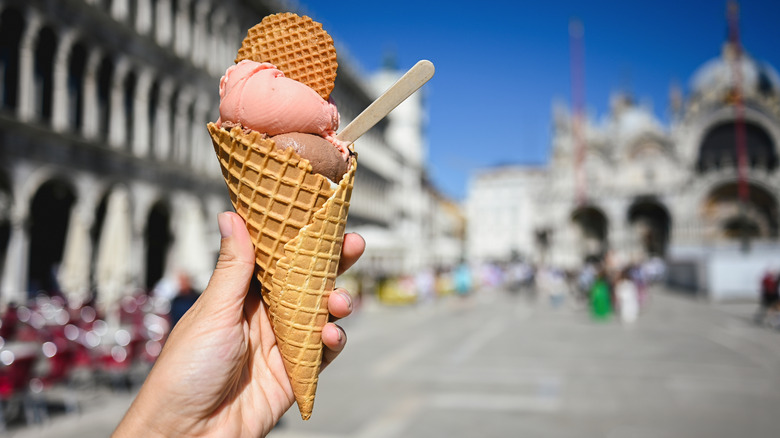 Yuliya Taba/Getty Images
Waffle cones are often made on-site, making them hard to resist. From the moment you enter an ice cream parlor — or even as you approach — the sweet aroma of freshly made waffle cones is difficult to ignore. The batter is poured onto a special iron and then rolled while still hot into a conical shape. For those who prefer using a spoon, waffle bowls are also available.
These oversized cones are the largest of the three types, making them the most versatile. They are cone-shaped like sugar cones but are more tender and delicate, with a wider opening. Unlike the toppings for sugar and cake cones, which need to be small enough to adhere to the ice cream, waffle cones have ample room. They can accommodate multiple scoops of ice cream, various toppings — such as crushed cookies pieces, nuts, sprinkles, and brownies — and even hot fudge, allowing for a one-handed sundae.
For a savory-sweet treat, use store-bought or homemade waffle cones to hold fried chicken for a portable chicken-and-waffles dish perfect for entertaining. Fill the cone with boneless chicken tenders and drizzle with real maple syrup. It might even be better than the ice cream.