The Best Bean-To-Bar Chocolate Ice Cream In North America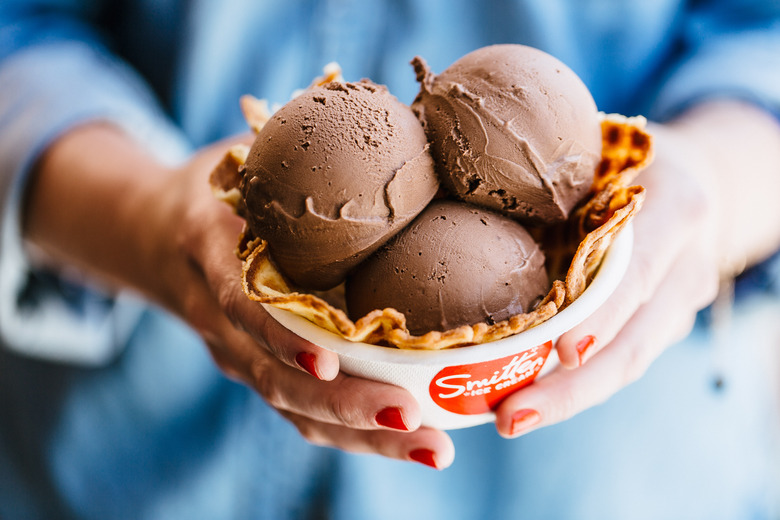 Melodious, sweet chocolate from Berkeley, California–based maker Tcho is transformed into intense, decadent ice cream at Smitten Ice Cream in San Francisco. (Photo: Audrey M
Chocoholism — defined as the extreme dependence on high-quality chocolate in its myriad mouthwatering forms — knows no bounds. Chocoholism doesn't take a break in the summertime. Chocoholism doesn't suddenly stop at the end of the holiday season with the absence of cookies and peppermint bark. No, chocoholism progresses into 90-degree weather, causing you to eat 10 bars of chocolate from your personal stash before they melt completely and are destroyed, leaving a telling smear of sweet residue around the edge of your mouth like a lip liner gone wrong. Chocoholism can also result in a craving that continues long after those 10 bars have disappeared, leading you to search out every high-quality chocolate ice cream across the country and then devour said ice cream in a furious flash.
High quality, in this case, means made with the finest ingredients, like local dairy and organic sugar, as well as bean-to-bar chocolate. Like craft beer and specialty coffee, chocolate is having a renaissance: Small artisanal makers have started buying whole cocoa beans and roasting, grinding, and refining them into delicious chocolate made from scratch, called "bean to bar" or "craft." Ten years ago there were maybe five of these makers in the country. Now there are about 200.
Smart ice cream shops are using this high-quality, scratch-made chocolate to intensify and elevate their ice creams. Here are 12 of the best places to find bean-to-bar chocolate ice cream across the U.S. and Canada.
French Broad Chocolate Lounge - Asheville, North Carolina
I highly advise that you prepare yourself before you walk into this adorable café in Asheville because it is truly a wonderland of scrumptous chocolate offerings. Just within the ice cream family, find Nibby Road (a take on Rocky Road with house-made marshmallows, almonds, and cacao nibs), vegan coconut-milk Buddha chocolate and Garden Mint Stracciatella with local mint dark chocolate. All are made with their own bean-to-bar chocolate (tour the nearby factory!) and a lot of love. 10 S. Pack Square, Asheville, NC 28801; 828-252-4181; frenchbroadchocolates.com
Soma Chocolatemaker - Toronto, Ontario
Even Canada isn't exempt from the heat, with temperatures reaching into the 90s in July in Toronto. The smartest self-preservationists head to this chocolate shop, where the staff makes everything from scratch: award-winning chocolate bars, truffles, cake and, you guessed it, ice cream. Flavors include the usual suspects, like dark chocolate and stracciatella, as well as more creative offerings, like the delightfully alcoholic whiskey and chocolate, milk chocolate fudge cake, and Thai chili and chocolate. 32 Tank House Ln., Toronto, Ontario, M5A3C4, 416-815-7662; 442 King Street West, Toronto, Ontario M5V-1K4, 416-599-7662; somachocolate.com
Shane Confectionery - Philadelphia, Pennsylvania
The oldest continuously running candy shop in America is getting a makeover. Head past the clear toy candy to the back of the store and you'll find an entire bean-to-bar operation, complete with a rotating lineup of single-origin ice creams for milkshakes as well as single-origin ice cream bars, dipped in a chocolate shell. What the heck is single-origin chocolate? It simply means chocolate that's made with cocoa beans from one particular location (sometimes even just one farm) to accentuate the flavor notes of that particular type of cacao. The Shane crew is also testing out cool flavors like Cocoa Brew ice cream (coffee ice cream swirled with chocolate and nibs) and rooftop mint chip ice cream (made with mint grown on the shop's own roof). 110 Market St., Philadelphia, PA 19106; 215-922-1048; shanecandies.com
Smitten Ice Cream - San Francisco, California
Say hello to melodious, sweet chocolate from Berkeley-based maker Tcho, which is transformed into intense, decadent ice cream by the artisans at this neighborhood parlor in San Francisco. Get yours in a house-made, hand-rolled waffle cone and you might just never leave the shop. (P.S. If straight-up bean-to-bar ice cream isn't creative enough for you, try Tcho's Galactic Gelato bar, mint astronaut-themed gelato suspended in dark chocolate.) 432 Octavia St., #1A, San Francisco, CA 94102, 415-863-1518; 2404 California St., San Francisco, CA 94115, 415-872-9414; smittenicecream.com
Van Leeuwen Ice Cream - New York City
This adorable vintage-styled ice cream shop makes some seriously delicious frozen treats. One of my favorites is the mint chip, which uses Askinosie 72 percent chocolate. Askinosie Chocolate was one of the first craft chocolate makers in the country, and founder Shawn Askinosie is committed to social justice projects, including building schools for cacao farming communities in the Philippines and Tanzania (read more about them here). Bonus on the ice cream front: The mint chip also comes in a vegan variety! If you're in the New York City area, you can also buy pints at your local grocery store. 81 Bergen St., Brooklyn, NY 11201, 347-763-2979; 48 E. 7th St., New York, NY 10003, 212-253-5803; 204 Wythe Ave., Brooklyn, NY 11249, 718-701-1630; vanleeuwenicecream.com
Izzy's Ice Cream - Minneapolis, Minnesota
The best way of waking up is with a giant scoop of ice cream in your cup — or bowl, in this case. This cute ice cream shop in Minneapolis pairs Taza Chocolate's roasted cocoa nibs with local roaster Peace Coffee's Blue Ox blend for an artisan take on rich coffee ice cream. Be sure to call before heading over, though, as this is a rotating flavor and not always on the menu. 1100 S. 2nd St., Minneapolis, MN 55415, 612-206-3356; 2034 Marshall Ave., Saint Paul, MN 55104, 651-603-1458; izzysicecream.com
Lake Champlain Chocolates - Burlington, Vermont
This longtime chocolatier and confectionery started making bean-to-bar chocolate a few years ago through a new label called Blue Bandana. And come summertime, the company uses its Dominican Republic Reserva Zorzal bars to make single-origin chocolate ice cream with a lightly fruity, baked brownie taste. Find it at Lake Champlain's three retail stores in Vermont. 65 Church St., Burlington, VT 05401, 802-862-5185; 750 Pine St., Burlington, VT 05401, 802-864-1807; 2653 Waterbury Stowe Rd., Waterbury Center, VT 05676, 802-241-4150; lakechamplainchocolates.com
Salt and Straw - Portland, Oregon, and Los Angeles, California
The Portland parlor is known for wacky flavors like pear and blue cheese and berries, barbecue, and baked beans, but the place also makes straight-up delicious chocolate ice cream using bean-to-bar chocolate. The biggest staple is the Freckled Woodblock Chocolate with a bit of sea salt, from quirky Portland maker Charley Wheelock at Woodblock. Also look for rotating flavors like Date Night, with fresh dates and chocolate made by Bar Au Chocolat. Multiple locations in Portland and Los Angeles; saltandstraw.com
Creo Chocolate - Portland, Oregon
Creo co-owner Janet Straub says her bean-to-bar chocolate company and café decided to start making ice cream because "we want our guests to enjoy our chocolate in other ways and discover that bean-to-bar chocolate can be paired with high-quality, pure ingredients to make an old favorite even better." Lighten things up with a little sorbet: Creo uses farm-fresh raspberries from Columbia Fruit to craft a sorbet freckled with bits of its own from-scratch chocolate. Or keep it heavy and decadent with chocolate-chocolate ice cream (made with cocoa powder the company has pressed itself), vanilla stracciatella with ribbons of chocolate, or mocha chip made with coffee from Mt. Tabor Roastery. 122 NE Broadway St., Portland, OR 97232, 503-477-8927; creochocolate.com
Hexx Chocolate& Confexxions - Las Vegas, Nevada
Deep in the Paris hotel in Las Vegas, you'll find Sin City's only bean-to-bar chocolate maker, as well as a full lineup of single-origin chocolate ice creams: Madagascar (think fruity), Venezuela (nutty), and Ecuador (nutty and floral) as well as Ecuador-Coffee Stracciatella and Madagascar-Banana Stracciatella. Apparently, High Road Craft Ice Cream "hexxperienced" the chocolate on its own and then created the two infusions based on the flavors its own people tasted. There's a reason celebrity chef Alton Brown called it the "best ice cream in America." 3655 S. Las Vegas Blvd., Las Vegas, NV 89109; 702-331-5551; hexxchocolate.com
Ambrosia Pastry - Waterloo, Ontario
What started as bean-to-bar chocolate transforms into ice cream and then into ice cream sandwiches made with from-scratch cookies or waffles with single-origin Madagascar nibs at this pastry place in Ontario. Try yours with ice cream made with single-origin Papua New Guinea chocolate; the country's beans are known for their distinctive smoky taste. Or go for single-origin Madagascar (tart and fruity) or Peru (tangy and fruity), or mint chocolate chip, heavenly ash (chocolate with cocoa nibs and almonds), or macaroon. 150 Roger St., Waterloo, ON N2J 1A9; 519-635-4800; ambrosiapastry.com
Double Dark Chocolate From Tillamook – Select Grocery Stores
The name Tillamook may make you think of cheddar cheese, but take a closer look at this Oregon-based dairy co-op and you'll find some homegrown frozen treats, too. Take the double dark chocolate gelato, made with Tcho 70 percent dark chocolate and topped with dark chocolate fudge pieces. Find it across the West Coast and the West (Colorado, Nevada, Utah); tillamook.com
Megan Giller writes about craft chocolate on her web site, Chocolate Noise. She's also writing a book all about American bean-to-bar chocolate, coming out in 2017 from Storey Publishing.